With spring and summer just around the corner, many of us feel a pent-up need for travel, but you don't have to book an extravagant global trek to feel like you're far away from that home you've spent far too much time in this winter.
We scoured the state for quirky spots within driving distance where the accommodations themselves are as much a draw as the destination — sometimes even more so. Here are eight Michigan getaways that don't require airfare.
---
Getaway from It All
Metro Detroit native Elizabeth Kott lives in Los Angeles, where she is a co-host of the podcast 'Too Niche?'. But she misses Michigan and "craves nature," so she found a trip to a Getaway Outpost in Big Bear, California, to be just the antidote to city life.
Getaway offers what it calls Outposts in about 25 places around the U.S., including one in Columbiaville, Michigan, which is about an hour drive from Detroit. Guests can choose to stay in various sizes of tiny cabins scattered around the woods.
The new Getaway The Thumb in Michigan sits on 153 private acres and offers 45 cabins with big windows for viewing the trees. Guests can choose a cabin with one queen-size bed or a cabin with queen-sized bunks. There's a small kitchen and a hot shower. Fire pits, firewood, and picnic tables come with each unit. There's even an opportunity to lock away cell phones upon arrival.
"They're so fun — tiny cabins with massive windows with this beautiful view," Kott says. "They really support the unplugging from technology, simplifying, for the duration of the stay."
Rates at Getaway The Thumb in Columbiaville start at $109 a night. Book at getaway.House.
---
Sleep Like Frodo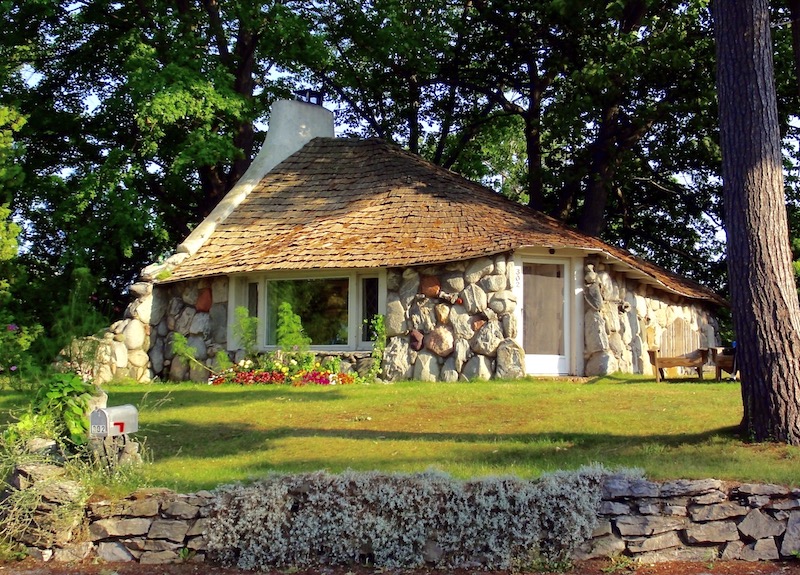 Charlevoix and Earl Young go together. The insurance agent/realtor/architectural designer left his imprint on the community in the form of some 30 mushroom-like homes made mostly from stone and distinctive for their low, curved, undulating rooflines.
Bill Thom says people love that they get to experience that element of architectural history when they rent his Half House, which Visit Charlevoix describes as one of the most widely photographed places in town. Thom, who grew up in Hazel Park and attended Cranbrook in Bloomfield Hills, relocated to Texas in 1984. He and his family had a house in Charlevoix, where they spent summers, and when Half House came on the market in 2001, he bought it. At first, the family used it as their summer getaway.
"Our family of six plus our German shepherd spent summers up there," he says — all of them packed into the approximately 700-square-foot, 1947 structure.
The house sleeps four, with a queen bed on the main level and two twin beds in a small dormer bedroom upstairs. The average cost to rent is $221 per night.
"People are just stopped by it — 'Oh my gosh, look at this little hobbit house,' " he says. "I get families who want to bring their children because they're Lord of the Rings fanatics or Hobbit fanatics. It's just adorable."
Find it on vrbo.com.
---
Bring the Outside In
In 2009, Northern Michigan native Kelly Sean Karcher was remodeling a 1900s farmhouse in Northport intending to call it his new home. But then he got called away for his job, so he began renting The Modern Farmhouse through Airbnb instead, and was gratified when guests responded with enthusiasm — not just for the property itself, "but the reasoning behind the choices I made during the renovations and the lifestyle it promoted."
He describes that lifestyle as "comfortable minimalism in a carefully curated space."
Karcher grew the formation of his kit home company, Hygge Supply, and two more rentals that are an actual Hygge Supply home: Birch Le Collaboration House in Lake Leelanau and the Idyll Reserve in Hocking Hills, Ohio. The Modern Farmhouse is offered on Airbnb as part of Hygge Stay, the hospitality arm of his company, and the Hygge Supply website. The other two locations are also offered on the Hygge Supply website.
Birch Le Collaboration House features floor-to-ceiling windows that look onto the large, covered porch, which also has its own fireplace so it can be used year-round. "The way the home is built and the way the windows are positioned, it feels like you're floating amongst the trees," Karcher says.
With three bedrooms and 2 baths, the Birch Le Collaboration house accommodates up to six. Rent depends on the dates and total number of guests. Book at book.hyggestay.com.
---
See the Light on Lake Superior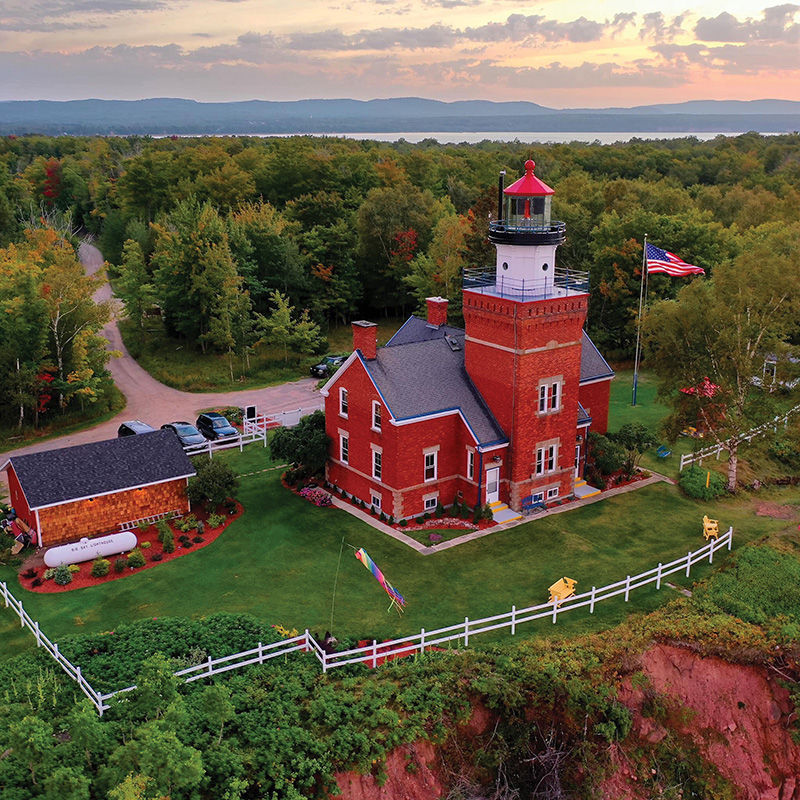 Nick Korstad made some updates at Big Bay Point Lighthouse Bed and Breakfast over the winter following the pandemic. COVID prompted him to scale down a common area for guests and create seating space with TVs in the lighthouse's five bedrooms so that guests trying to socially distance from others aren't limited to sitting on the bed when they remain in their rooms.
Korstad bought the 1896 lighthouse in 2018. Isolated on a sandstone cliff overlooking Lake Superior, it's listed on the National Register of Historic Places. One of the few surviving resident lighthouses in the country, it's still functioning, with a rotating beacon that still shines brightly for the ships that pass through the channel below.
The lighthouse was actually built as a duplex; Korstad lives in half, and the B&B is housed in the other side. It's like a normal house on the inside until you get to the second level, where the Fresnel lens is; then, the metal stairways that are part of a traditional lighthouse begin.
Korstad has updated the furnishings, drawing on his background in hotels to create a more intimate and less kitschy experience for guests. "There is not one doily," he notes.
He offers tours and gladly shares the lighthouse's history and lore with guests.
"When they stay here, they get to learn what lighthouse keepers did," he says. "And they get to see interesting architecture that isn't necessarily used anymore."
Rates start around $205 per night, depending on the room and season. Learn more at bigbaylighthouse.com.
---
Float This Idea
Peter Morrison grew up in Redford; his wife Sally Coder-Morrison was raised in Walled Lake. After they married, she worked as a school bus driver and he drove a semi. Then they got an idea.
They had always loved being on the water. So, after their kids rented a houseboat during a trip to Kentucky, they were inspired to build a 105-foot yacht, moor it near Saugatuck, and run it like a bed and breakfast.
They live on a 40-foot cabin cruiser next to the yacht in the summer and make the larger boat their home in the wintertime. The vessel never comes out of the water.
Since 2010, Sea Suites Boat and Breakfast has been welcoming guests to its four staterooms, each with its own bath, from around May 1 to Oct. 1.
Each room accommodates two adults and has a queen bed. The couple provides guests with breakfast; after that, they're on their own to explore the area. Guests come from all over and many are repeat customers.
"We've had a ball," Sally says. "We've met people from all over the world."
Each room accommodates two adults. Rent is $195 per night. Learn more at seasuites.com.
---
Midcentury, Modernized Michigan Getaway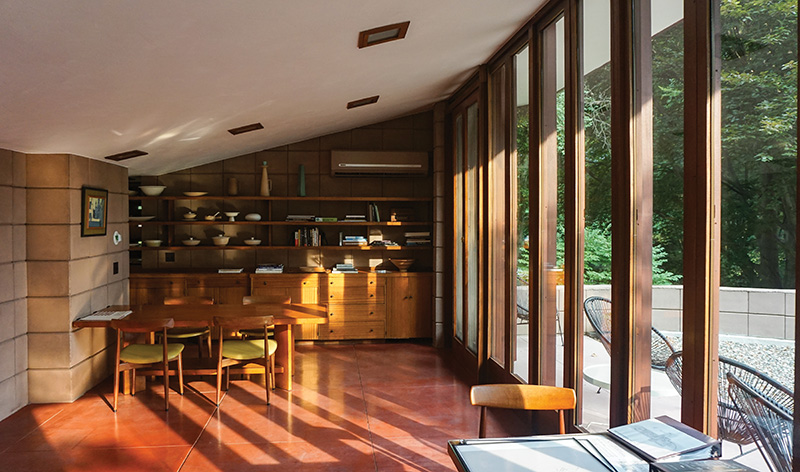 Frank Lloyd Wright is a big draw for those who rent the Eppstein House in Galesburg. Wright designed the Midcentury Modern home, built in 1953. It was completely restored by current owners Marika Broere and Tony Hillebrandt, Canadians who fell in love with the property at first sight and bought it in 2016. It was one of several Wright designs commissioned by a group of Upjohn research scientists who built their homes in The Acres, a 70-acre enclave near Kalamazoo.
"It's the only neighborhood [Wright] designed that actually didn't get overdeveloped," says Fred Taber, the real estate agent who sold the Eppstein House to its current owners and now serves as its caretaker. "He built four, and one of his students built one. And that was it."
Taber says the house was in "pretty bad shape" when Broere and Hillebrandt bought it. In addition to restoring its original finishes and updating the HVAC, bathrooms, and kitchen, they've furnished it with many original Frank Lloyd Wright pieces and other art and collectibles from the time period.
"Renting out the house gives us the opportunity to share it with design and architecture enthusiasts from all over the world," Broere said via email while traveling in India. "The income from it helps us keep up the house and gain back some of the money we put into restoration."
The couple has purchased another nearby Wright creation, Pratt House, and plan to restore and then rent that one as well, Faber notes.
Eppstein House rents for around $550 per night, but is not taking reservations currently. For more information, visit airbnb.com. 
---
Park It Above the Garage
A stay at the Mott Park Carriage House in Flint offers a glimpse into the city's auto industry past. In 2014, Chad Schlosser and his family bought a 1928 brick Tudor-style home that was designed by Norbert Doughterty, who was hired by General Motors to develop the neighborhood.
At the time it was built, "so many people were moving to the cities that there were housing shortages," Schlosser says. "Workers were living in tents in parks and things of that sort [and GM] hired Norbert Dougherty to design and lay out the whole neighborhood."
The Schlossers' home, which Doughterty designed for his own family, came with the original loft above the garage. Both were in bad shape and took months to renovate.
Sleeping two comfortably, the approximately 300-square-foot loft space has been rented nearly every night for the past four years. Guests range from medical students to people traveling on nearby I-75 and others who come to visit Frankenmuth — about 25 minutes away.
Schlosser says there's lots to do nearby, including arts and cultural attractions, bike trails, and a disc golf course right next door. And it's hard to beat the price — $58 a night.
Book a stay at airbnb.com.
---
Groove to Motown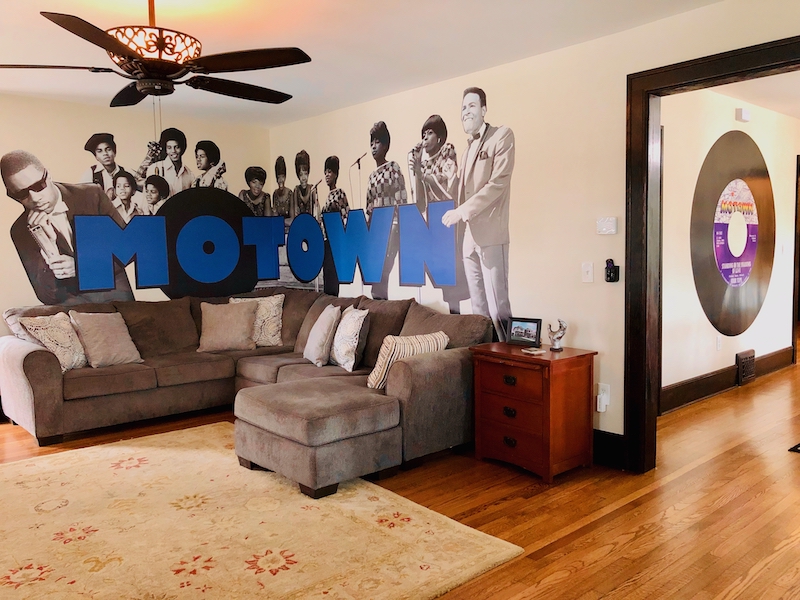 Motown BnB officially opened in September 2019 following three years of renovation. Housed in a restored 1911 mansion, the home offers a balance of modern amenities and Motown-themed touches, including working Wurlitzer jukeboxes, lots of pictures and artwork, rooms named after Motown artists, and a one-of-a-kind dance floor in the basement that's made out of records sealed under epoxy.
Many guests come as part of a trip that includes taking in the nearby Motown Museum. The home is also available for parties and corporate retreats. "The museum is really a draw," owner David King says. "People love the experience of going there … they feel like they connected with the city, with the music. … Music connects us as humans — and everybody loves Motown."
Rent for the entire home, with a capacity of 16 people, is $782 per night. Bookings are available at airbnb.com. Guests may also book by contacting King directly at motownbnb.com.
This post was originally published in 2021 and has been updated for 2023.