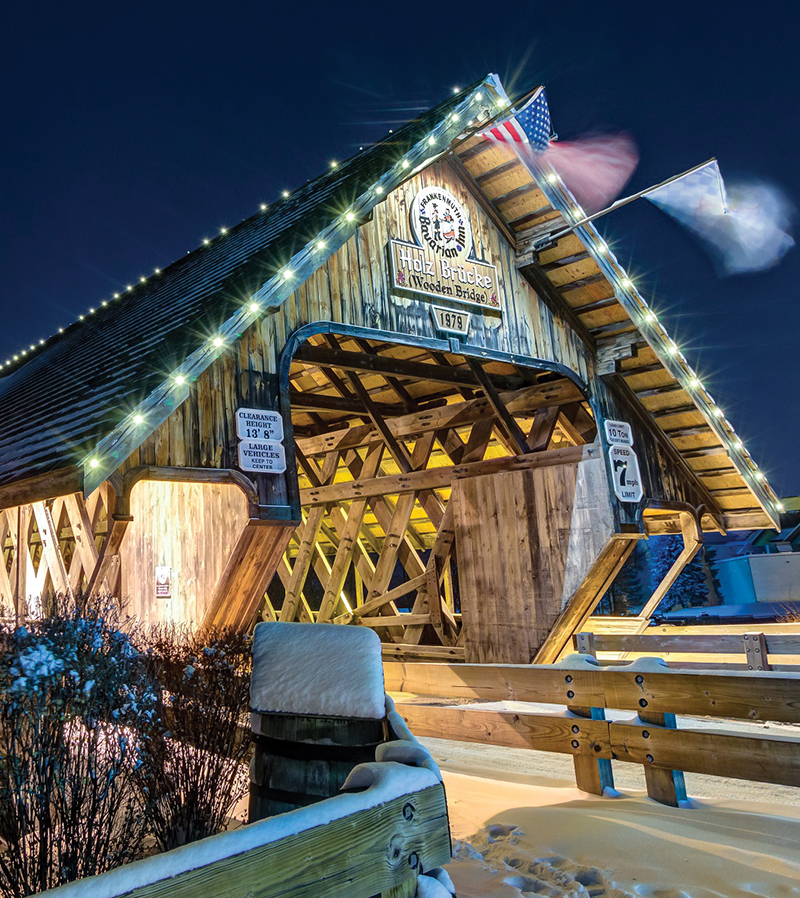 On an unseasonably chilly Friday evening in mid-September, you could be forgiven for confusing the outdoor patio at the trendy charcuterie and wine bar Prost! in Frankenmuth with, say, Bagley Central in Hubbard Richard in Detroit. The scene is packed with the same crowd — young professionals getting the weekend started over regionally brewed craft beer and salty nibbles — except that many here have driven more than 100 miles into the center of the Mitten where they plan to remain for at least a full Saturday of further revelry. "This place is so great," shouts paralegal Diana Smith, 28, of Westland over the cacophony as she and her fiancé pick over a spread that includes lumps of liver and bacon paté and smoked Gouda. "I tell all my friends they need to come up here. I really do."
This is … Frankenmuth? The same Frankenmuth that has, for several decades, beckoned visitors along I-96 and I-75 to Bronner's, the world's biggest Christmas store, with billboards of cutesy snowpeople in colorful scarves proclaiming in various ways that it's always Yuletide up there? The town that looks like an Epcot version of Germany with a name that sounds like the setting of a Mel Brooks flick? A place long best known in culinary circles for a pair of gargantuan cross-street rival restaurants, Zehnder's and the Bavarian Inn, that combine to serve more than 2 million chicken dinners a year? 
Damn, right! Or, as the Germans might appropriately say, verdammt richtig!
In recent years, Frankenmuth tourism officials have undertaken a major enterprise to expand the destination's appeal beyond its traditional, die-hard customer base by building up its credibility with activities and offerings for millennials and urbanites. The effort is led, appropriately, by 32-year-old Frankenmuth native Christie Bierlein, who sprinted away from the schtick-y city to work in public relations for the likes of Chevrolet, Kimberley-Clark, and Heinz before realizing that her hometown could use her marketing savvy to thrive in the 21st century.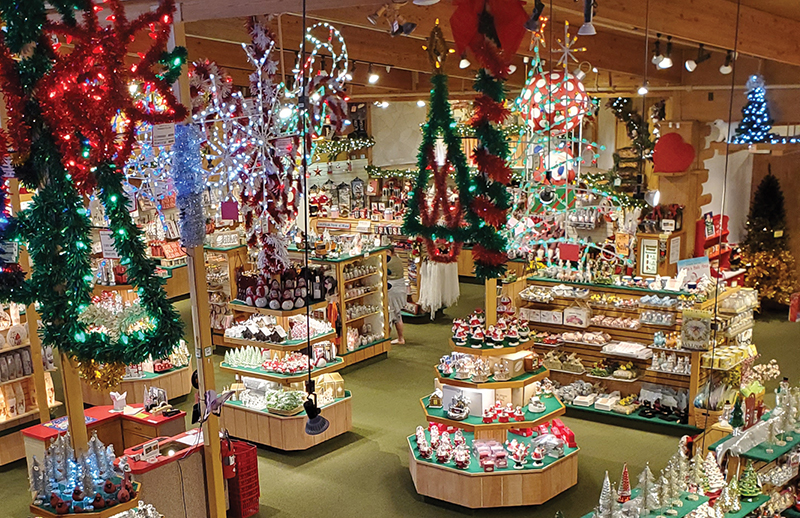 "The more I can expose people to those aspects of Frankenmuth and not just Bronner's and Zehnder's and the Bavarian Inn, which are all very important to us, they will come more often," says Bierlein, marketing director for the Frankenmuth Convention and Visitors Bureau. "They will say, 'Did you know you could spend a weekend in Frankenmuth instead of going up for the day?' "
To that end, a plethora of new options and attractions have appeared on the Frankenmuth scene in recent years. There's the aforementioned Prost! and a new breakfast place called Honey B's Eatery, both aiming to step up the dining game, alongside dozens of boutique shops with handmade chocolates, fudge, and knickknacks up and down the main drag. Add to that the Great Lakes Escape Game, one of those choose-your-own adventure immersive attractions where patrons must solve puzzles to get out of the maze; Frankenmuth Aerial Park, a set of outdoor zipline rides; and a new emphasis on wine-tasting on Cass River boating tours.
"It's never going to be a totally hip place, but they are upping their game to the point where it's not assumed that, if you went to Frankenmuth for the weekend, you must be some crazy Christmas obsessive," says Mickey Hanna, 23, of Mount Pleasant, who is heading to Heritage Park to meet six friends he has persuaded to join him for the opening of Frankenmuth's Oktoberfest. Or, as Bierlein puts it, "It's more about having a wholesome Midwest experience."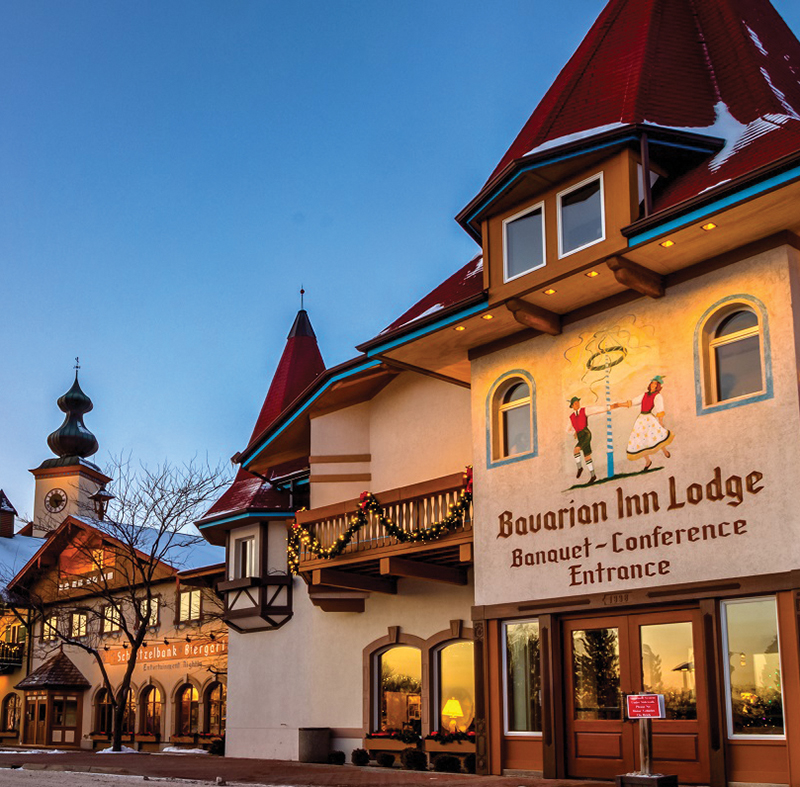 None of this is a disavowal of what has made Frankenmuth so successful all along, though. The story of Frankenmuth remains the story of the Bronners and the Zehnders, two families who  figured out in post-World War II America how to commercialize the very authentic Germanic origins of the town. As plaques and informational signage all around Frankenmuth attest, 15 Lutheran missionary immigrants from Germany's Bavaria region settled there in 1845. In 1928, William and Emilie Zehnder, descendants of a family that arrived in 1846, bought a shuttered hotel and opened a family-style chicken-dinner restaurant to compete with a similar one, Fischer's, across the street. Their children, who took control in 1947, purchased Fischer's in 1950 and set the tone for the German-themed architecture that would eventually become Frankenmuth's signature by revamping it into the Bavarian Inn later in the decade. Zehnder's and the Bavarian Inn are now owned by different wings of the Zehnder family, and the dining areas of both complexes have been expanded several times to their current sizes of 1,500 seats for Zehnder's and 1,200 seats for the Bavarian Inn.
Parallel to the rise of Frankenmuth as a chicken-dinner haven, Wally Bronner, a Frankenmuth native, opened a local sign shop in 1945 that mushroomed into a Christmas goods store after becoming renowned for designing Yuletide items and decorating local cities. By the 1970s, the enterprise had exploded into Bronner's CHRISTmas Wonderland — those capital letters an intentional reference to the family's deep religiosity — which ever since has occupied a 45-acre campus upon which a 7-acre emporium stands.
"It's a family tradition for a lot of people," says Maria Bronner Sutorik, Wally's 53-year-old daughter and the company's vice president focused on marketing. "You always  hear, 'I used to come here with my grandma or my parents, and now I'm bringing my own kids.' That's a way to connect, to unplug, unwind, and experience some holiday traditions."
Data on tourism in Frankenmuth is hard to come by, but the convention bureau estimates as many as 3 million people visit annually, with more than 60% of visitors driving up from metro Detroit, Bierlein says. Most do stop in at Bronner's, to be sure, but Bierlein points to the many major festivals — the imbibing revelry of Oktoberfest, the national ice-sculpting contest during Zehnder's SnowFest, the classic car extravaganza of Labor Day's Autofest — as evidence that there are plenty of other things to do.
"Is this place cheesy? Of course it is," says Kayla Lidwell, 28, of Ashville, Pennsylvania. "But they come by their German heritage in an honest way, so they're not exploiting it, and they've added so much for young people like me since I came here as a little girl."
That's precisely Bierlein's goal. She introduced a new slogan for Frankenmuth — "Built on tradition, made for memories" — to convey respect for the history while encouraging people to create their own experiences. To her mind, the millennials who come up for charcuterie and beer at Prost! today will someday be parents who bring their kids to Zehnder's Splash Village waterpark on summer break and to sit on Santa's lap at Bronner's in December.
"It's very much a generational push here," she says. "As we evolve and as the millennials get older and that age group enjoys different activities and different things, you just always have to keep thinking from a destination standpoint. How do we continue to drive those people, to try to get them to come more? That's what we're always thinking about."