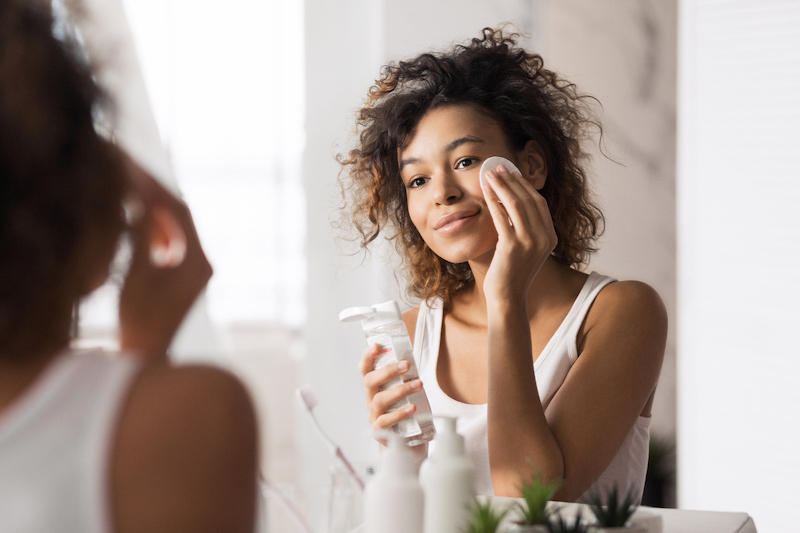 Between ongoing news reports regarding the coronavirus crisis and social distancing mandates keeping us from friends and loved ones, skincare might not be top of mind right now. However, with stress levels rising  — and an extended period of time being confined to your home — there's no better time to invest in a self-care routine. According to Holly Cutler, founder of Face Skincare Medical Wellness center in Bingham Farms, skincare is more than just skin deep. In fact, she says, a good regimen can offer mental health benefits in addition to physical benefits. "We can define ourselves in the broader sense by loving the skin we are in," she says. Here, the Best of Detroit-winning clinic owner shares ways to practice skincare at home.
Try a peel
In compliance with Gov. Gretchen Whitmer's Stay Home, Stay Safe executive order, spas and skincare studios are temporarily closed. For those who subscribe to regular medical-based chemical peels with a trusted aesthetician, Cutler recommends trying a micro-peel, a milder form of a chemical peel that can be applied from the comfort of your own home. A blend of gentle acids and antioxidants, micro-peels help with cell turnover, leaving behind smooth, supple skin. "I love The Skin Saint IllumaGlo Pigment Peel ($89, theskinsaint.com) as it features malic, lactic, and azelaic acids, along with vitamin c, to help even skin tone, smooth fine lines, and reduce pores," Cutler says. Apply up to twice weekly to maximize the peel's regenerative effects.
Radiate with brightening pads
In the same way many of us are reaching for sanitizing wipes for our kitchen counters and tabletops nowadays, Cutler recommends sweeping your skin with single-use brightening pads to even out your skin tone and fade dark spots. Try ones infused with retinol and brightening properties to help promote firm, radiant skin. We like Art of Skin Care Skin Script Glycolic and Retinol Pads ($22.50, artofskincare.com).
Master the mask
According to Cutler, no at-home spa day is complete without a face mask. "Masks contain higher active [ingredients] than daily products, and, in just 10-20 minutes, can create an instant transformation from dull and lackluster skin, to refined, plump, and hydrated skin," she says. Try Detroit Rose Honey Bunz Face Mask ($26, detroitrose.com), blended with raw honey and white clay. Slip on your moisture-rich mask while lounging in your PJs, or before your next corporate video chat — and try not to be distracted by your own glowing skin as your co-workers share their progress reports.
Moisturize, moisturize, moisturize
Cutler recommends applying products that increase your skin's barrier function, or protective layer. Opt for products with ingredients such as fatty acids, ceramides, and cholesterol, which are often sought after for their hydrating properties. "Try olive and coconut oils, which are excellent on the skin," Cutler says. Face's Virtual Skin Consultations are available to viewers nationwide to help inform the skincare regimen that's best for you.
Take your beauty supplements
With many of us spending less time outdoors, we may be depriving ourselves of the health benefits provided by natural light and fresh air. And a healthy diet is essential to achieving healthy skin. "High levels of antioxidants help keep our skin youthful," Cutler says, adding that antioxidants also help protect the skin against toxins that may compromise skin health. She says that vitamins A, C, and D are some of the best anti-viral ingredients on the planet. Consider taking a multivitamin to make sure your body is getting the nutrients it needs — but first, consult your physician.
Facebook Comments