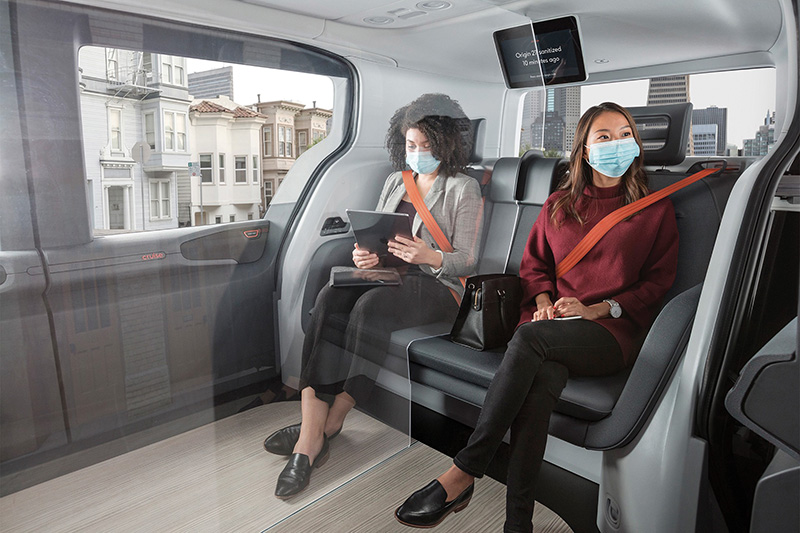 Designing the cabin of a fully autonomous vehicle poses a different challenge than a conventional car or truck interior. Think about it: With no driver, no steering wheel or pedals, and no need for awareness of what's going on outside, its occupants will be able to sit wherever they want. But they'll still need to buckle up for safety, and their seats will have to hold them in position for belts and airbags to be effective. 
General Motors' Cruise team has won production approval for its fully autonomous Origin vehicle, so we asked Stuart Norris, GM's director of design for Advanced Mobility and Experience Studio, about what to expect inside an Origin. 
"Developing the interior for the Origin has been a really interesting journey," he says. "It's a cool product for us since we've been used to designing interiors for personal vehicles, and getting our heads around the rational and emotional needs of customers using a shared autonomous vehicle took some work." 
A self-driving vehicle, Norris says, "throws out the typical constraints of needing to look forward and have control and being able to see signs and traffic lights and people on the side of the road. The vehicle is doing all of that for us." So, GM pushed the seats out to a "campfire" position, the rears facing forward, the fronts facing rearward, "like you're sitting around a campfire with a social space in between. That creates an environment where it's easy to see and communicate with the other people when you don't have to drive and think of safety and maneuverability of the vehicle." 
Because the electric-powered Origin will have no engine, transmission, or driveline, and its battery pack will hide under its flat floor, designers made it very spacious for leg-stretching room without the risk of bumping feet. Yet, Norris says, the Origin is small enough to be maneuverable and "somewhat cozy" inside. Large sliding doors on both sides provide huge openings for getting in and out, even for people in wheelchairs or with limited mobility, "and we worked very hard to make sure the step-in is low and the whole interior is smooth, clean, and open with no structural elements or trip hazards bulging up above the floor."
And because the Origin is intended as a high-use passenger shuttle or ride-sharing vehicle that may be in almost nonstop service, designers used materials that create a warm, inviting environment yet will hold up to heavy wear and tear. "It has a residential furniture feel in the design and use of materials and colors," Norris adds, "and overhead lighting gives both good task and good ambient lighting to create a nice, warm atmosphere." 
With typical airbag and seat-belt provisions, the Origin will be fully compliant with government safety requirements, and passengers will need to be seated and buckled in before it will drive away. Situational awareness screens will show you where you are, where you're going, and your estimated time of arrival. 
The cabin will seat up to six, but four or fewer can sit in the corners and swing large armrests down over the center seats to create comfy armchairs. The bad news is that the seats' backrests are fixed for crash safety — they won't recline. "But we did a lot of work to get to an optimum position for that backrest angle," Norris says. "We had to balance the desire for reclining seats with the safety considerations and other needs for a shared vehicle."
Facebook Comments