Few cities have been through such lofty ups and crushing downs as Detroit. We are nothing if not resilient. We take our licks and find a way to push forward, eventually, with grace. From experience, we may be better suited than most places to endure the economic and personal suffering inflicted by the novel coronavirus pandemic and then, as usual, rebuild.
Still, it would be foolish and disrespectful not to acknowledge that the COVID-19 crisis has cost us more in some important ways than other traumatic events. There is, above all, the death toll. But there are also first-graders who rehearsed for plays they'll never stage. Mourners who can't attend funerals. Graduations and religious observances canceled. Life-saving research ruined or put on hold.
Likewise, it would be wrong to dwell solely on those losses when this unique disaster has brought out so much immense generosity. Neighbors who'd barely spoken in the past now checking up on one another. The young offering to mow their elders' lawns or fetch groceries. Parents insisting on paying their closed daycare centers to help keep the workers who watch their children afloat. Residents near hospitals offering rousing cheers for doctors and nurses as they come and go from life-or-death shifts.
These are difficult times, and we all feel at least a little helpless. As journalists, what we can do to feel less so is bear witness, make a record of both the darkness and the light. And so, in this feature, we do just that. Take some time with these stories, both to grieve the big and small losses and to celebrate the big and small kindnesses. —Steve Friess
Opened, closed
On March 5, Mayor Mike Duggan stood outside The Congregation Detroit and celebrated the bar and café's grand opening. It had taken Betsy Murdoch and her partners more than three years to get to that moment.
Then, on March 16, just 11 days later, The Congregation closed its doors to anything but takeout under Gov. Gretchen Whitmer's executive order. Murdoch, like scores of restaurant and bar owners across the state, also began temporarily laying off employees. Business has slowed to a trickle, with neighbors from the Boston-Edison community picking up sandwiches, beer, and wine.
"It was such a long time from idea to actually opening our doors that it felt surreal that it was actually happening," says Murdoch, 32. "Right out of the gate, it was beyond what we could imagine for success. For the first week, it was awesome. And then all of a sudden, it came crashing down."
Still, she's now planning a bigger, better Grand Opening II, using all this downtime to test new cocktails, dream up new menu items, and just try to hang out until that day when everyone again can be together outside on their sprawling deck.
"There's lots of creative energy flowing," she says. "We'll get through this one way or another." —Amy Haimerl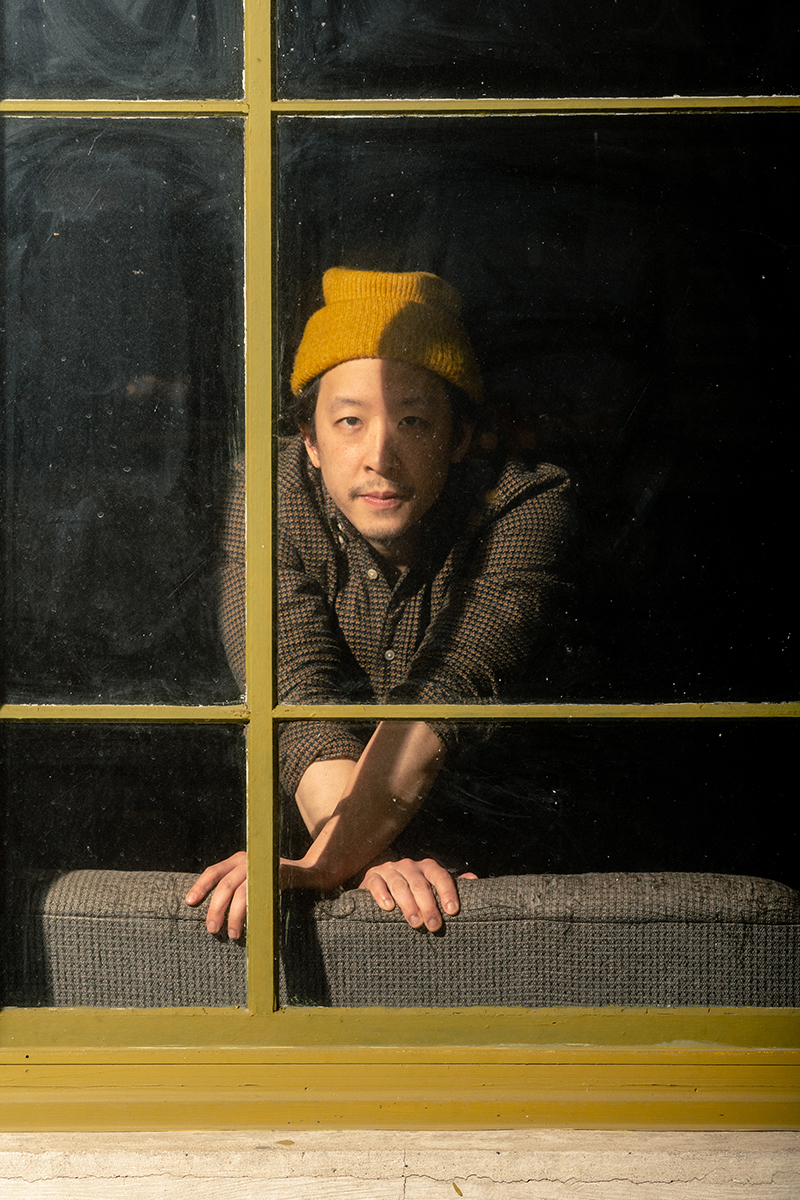 Bedtime history stories
Every night at 8 p.m., Bailey Sisoy-Moore puts her hair up, often in a bright red scarf, and climbs into bed. And then the founder of Detroit History Tours fires up Facebook and spends 10 minutes telling the world a bedtime story rooted in Michigan's past.
"I wanted to help, and I wanted to put something out there," Sisoy-Moore says. "We're not medical. We're not science. We're not preparing food. But what we can do is we can teach people and entertain people."
Nearly 2,000 people tune in each night to her stories, which have ranged from the origins of the Detroit flag to why our state bird is a robin. Of course, Michigan has a lot more wild history to tell (see: mobsters, booze), but Sisoy-Moore keeps her tellings PG and at a fourth-grade level. That way, the Highland Park resident figures, they can help stand in for history curriculum, since fourth-graders study state history in school.
But it's also helping to keep her sane and connected. Sisoy-Moore, 33, had to close her tour business to help keep everyone safe. That leaves her at loose ends and without a job for the first time since she was 13. "Part of these bedtime stories is figuring out what I can do," she says. "It's going to be weird for a while, so now is a really great time to try things. Nobody is going to mock you for trying something. This is a time for good-hearted efforts. One of my neighbors is singing on their porch three times a day. And I love it. Are they good at singing? No. But is it a delight? Absolutely."
You can watch her stories on the Detroit History Tours Facebook page or see the entire archive at detroithistorytours.com. —Amy Haimerl
'I worry about the people we serve'
"I attend St. Michael Catholic School in Livonia, where I'm graduating the eighth grade. The coronavirus has made many things challenging. We had been rehearsing for two spring musicals while juggling the rigor of school, and as you know, all of that has been canceled or postponed. Hardest hit has been P.B.J. (Peanut Butter and Jelly) Outreach, which provides food and clothes for Detroiters in need and which I work with and love. We're following all the governor's guidelines, and this has cut out many of our volunteers and made it harder to serve the people that truly need our help the most. I worry about the people we serve each Saturday morning."  —David Kibbey, 14, Livonia
No questions asked
Matthew Roling is getting a bit misty. It's hard not to get misty yourself when he tells you he's given away more than $5,000 to help people with groceries and medicine.
Roling, who turns 40 this month, posted on Facebook, offering to give $100 to anyone who needed it — no questions asked. Within two weeks, more than 50 people, almost all strangers, had taken him up on his offer. "I had a guy reach out to me on LinkedIn that I hadn't talked to in like five years," Roling says. "He was like, 'Hey, did you give my mom $100?' I looked, and I had. He said, 'You know, that's really sweet and it meant the world to her. She could really use it.'"
Roling hatched his plan while playing tennis with a friend and talking about what skills they could repurpose to help people. Roling, the executive director of Wayne State University's Office of Business Innovation, started his career as a turnaround and restructuring expert, and he decided to offer that knowledge to struggling small businesses after the pandemic crisis began. He posted his free help on Facebook, and within 48 hours, six people called needing survival strategies. That weekend, he and several friends hosted a live call for 80 people.
But Roling knew he could do more: "There is so much uncertainty and fear, and I have so much to be grateful for. I can't just sit here on my thumbs and watch it come down," he says. "If I'm in a position of safety, I need to help. If I had three kids and a giant mortgage, it might be a different story."
Since he launched his $100 project, four of his friends have started their own, and Rolling has received several anonymous donations. But does he really give the money to anyone?
"l check them out on Facebook and see if we have mutual friends," he says. "I don't want to give to some Nigerian prince email scam. But let's say that 20 percent of the requests are a fraud or scam. It's not the end of the world. If 80 percent of the people really need it, that is a big win." —Amy Haimerl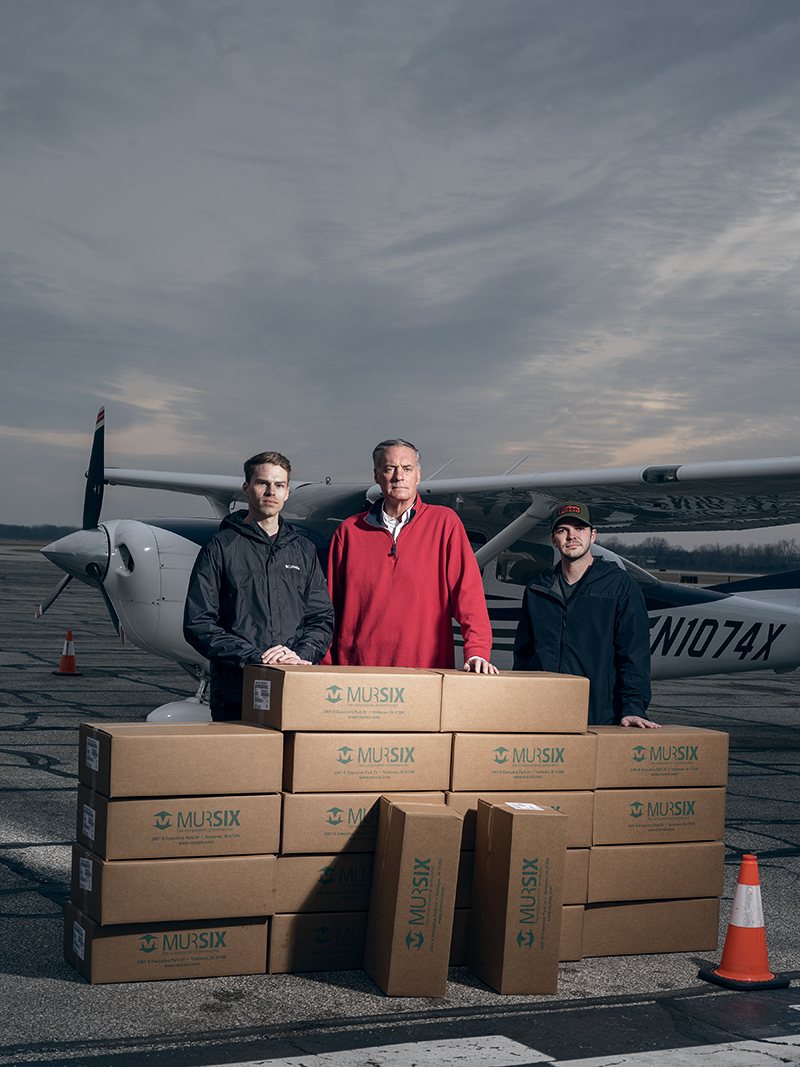 Not meant to be
There are no guarantees in life — especially not right now. But if there's any justice in the world, Cassius Winston was karmically owed his one final shot to win the NCAA championship.
Winston, a Detroit native who is regarded as one of the nation's best collegiate point guards, could have gone pro after the 2018-19 season. Instead, he stayed at Michigan State because he loved being a Spartan and wanted to bring basketball's most elusive title back to East Lansing.
Thanks to the COVID-19 pandemic, Winston cutting down the nets as a national champ won't be the final page of a storybook amateur career that began with him being named Michigan's 2016 Mr. Basketball at University of Detroit Jesuit High and included earning 2019 Big Ten Player of the Year honors, among other accolades.
With the Big Ten championship tournament and March Madness canceled, Winston's season ended abruptly with MSU at 22-9 and regular season Big Ten co-champions with Maryland and Wisconsin. An ambitious team that ranked No. 1 in the nation in preseason polls, the Spartans must now forever wonder what might have been.
"Seeing what's gotten taken away from me, I've got to focus on my next goal, and that's making it to the NBA," Winston says. "I thought I'd have a couple of more games left to play, but it didn't happen that way. So, you've got to take that in, get your focus back up for the next thing. I've got a lot more to accomplish yet."
Winston's ambitions for the season were heightened by a traumatic off-court journey that started in November when his brother, Zachary, 19, took his own life. Zachary also was a college basketball player, at Albion College, where he was teammates with their youngest brother, Khy.
Winston, 22, has continued to grieve openly both in person and on social media. "I lost a piece of my heart, but you guys keep me going," he told the Breslin Center crowd on Nov. 19, 10 days after Zachary's death.
As of print time, the NBA draft was still scheduled for June 25, and Winston, who remained in East Lansing after MSU closed down the campus, is trying to stay in top form to maximize his draft stock. It's tough, though, because gyms and MSU's athletic facilities are closed. He may end up going really old-school, back to driveway hoops, to stay sharp.
Winston says he leaves MSU knowing he made the most of his time on the court and in the classroom. He's due to graduate in May with a master's degree in sport coaching and leadership after completing a bachelor's in advertising and management in three years.
He also carries positive memories from his last time in a Spartan uniform. His final college game was MSU's Senior Night romp over Ohio State at Breslin on March 8, when the team celebrated winning a share of the Big Ten regular season title, the program's third straight.
Winston and his fellow seniors did the traditional kissing of the Spartans logo at midcourt before leaving the floor for the last time.
"If you're going to go out, that would be the way to do it — at home, in front of our crowd, championship, banner, yeah," Winston says. "If I had to go out on my career, I wanted it to be by winning the NCAAs, but having it end like that is a pretty good option. That was good." — Joanne C. Gerstner   
'He still wants me there'
Officially, Denise Godfrey is the child and youth engagement coach at the Coalition on Temporary Shelter. But, to the kids, she's more like an auntie. She's the one they can ask about anything, and the person they trust to give it to them straight.
But not even Godfrey can tell them what will happen next or when they can see each other again. Worse, she can't hug them.
"I feel like I have more emotions than I'm supposed to," says Godfrey, 45. "It's really affected me. No matter how old they are, I always get a hug. Now, if I was to see one of them and I can't hug anybody right now, it is tearing me up."
While COTS remains open 24/7, staffing is limited to essential services. Work like Godfrey's — coaching, event planning, mentoring — must happen from home. That means it's harder for her to stay in contact with the kids she works with, who range from age 7 to 18.
She sends out emails and calls and texts them. But, she says, it's hard with families as they leave the shelter or who are in an off-site program, because their phone numbers change frequently and they don't always have access to a computer to check email. She's managed to stay involved with a handful of kids and gives them her cell number to text or call any time. She wants them to call for homework help or just to talk about what's happening. She knows the stress of the unknown can be overwhelming to many of the kids.
For example, two brothers, ages 9 and 3, just lost their mother and transitioned out of the shelter to live with their grandmother. "It's an adjustment for them," she says. "They are asking questions, and I want the 9-year-old to know that I'm available. I tell him, 'If you get up in the middle of the night and feel sad, it's OK to call me.' He has done that. He wants me to come over. He understands that we can't see each other, but he's 9 and he still wants me there." —Amy Haimerl
---
Called to action
From automakers to food banks, institutions across metro Detroit have mobilized to tackle grave challenges created by the COVID-19 pandemic
---
The Mask Lady of Ypsilanti
In late March, medical assistant Karen Donnellon fielded a call in the doctor's office where she works from a patient wondering how she could get a mask for her fearful, vulnerable, elderly father. Donnellon first explained that medical N95 masks were scarce and generally not necessary for nonmedical personnel.
Then she offered to make a mask herself: "I went to Joann's and bought a lot of material. There was no elastic to be found because everybody had already hit the stores, so I went to hair ties. I cut the ties and used those because they're still elastic and you can put it over your head. We had to invent something."
Donnellon hasn't stopped sewing masks — one side flannel, one side bright cotton prints — ever since. She dubbed herself "The Mask Lady" and put out a single sign offering free homemade masks in a Circle K in Ypsilanti. By early April, the 56-year-old mother of eight had spent more than $800 and sewn more than 500 masks. She leaves a stack for the taking at the Circle K and also fields calls from locals asking for made-to-order masks that she delivers to people in the area.
"The first night, that Monday, we were up all night figuring out how to do it," she recalls. "Then I went to work on Tuesday, came home, had a nap, and went back to work. My needle on my sewing machine snapped at 2 a.m., so we went to bed."
Ever since, she's spent some of each day sewing and delivering masks, each of which takes at least 15 minutes to make. If people offer monetary donations, she tells them to give it to another cause.
While these aren't medical-grade, they create a barrier to help keep the coronavirus from spreading. But, also, Donnellon says a mask "reminds us we must try not to touch our face." —Steve Friess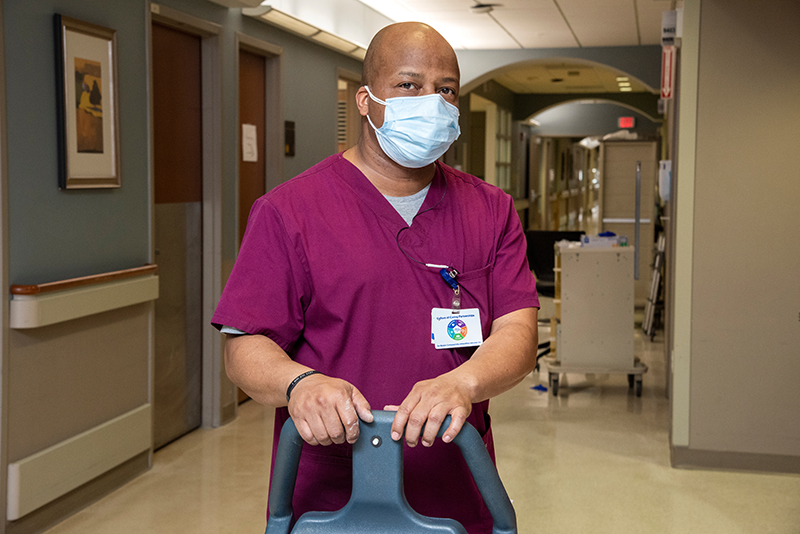 Mommy's helper
"I started a Facebook group called 'Mommy Needs a Laugh,' a place where moms can post anything that's making them laugh — a story from home life, quote, meme, video. My only rule is no parenting advice unless, of course, it's funny. I'm also hosting a 'Never Have I Ever' game night over Zoom with members of the group. Last week, I wasn't this connected with all of these amazing women. And it feels good to not feel alone. Added bonus: laughter." —Katie Morland, Commerce Twp. 
'There's a lot of helplessness'
It may sound a little odd, but the thing that Annie misses most right now is the way her patients used to die.
A 28-year-old nurse who works in the intensive care unit at a Beaumont Hospital in Wayne County, she's used to loss and is philosophical about her role in making an inevitable process somewhat more bearable for loved ones.
In the era of COVID-19, though, the terminally ill can have only two people with them, dressed in personal protective equipment, or PPE, when they pass — and those folks can enter only when a patient's death is imminent. "Before this, we had the whole family experience where when someone is dying, they have a room full of people and they'd be crying and laughing, sharing memories," says Annie, who asked that her name be withheld so she could speak candidly and without requesting permission from her employer.
Indeed, all ICU nurses are accustomed to helping families through these life-changing experiences. But now they must do so on the phone, without the relatives actually being able to see the patient.
"There's a lot of helplessness," she says. "Usually you can be there for the patient and not just speaking to them through the PPEs. But we're supposed to be there for the family, too. We can't take care of them because they're not here. And you know they're just home alone, they're worried sick. But this is what we have to do. I couldn't imagine what it would be like to know the next time you see your family member after you drop them off at the hospital is when they pass away or go home."
Annie is single and lives alone — well, with her pitbull mix — which makes it a little easier to avoid worrying about spreading the virus when she gets home from her 12-hour shifts. She reads, talks to friends on the phone, and takes walks to decompress, but she also hasn't seen her parents, siblings or grandparents in weeks. It'll be a long while before she can drop by for dinner again, she knows.
In early April, Annie was still bracing for the peak flood of COVID-19 patients that experts said was coming. None of her colleagues had yet contracted the virus, and her hospital, unlike others in the region, hadn't run out of PPEs or ventilators. "We're doing OK," she says. "I'm hoping it won't come to that."
She does have two messages for the public. First, she hopes this pandemic prompts more people to write advance directives laying out their preferences regarding what sort of end-of-life care they want. Many COVID-19 patients, she says, get too sick too fast to articulate their preferences. The other message appears in her Facebook cover photo. She and a colleague in surgical scrubs are holding signs that say, "We stayed at work for you. PLEASE, stay at home for us."
"Keep the social distancing going and keep doing the hand washing," she says. "And hopefully, soon enough, we'll all be able to go back to doing the things we enjoyed doing before." —Steve Friess