Zoë Villegas had given me clear instructions for what to have on hand for our scheduled limpia — cleansing — of my new house in southwest Detroit: a white candle, salt, Florida Water, straws from a broom. I would need these ingredients to cast a spell, specifically to ward off negative energy from those who wish me harm.
"I like the lighting in here," she remarks as she burns sage around all the window and door openings. "And the kitchen, I can see you doing a lot of cooking."
Where does she sense the most tension? The bedroom and my office, where I do most of my writing. If I am to succeed in my writing and personal life, Villegas instructs me, I need to keep those rooms in order, free of clutter and drama.
Villegas and her twin sister, Alejandra, have been counseling me in all manner of brujería — Spanish for witchcraft — on and off for the past two years through their company, Gemineye Tarot. When I needed hope for a more fruitful new year, they came over to read my tarot cards. When I've needed advice about my love life, Zoë has done readings for me at Cafe 1923, a funky old coffee shop in Hamtramck.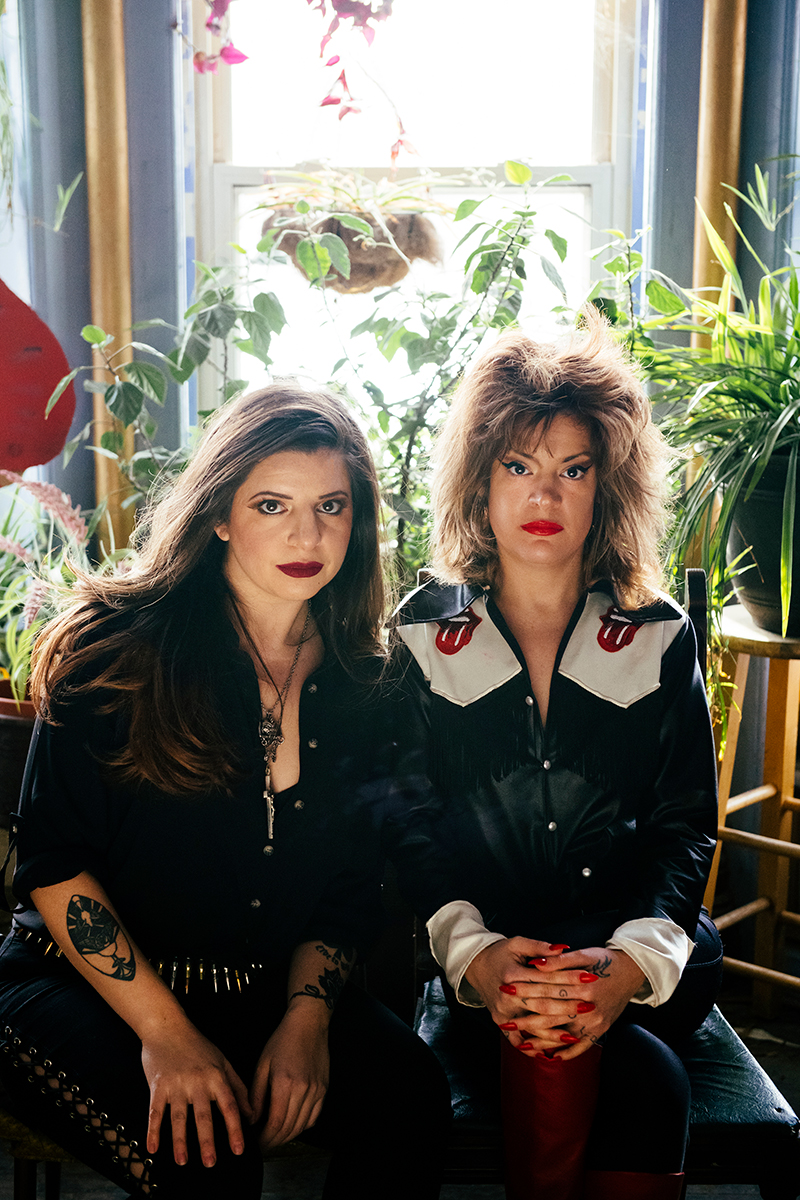 The two Chicana sisters, 31, have been practicing brujería, tarot and other rituals rooted in mysticism since they were 12, but their family has a much longer history of spiritualism. Elders in the family have been known to do coffee ground readings. An older cousin did tarot readings at music venues in the '80s. A niece of theirs, 26, also reads the cards and practices palmistry.
"We're a deeply spiritual family," Alejandra says.
Over the past few years, Gemineye Tarot has taken its practice to a new level by focusing on booking appointments ranging from $30 for a 15-minute palm reading to $90 for an hourlong tarot reading, and up to $150 for a pyromancy session, which involves forecasting the future using fire. The sisters have made the venture a full-time vocation, appearing regularly at hip venues — such as the Schvitz Health Club in the North End and La Sirena Studio in southwest Detroit — in people's homes, and occasionally at local dive bars or music venues. They also began holding weekly communal guided meditation sessions at Clark Park called Lunar Magic in the Park, and they occasionally cast love spells for the heartbroken who might be coping with drug addiction or displacement from their homes.
At the same time, the twins are deeply embedded in the city's indie music scene. Zoë — with her signature teased-up hair, wingtip eyeliner, hip-hugging halter tops, and, in summer, booty shorts — has perfected the '80s glam rock aesthetic. Alejandra can regularly be seen rocking a black leather jacket. The fashion, the makeup, the music, the witchcraft — all of it goes hand in hand for the brujas, or witches, of Gemineye Tarot.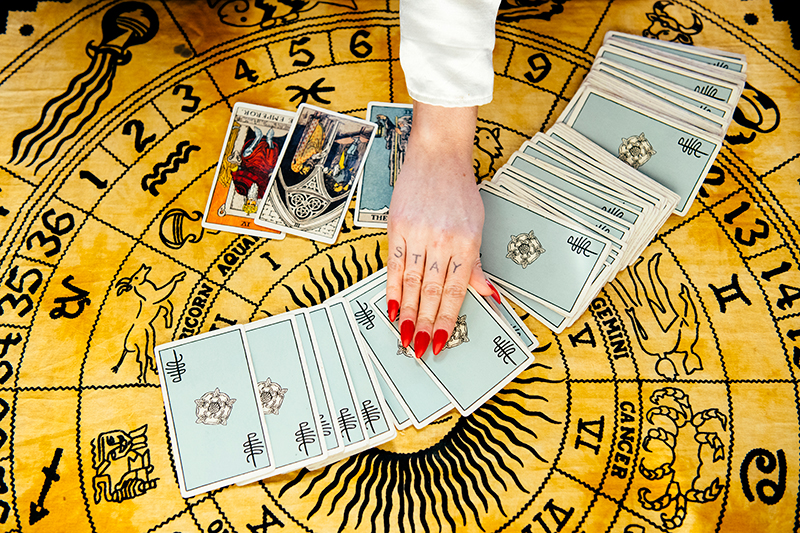 The word brujería is used to describe centuries-old spiritual practices traditional to African, Caribbean, and indigenous Latin American cultures. The traditions tend to be passed down from generation to generation. They can involve burning candles, performing limpias, worshipping ancestors, and casting spells.
For a growing number of contemporary brujas and brujos, the practice of brujería is also a means for combating the centuries-old scars of colonialism in the Americas, which include discrimination and bigotry against indigenous people and people of color, Alejandra says
"Witchcraft has been used as a way of solving problems. You can use witchcraft to deal with a housing problem, to get a little extra money in your coin purse," she says. "That scarcity comes from the structure of colonialism. Brujería gives people tools to weather the bureaucracy of colonialism, of the issues that arise from trying to survive in this society."
Indeed, the traditions date back to the days of Spanish colonialism throughout Latin America and the Caribbean, when indigenous cultures were pushed out of Eurocentric society by the Catholic Church. Rather than wait for the powers that be to do right by them, people in these communities, particularly the women, turned to witchcraft to combat their marginalized status.
A growing number of Latinos, Afro Latinos, Chicanos, and other people of color have more recently reclaimed some of the traditions as one way to preserve elements of their culture. Instagram accounts such as Brujas, Brown Girls Who Bruja, and Brujitxs Del Barrio have collectively garnered tens of thousands of followers, and elements of the rituals have been featured on Starz's lauded drama series Vida. 
In 21st-century Detroit, where residents are increasingly concerned about gentrification and in equality of economic opportunities, brujería seems especially ripe for a renaissance. Indeed, it's on the margins of "New Detroit," in the city's DIY punk scene, that the Villegas twins have found their following.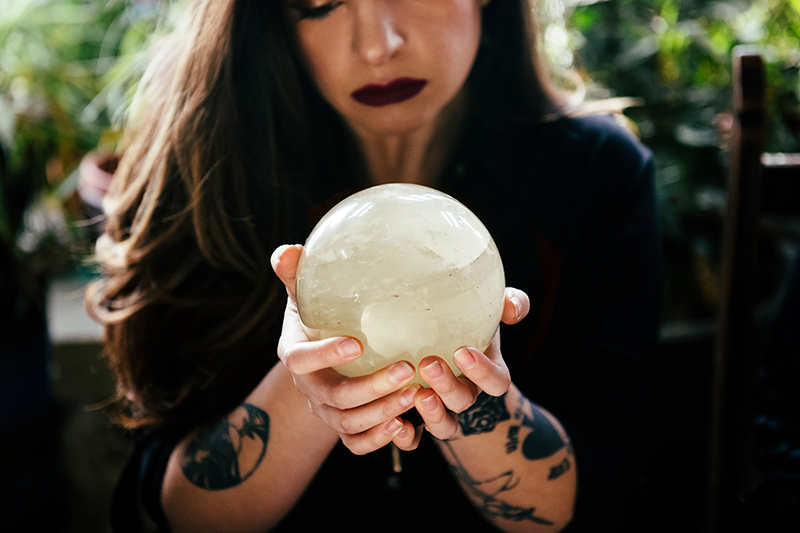 On an especially stormy night in January, Zoë helped to lead a group of volunteers at the historic Senate Theater in organizing Stardust at the Senate, a tribute to David Bowie featuring a screening of the 1973 film Ziggy Stardust and Spiders From Mars. Despite inclement weather, hardcore Bowie fans showed up costumed and ready to celebrate the life of the legendary glam rock pioneer.
Though on the surface the sisters' disparate endeavors in the community may seem unlinked, Zoë says tarot and music parties are both ways for Detroiters to tend to their communal and spiritual needs.
"I think it's all about accessibility, making sure that things are still affordable in Detroit, which is no longer the case," she says. "We have a culture of consumption that's really prevalent here. … The [wealth] gap is growing more and more, and so we are really looking at a resurgence of a polarizing Detroit climate that makes people feel excluded." 
As the city continues to change, the sisters believe it's important for Detroiters to have outlets where they feel listened to.
"We're creating programming, facilitating events that have a universal appeal, whether that's roller skating or whether that's sitting in the park," Zoë says. "It's about taking part in things that have always existed here and [making] them affordable and accessible and enjoyable to the people of Detroit."