Dirty Martinis. They were everywhere in Manhattan. And as a young trader on Wall Street, Rifino Valentine considered himself something of a connoisseur. There was something powerful, he felt, in ordering a dirty at a New York City bar. The sheer skill of the bartenders. The endless variations on the classic drink. And the vodka — oh, the vodka.
That was the start of Valentine's major career change. Judging from his own social consumption, he knew there had to be a heavy flow of vodka running through the city — most of it imported from far-away lands.
Vodka made in Michigan may not sound as romantic as the "little water" made in Mother Russia, but that doesn't bother Valentine. Several years after ditching the corporate life and a self-professed "dirty martini kick," the Michigan native is quietly making good on his dream to distill vodka here in a city better known for tough factories than smooth spirits.
"I loved the idea, the juxtaposition, of this kind of product coming from a city known for grit," Valentine says.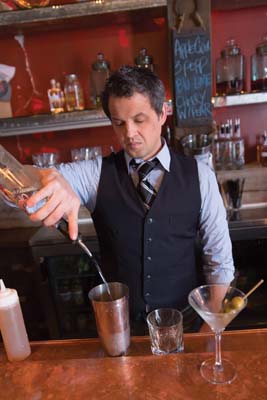 The dream of Valentine Distilling Co., it turns out, wasn't so farfetched. Starting a microbrewery would've been easier (nearly anyone can make beer in a bathtub), not to mention way less of a hassle with the feds. Still, Detroit was a distillery hotbed before Prohibition.
Today, just a short distance away in Lansing, Michigan State University runs the only artisan distillery program in the country, teaching people all over the world how to craft fine liquors. Michigan, in fact, has been at the forefront of the national micro-distillery renaissance in the last couple of years, and Professor Kris Berglund, a chemical engineer who runs MSU's program, says there's a good reason for that.
"Between fruit, grains, and root crops, we have very diverse agriculture here," he says. "Micro-distilling really exploits that, and there's quite a bit of room for growth in the industry. "
When Valentine in 2003 had the idea to start his metro Detroit-based distilling company (the area's first since Prohibition), he was ahead of the curve in many ways, as micro-distilling in Michigan had just begun to take hold again (there are now about 30 micro-distillers in Michigan — and just about 300 across the country, Berglund says). It was always going to be a challenging business proposition, says Valentine, who officially launched the company in 2008. The business of liquor, after all, is "Walmart" sized, with almost every major brand owned by a few huge conglomerates. "The question usually is: What's the cheapest, fastest way to make a product?" Valentine says.
Valentine definitely isn't making vodka "fast," which was one of his reasons for starting the company. That, and he wanted to make a product in Michigan that had unexpected potential.
Valentine was a high-school wrestler who was recruited to compete at Cornell. He is handsome and youthful, the kind of guy who might look out of place in corporate America today. But he's right at home with his fluffy Old English sheepdog by his side in Valentine Distilling Co.'s 5,000-square-foot space in Ferndale. This is where he operates a huge copper pot still, custom-made in Germany, by hand, tasting each small batch throughout the distillation process to make sure he's bottling the true "heart" of the vodka. It's a particularly precarious task, since vodka's taste variations are extremely subtle.
In other words, it's easy to mess it up. "There are processes that blow this (pot still) away, in terms of speed, energy, and time. Those machines are all computerized," Valentine says as he inspects several buttons and gadgets while distilling his latest batch.
This respect for artisan distillation, however, is key to Valentine's business plan, which is to make the highest quality vodka on a small scale that's still capable of competing with international brands. Valentine believes that, with the help of a few employees, making and bottling it all by hand is what will get him there.
A few significant industry accolades backed Valentine up on that belief. In 2012, Valentine vodka won a gold medal in the prestigious San Francisco World Spirits competition, competing against more than 1,000 entrants from around the world. Anthony Dias Blue, a respected wine and spirits critic, also rated Valentine vodka higher than other well-known brands, including Grey Goose and Ketel One.
This year, Valentine will start distributing gin and whiskey, but he remains devoted to the product — and the idea — that inspired him to come home to Michigan. Fiercely competitive, Valentine has always said that buying local is important — but so is building a local business that will last. For that theory to work, Valentine says, he's got to keep making something that's truly better than the competition.
"I'm not going to rest," he says, "until not another bottle of Grey Goose is sold in Michigan."
Facebook Comments