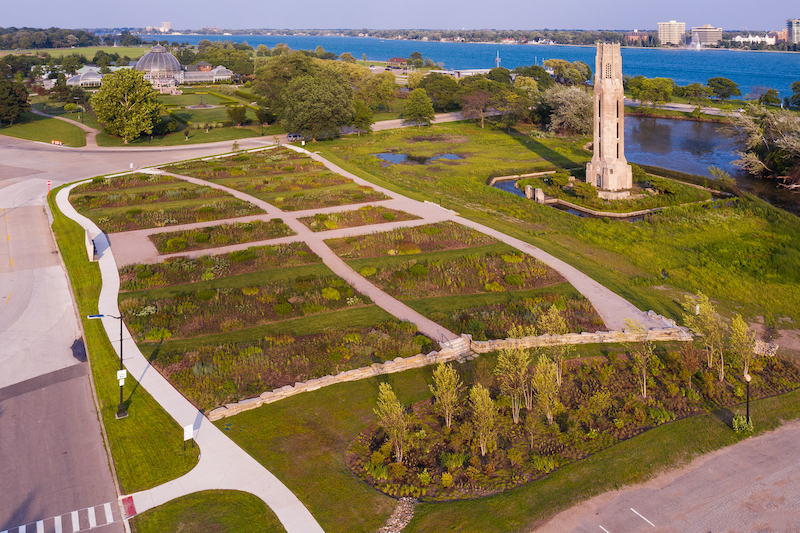 A project years in the making, Oudolf Garden Detroit will be officially unveiled on Aug 28. The 2.5-acre garden on Belle Isle, which was designed by the world-renowned Dutch horticulturist Piet Oudolf, features 32,000 perennials and grasses.
Located in front of the Nancy Brown Peace Carillon, the garden is made up of Oudolf's three perennial plant styles:block, matrix, and group planting. Ninety percent of the plants in the garden come from Michigan growers, and the Virgin Purple Cornflower, Sea Lavender, Nekan Blue Sage, Winged Loosestrife, and American Feverfew are among those now in bloom.
The garden came to life, in part, through the efforts of The Garden Club of Michigan, a nonprofit the promotes the importance of gardening locally. The group commissioned the garden design. Meanwhile, the all-volunteer group Oudolf Garden Detroit Grounds Crew managed the project — they obtained permission to plant the garden and raised $4.7 million to plant and endow it as well as overcome obstacles like flooding on Belle Isle in 2019 and the pandemic. The crew will continue to maintain the garden. 
"Last year, when Mother Nature sent us all to our rooms, some of us snuck out and planted an incredible garden designed by Piet Oudolf," says Maura Campbell, Oudolf Garden Detroit Grounds Crew spokesperson, in a press release. "A public garden like this is needed now more than ever. It offers a peaceful, beautiful, and safe place to enjoy a piece of living art. It's good for the body and the soul."
Oudolf is known as the leader of the New Perennial movement, a garden design style that aims to mimic nature. The Oudolf Garden Detroit is his latest public garden. His designs can be found in cities around the world and include The High Line in New York City and Lurie Garden in Chicago.
The public is invited to celebrate the opening of the garden with a ribbon-cutting ceremony at 10 a.m. this Saturday. Due to travel concerns and restrictions related to the pandemic, Oudolf will not be in attendance. 
"Detroit is very special to me. My bags were packed but unfortunately, this trip was not to be," he says in a press release. "This garden sits on one of the most natural sites for one of my gardens anywhere. It's a place where people can go and never be bored or disappointed. It is also a place that will teach you about plants because you will see plants you have never seen before or have never seen combined this way."
For more information, visit oudolfgardendetroit.org. 
Facebook Comments