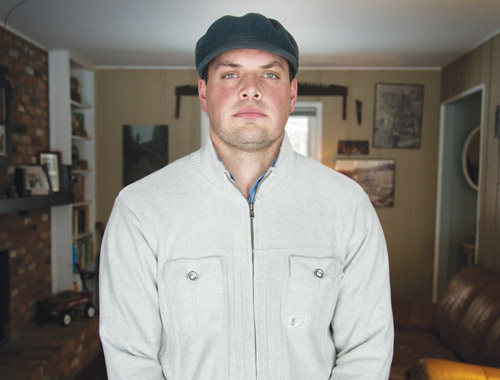 The skin graft that covers the titanium rod is a daily physical reminder of the gruesome auto accident that mangled Luke Fleer's left leg, but not his life.
It was 10 years ago: the night of Feb. 4, 2004. Fleer was 23, a basketball player in his senior year at Rochester College in Michigan. He says he has no memory of seeing the Geo Prizm hurtling toward him in the dark, driven by a teenager. The 18-year-old wasn't drunk or high on drugs, but he was from Wisconsin — and he was unfamiliar with the roads. He was driving the wrong way on southbound M-24 near Oxford.
The cars collided at 60 mph. The impact crushed the athletic, 6-foot Fleer, pinning him in the wreckage of the borrowed 1998 Honda Civic. Oxford firefighters struggled for an hour to extricate him. He was conscious at the scene and able to communicate with emergency medical technicians. Otherwise, they might have amputated the leg while cutting him out of the car.
In the days before air bags and crumple zones, this "probably would have been a double fatality," Fire Chief Jack LeRoy told local newspapers at the time (the other driver survived with less serious injuries).
A University of Michigan helicopter airlifted Fleer's broken body 20 miles south to Beaumont Hospital in Royal Oak — the nearest Level I trauma center. Five surgeries in 18 days saved Fleer's leg and stabilized his fractured pelvis, but doctors told his family he might never walk. He spent three months in recovery and two years in physical therapy, learning to stand, walk, and run again.
Post-Traumatic Growth
"What does not destroy me, makes me stronger," the German philosopher Friedrich Nietzsche wrote in 1888. In American culture, we like to say, "The hardest steel is forged in the hottest fire." In any culture, Fleer's story is about the resiliency of the human spirit — and it is a textbook example of the way that humans can be changed by trauma in radically positive ways.
Science supports Fleer's miracle. The adversity-makes-you-stronger phenomenon is called post-traumatic growth, or PTG. Psychologists at the University of North Carolina Charlotte coined the term in the 1990s, though the theme is present in religious traditions, literature and film, philosophy, and psychology.
Most of us are more familiar with post-traumatic stress disorder. PTSD can afflict soldiers, disaster survivors, and other people who see or suffer life-threatening injuries or sexual assault. PTSD blocks the efforts of its victims to find their mental footing and run again.
"PTG is completely opposite of what most people go through," says Dr. Patrick Wiater, the Beaumont trauma surgeon who saved Fleer's leg. As a doctor who specializes in trauma surgery, Wiater has seen it all. He knows how these accidents can turn people's worlds upside down and hurtle them toward a dark place. They face financial loss, physical loss, and social loss.
But Fleer didn't go there. Wiater says if more people could experience PTG after a traumatic event, "that would be tremendous."
A leading scholar on PTG is Dr. Kanako Taku, an assistant professor of psychology at Oakland University in Rochester. She and Fleer are OU colleagues — he is a development officer at the school. Taku has conducted research for 11 years on how people change psychologically, cognitively, socially, and spiritually after trauma and stressful life events, and she works with a team of students in OU's PTG Lab, focusing on identifying the predictors and cross-cultural differences that influence PTG.
The variables include gender, age, personality, religious beliefs, cultural background, social support, and the type and number of traumatic events. Taku credits UNCC for doing pioneering work in the field to identify factors that influence positive outcomes after tragedy.
Something called "deliberative cognitive processing" or "deliberate rumination," which researchers have identified with empirical studies, is critical for PTG.
"It is important for survivors to think about whether they could find meaning from their experiences or whether the experiences have changed their beliefs about the world or themselves," Taku says.
Social support is also important, as PTG becomes evident when someone experiencing trauma can interact with others and rely on a strong system of family and friends to hear them out on how they're feeling.
All of this was apparent in Fleer's healing, as well as the common thread in young males of feeling immortal, Wiater says.
"Luke had no worries about his health, his physical being, and all of the sudden that's compromised," Wiater says. "It causes you some deep introspection into who you really are. Luke came to understand the gravity of the injuries, asked a lot of questions, and was deeply interested in his recovery and projected outcome."
He also cared about the people around him who were affected by his accident — and that's not the normal reaction, Wiater says.
"Most people get in a car crash, their focus is themselves, and their physical being, their financial being, their mental being," Wiater says. "Luke was more like, 'How are YOU?' "
Mae Fleer, Luke's mother, became aware of PTG research while listening to a TED talk. Mae and her husband, David Fleer, immediately thought it helped explained their son's positive recovery.
"It can thrust you forward … and that just describes Luke perfectly," she says. "Not to say he didn't have things he needed to deal with, the trauma that he went through. He eventually had to articulate that and experience it, but it definitely propelled him into post-traumatic growth," she says.
Social Support
Luke had the PTG foundation in place — an athlete's discipline paired with an empathetic soul, a unified family including his mother and father, his brothers Josh and Nate, his faith, and the remarkable support of his college friends and professors.
"When we went to Beaumont Hospital to encourage Luke, he encouraged us," says former RC basketball coach Garth Pleasant. "When you left him, you were the one who felt uplifted. His tenacity to get better. His optimism. That's a unique ability."
During recovery, Fleer was given a prayer pager. Friends and family were instructed to call the pager number when they mentioned him in their prayers.
It buzzed 1,800 times in three months — 20 times a day on average.
"The prayer pager — that really helped fuel my determination," Fleer says. "Wow, people are thinking of me. Oh my word, somebody is buzzing right now, and I have no clue who it is."
PTG can have a strong impact beyond the individual. It can affect the community at large, Taku says. In some cases, entire communities experience growth as they rally to support a person, and stories such as Fleer's encourage people who are working with trauma survivors by giving them hope, Taku says.
Rochester College professor John Todd understands the resiliency of the human spirit and the influence of a social network.
Serving as a U.S. helicopter pilot in Vietnam in 1969, the 22-year-old Todd was struck in the head by enemy fire. Doctors reconstructed his face but could not restore his vision.
Refusing to feel defeated or bitter, Todd earned a law degree from Georgetown and later joined the Rochester College faculty. Todd came to know Fleer as a student and hired the young athlete to help with home remodeling projects.
Fleer bought a dilapidated $50 trailer and asked Todd to help him fix it up. But the professor's eyesight was deteriorating, and he said he couldn't help.
"I was feeling a little bit down," Todd recalls. "Luke said, 'What do you mean? You can do it.' I helped him, and that perked me up a little bit. He was coaching me."
The professor and the student inspired and motivated each other.
"When I heard about the accident, I was told it was fairly grave. Some people worried if he would bounce back," Todd says. "I never worried. I knew he would be coaching himself as he did me."
Rochester College professor Craig Bowman also played an inspirational role in Fleer's recovery. A national-class tri-athlete, Bowman was riding a bike in 2003 at Stony Creek Metropark near Rochester when a park service truck slammed into him. Bowman endured a long rehabilitation at Crittenton Hospital in Rochester only to be diagnosed later with leukemia. Bowman could be on disability, but he returned to RC to do research, write, and teach. He recently led an archeological dig in Israel.
In Bowman's Sports and Religion class, Fleer watched Chariots of Fire. In the Oscar-winning film, the Scottish runner and missionary Eric Liddell overcomes adversity to capture a gold medal in the 1924 Olympic Games.
"I had the support to be able to conquer anything," Fleer says. "That has morphed over this last 10 years. I had an unbelievable foundation and a determination even before the car accident, and having that, I think, propelled my recovery."


Beating The Odds
In 2004, there were 116,000 head-on collisions in the U.S.
They are relatively rare, accounting for only 1.9 percent of all crashes. Yet head-on collisions resulted in 10.8 percent of all traffic fatalities that year. The death toll in head-on crashes was 5,039, according to statistics from the National Highway Traffic Safety Association.
Fleer beat the odds.
He was on his way home that night from visiting a dying friend, RC classmate Katie Kirkpatrick, in Metamora. Kirkpatrick had inoperable brain and lung cancer. The Lapeer East High School 2001 valedictorian earned a basketball and academic scholarship at Rochester College. In 2003, doctors discovered the first tumor.
Fleer spent Wednesday evenings with Kirkpatrick as often as possible. On this visit, they rode stationary bikes in her kitchen, overlooking a snow-covered patio deck and talking about their studies, professors, and friends. Their late-night chats gave Kirkpatrick a brief respite from her diagnosis. It was a platonic, deep friendship.
It was Fleer's routine to stop at Cottage Inn Pizza in Oxford for carryout and coffee on the way back to Rochester.
The next five minutes are a blur.
Headlights flashed. Suddenly, "three angels were surrounding my body and bracing the impact," Fleer says. The smell of twisted metal and the air bag filled his nostrils (to this day he doesn't like that smell). He drifted in and out of consciousness.
"I was willing myself to the surface for a breath," Fleer says. "It was like taking that breath after being underwater until you can't count any higher."
Then Fleer heard the sirens. The first responders kept him conscious, and he pleaded with them to call his parents. Soon others arrived on the scene to begin the impossible task of cutting Fleer out of the vehicle.
"They knew I was in horrible shape," he says. "My right leg was shaking violently. I didn't know if my arm was getting cut in half."
Fleer had borrowed the Honda Civic rather than drive his own smaller Volkswagen that night. It's possible the Honda helped him survive the crash because it was roughly the same size as the Geo Prizm, and the air bags protected his head.
The sympathetic EMT who had been comforting Fleer broke policy to place a call to David and Mae Fleer's home in Rochester Hills and began to leave an urgent message on the answering machine.
"Your son Luke has been in an accident …"
David heard the voice and picked up the house phone. It was 10:30 p.m.
"The woman said his vital signs were good, and he was being treated by an excellent trauma team," says David.
David is a professor of homiletics (the art of preaching) and special assistant to the president at Lipscomb University in Nashville, Tenn. He broke down in tears while describing the emotions he felt that evening 10 years ago.
"You hear 'jaws of life' and 'trauma' and 'medical helicopter' and …" he says.
As the U-M Survival Flight carried the broken basketball player to Royal Oak, an ambulance transported the 18-year-old Wisconsin driver of the Geo Prizm to a hospital in Pontiac. His injuries were not life-threatening. Deputies cited him for failure to use due care and caution, according to the Oakland County Sheriff's report.
The Surgeries
Wiater was among those working in the Beaumont ER that night. That was another stroke of fortune: Wiater was trained in trauma orthopedics.
"He came in as a Level I trauma, gravely injured in a motor vehicle," recalls Wiater. Most notably, Fleer had a severe pelvic injury. It was cracked in three places, and the main ligaments holding everything together were torn. That injury in itself can be fatal because of the potential for severe hemorrhage and shock, Wiater says. "In Luke's case, it was not [fatal], but it can lead to residual pain and dysfunction."
Fleer's other injuries seemed equally overwhelming, including a crushed left leg, a broken fibula, and damage to the main ligaments around the left knee. There were exposed bones, lacerations, and tissue loss. The nerve that controls the toes was severely damaged.
Fleer underwent five surgeries, with some lasting 10 hours. His left knee had to be replaced altogether. An external fixator — threaded pins drilled into the pelvis bones, sticking out of the skin, and connected by clamps to a carbon fiber rod or frame, which gives the skeleton external support — mobilized Fleer for three months as he healed. He spent most of that time flat on his back on a hospital bed in his parents' Rochester Hills home.
Kirkpatrick visited often, decorating the room, opening mail, reading cards, and recording information on who was paging their prayers. Unlike Fleer, Kirkpatrick wasn't on the road to recovery. She was dying and, when she wasn't by Fleer's side, she was driving across Michigan for chemo and radiation treatments.
Kirkpatrick died of cancer in January 2005. She married her high school friend Nick Godwin five days before her death. The story of her life and death received widespread media coverage.
Despite his injuries, Fleer attended the wedding and was a pallbearer at her funeral.
Rehabilitation
"You've heard that old coaching expression: It's not the size of the dog in the fight — it's the size of the fight in the dog," Pleasant says. "As a basketball player, you could rely on [Fleer] giving you every ounce of energy that he had."
Not surprisingly, Fleer embraced his rehabilitation with the resolve of a warrior.
"He said, 'I am not going to accept this,' " recalls Todd. " 'I am not going let this get me down.' "
Three months after the accident, Fleer and his family began seeking a physical therapist to help him learn to sit up and walk again.
They found Mike Vito, who is certified in orthopedic physical therapy at Physiotherapy Associates in Lake Orion. Vito had worked with University of Michigan football players and the Detroit Red Wings.
"He came in his wheelchair and said he wanted to get back on the basketball court," says Vito.
But because of the sheer amount of injuries Fleer had endured, it was not a typical therapy case. Vito knew from the beginning that it would be extremely challenging — Fleer couldn't move his left foot at all.
And yet, like other people in Fleer's life, Vito noticed Fleer's unusual will to overcome it all. Part of Vito's job as a physical therapist is to motivate patients to keep going. Vito didn't have to do that with Fleer.
"I had to limit Luke at times. Remind him this is a marathon, not a sprint," Vito says. "Luke realized the severity of his injuries and wanted to get back on the court."
Fleer progressed from the wheelchair to a walker, then to crutches and a cane.
At the end of a year, Fleer was able to walk for five to eight minutes, despite the pain in his hips, and he could shoot baskets, too.
A Husband, A Father, A Career
Fleer never again played college basketball, but he agreed to be a volunteer coach at RC. While helping recruit a player, Fleer met the player's sister, Marianne Lackowski, in the fall of 2004.
He proposed to Lackowski at Professor Todd's summer house on Lake Huron, and they married in 2006.
They are raising three boys — Lyle, Levi, and Leo — in their home near OU. His work commute takes three minutes on bad days, and his office in John Dodge House overlooks the university's golf complex. He calls it the best view on campus.
There is no doubt Fleer's panache plays a major role in his success as a regional development officer for the relatively young university. Fleer carries himself with style — he favors snappy caps or flat hats. Cerulean eyes run in his family, and his wide smile matches his personality.
There may not be a more demanding job than development in the academic world, especially at a time when the state's economy is less than robust and government support of higher education is restricted.
"Anyone who has ever met with Luke knows he is a natural in being able to talk with people, and is very willing to share his love for this place, how he came to OU, and why it's important to him," says Eric Barritt, vice president for Development, Alumni, and Community Engagement.
Fleer joined OU in 2007 in a pilot job in student affairs. He made himself so valuable that the pilot became a permanently funded program, and he advanced to positions in alumni relations and then development.
Just east of his office is a marshy area that locals call Box Canyon. Fleer likes to jog there and says it is a special place where he can reflect on life and its possibilities.
He embraces each day.
"We are not promised tomorrow," Pleasant says. "Luke was so close to death. How he survived is to me a miracle."