Throughout her more than 30-year career, Tracy Reese's whimsical prints and colorful collections have often graced the pages of Vogue and captivated the likes of notables such as former first lady Michelle Obama. She's also earned credibility in the industry as a board member for the New York City-based Council of Fashion Designers of America and Detroit's Industrial Sewing and Innovation Center.
Now, the Cass Tech High School alum, who recently purchased a home in the city's Virginia Park Historic District, is planting seeds in her hometown with a more conscious approach to her creative process. Through her latest collection, Hope For Flowers, Reese focuses on eco-friendly practices, arts education, working closely with factories, and supporting local retailers. Here, she shares her new direction and what Detroit needs to thrive in fashion. 
Hour Detroit: What inspired your new mission?
Tracy Reese: As more is revealed about the damage that, especially fast fashion, is reeking all over the world, I got to a point where I thought, "I have to find another way to go about my work so it's not so damaging to the planet." For years, my approach was I'd have an inspiration and manifest it by any means possible. We weren't actively looking for recycled or organic materials. We were designing and producing a lot of product. If we're delivering a spring collection in February, most customers couldn't even think about wearing the pieces until April. I became uncomfortable with the idea of continuing as I had been and wanted to examine where I was and understand if it was still satisfying my needs as well as my customers' needs.
How have you worked with local businesses? 
It was my goal to engage with young people. I started by doing fun [design] workshops at Edward "Duke" Ellington [Conservatory of Music & Art at Beckham Academy] with the help of Detroit Public Schools and the [school district's] foundation. I painted original designs and [textile printing house] Scarlet Crane created the silkscreens. I went to Cass Tech to meet Principal [Lisa] Phillips, who introduced me to textiles teacher Mindy Mitchell. Mindy rounded up her best pupils and we silk-screened organic linens and cotton in Scarlet Crane owner Shayla Johnson's studio at Post. Then, I took the whole thing up to St. Luke NEW Life Center in Flint where they did all the sewing, and then we shipped a [pilot collection] to Détroit is the New Black.
Did this process differ from your former experience? 
I approached how I designed the prints differently. I wanted to work within the perimeters of what's responsible and starting there. What I chose to do was a little expensive, but that's mainly because I was making small quantities. If I make larger quantities, the prices will scale down.
Why should Detroiters have a voice in fashion? 
When we look at the infrastructure for clothing production in New York, there's a lot of antiquated factories that haven't had a chance to invest in new technology. With Detroit, we have the opportunity to build it right from the beginning and that's exciting. Detroit is a manufacturing city. When we talk about bringing production back to the U.S., the idea of being able to build a state-of-the-art, sustainable facility here is attractive. There are some great minds at work on it.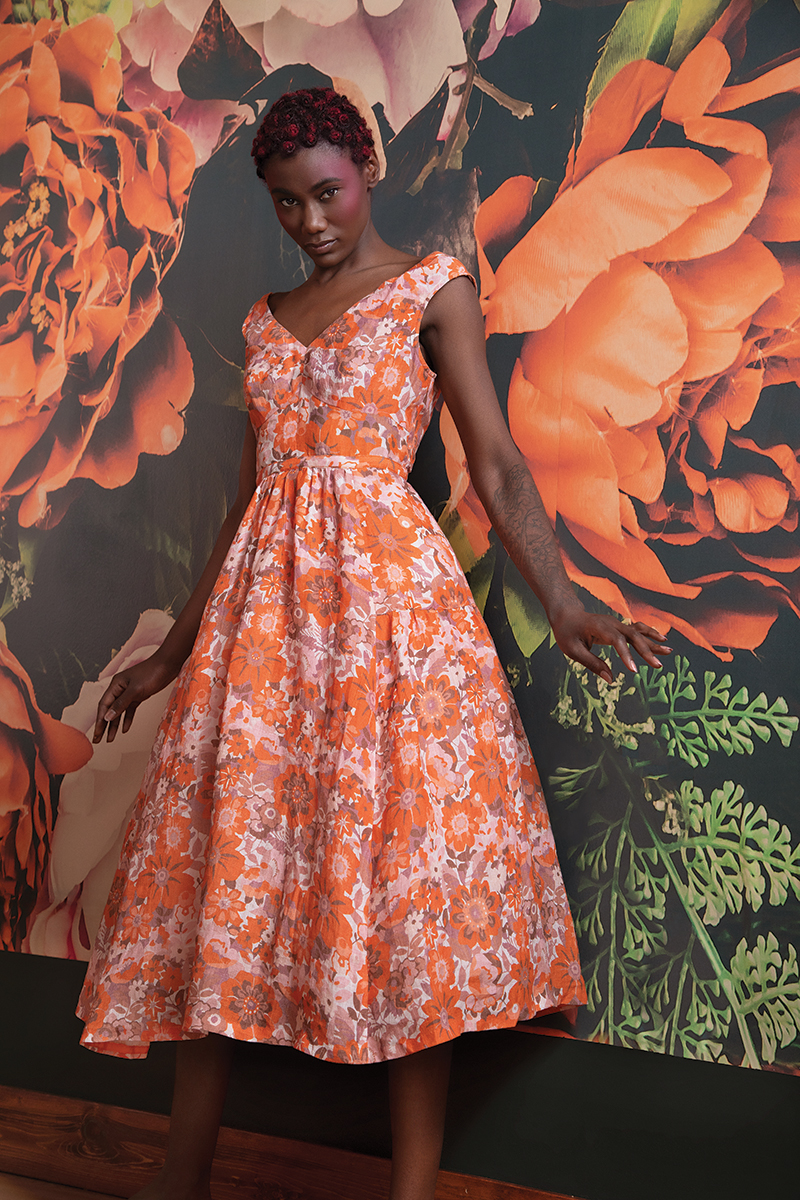 How will you transition into future collections?
Along with Détroit is the New Black, I did a capsule of Hope for Flowers for Anthropologie using sustainable textiles. We're in the midst of developing a fall capsule for them, and I'm going to continue to, hopefully, ship exclusive product to them. Then I'll be introducing a small wholesale collection for spring 2020 that hits on all the things I love and that my customers have come to love from me but doing it in a more sustainable way. I want a percentage of that to be produced in Detroit.
Do you anticipate branching out into new categories?
Not to start out. I don't feel it's necessary to have a voice in every single category. I want to keep the focus on these collections and execute them the best way I can. As we're getting into sustainability, there's a lot that I need to explore and I want to do it properly. I also want to have a little time to smell the flowers myself.