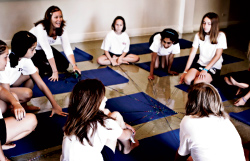 Traditional phys ed is taking an unusual twist — make that stretch — at University Liggett School in Grosse Pointe Woods.
Students are learning basic yoga poses and breathing as techniques to improve focus and confidence. And in a formal review of the program, the young pupils gave yoga high marks.
"I can use my yoga breathing before I take a test," one student reported. Offered another: "I use it on my homework when I'm stressed."
Parents seem equally pleased. "Yoga ed has given my children tools to manage stress, stay healthy, and work with others," says Page Heenan, who has twin seventh-graders at the school.
Heidi George, a certified yoga ed instructor, introduced yoga to Liggett as an after-school program. It helps children "take responsibility for themselves and their bodies," she says. The program was added to the sixth-grade curriculum last year.
George teaches yoga-based tools such as breathing techniques, poses, and visualizations. Also in the mix are games, such as "trees and the wind," in which students are asked to balance on one leg and focus while their peers try to blow them off balance. The goal is to teach "how to stay strong in yourself when the whole world is coming at you."
While yoga is new here, it started in a California school in 2002, when a 36-week program was designed to fulfill national physical-education standards while investing students with lifelong tools to combat stress and build fitness.
Five years later, a California State University study found that yoga education improved confidence, fostered a sense of happiness, and improved posture, sleep, and concentration.
Liggett's sixth-grade dean, Stevie Vidal, has observed similar benefits. Anecdotally speaking, she says, yoga studies brought more focus and less stress.
Liggett faculty also may take in-service yoga training. "[There are] poses you can do right at your desk," the instructor says. "Taking a deep breath and stretching can change everything in a room."
---
Facebook Comments