Eggs Benedict is a breakfast masterpiece. The traditional take on the dish consists of two halves of an English muffin that's topped with Canadian bacon or ham, two poached eggs, and a helping of hollandaise sauce. But, some restaurants put a spin on this classic, swapping out the traditional meat for veggies, crab cakes, or even trout and amping up the sauce with pesto, tomato, or dill flavored hollandaise.
Whether you're looking for a tried-and-true take on eggs Benedict or want to branch out for a unique taste, consider ordering from one of these metro Detroit restaurants the next time you're craving the savory breakfast dish.
Dime Store
The Benny's section on Dime Store's menu features an impressive lineup of eggs Benedict dishes. There's the Classic and Veggie as well as two unique bennys. The Cold-Smoked Salmon features salmon, chive cream cheese, onion, arugula, and capers on an English muffin and the Cheesesteak is built on an English muffin and features shaved ribeye, onion, criminology mushroom, and American cheese. Customers have the option of choosing house breakfast potatoes, side salad, or fresh fruit with their meal. Dime Store, 719 Griswold St., Suite 180, Detroit; 313-962-9106; eatdimestore.com.
Mad Hatter Bistro
Prior to the pandemic, this Birmingham bistro was known for its build-your-own Benedict special. While Mad Hatter has had to put a pause on this offer for the time being, it's still offering two Benedict options you won't want to miss. The Eggs Benedict features a toasted English muffin, Canadian bacon, and hollandaise while the Crab Cake Benedict features a toasted English muffin with crab cakes and hollandaise. Breakfast includes potatoes or fresh-cut fruit. Mad Hatter Bistro, 185 N. Old Woodward Ave., Birmingham; 248-540-0000; madhatterbistro.com.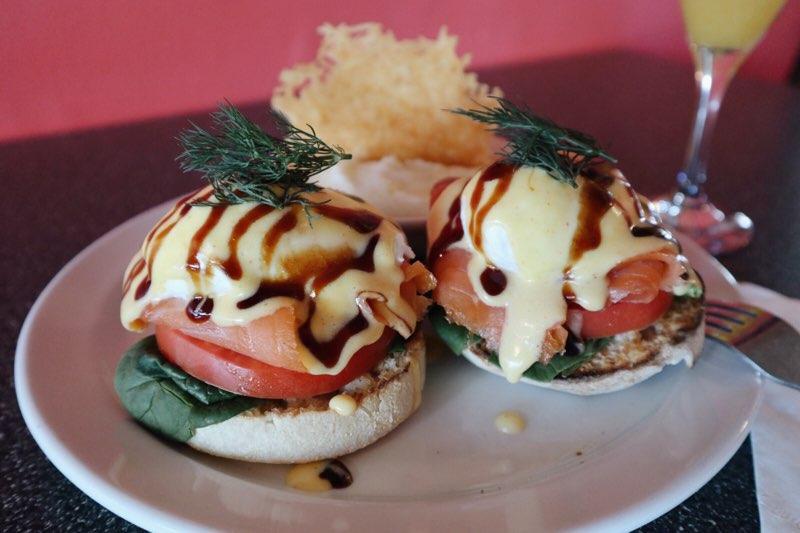 Toast
Toast offers up a more classic eggs Benedict — the Toast Benny at the Ferndale location (called the Classic in Birmingham) is topped with bacon or ham, tomato, spinach, and hollandaise — and a more unique option called the Nova Scotia. The latter features smoked salmon, spinach, tomato, dill hollandaise, and balsamic drizzle. There's also the Mexi in Birmingham (called the Chorizo in Ferndale), which comes topped with smashed avocado, chorizo sausage, tomato, and spicy hollandaise. All Bennys are served with home fries, bacon fried rice, or grits. Customers can sub fruit, side salad, or tomato slices for an additional cost. In Birmingham, Bennys are served on an English muffin. You can choose an English muffin or biscuit in Ferndale. Toast, 203 Pierce St., Birmingham; 248-258-6278; and 23144 Woodward Ave., Ferndale; 248-398-0444; eatattoast.com.
The Jagged Fork
This metro Detroit chain's menu includes several standout eggs Benedict options. "Fork favorites" include the Voodoo, an English muffin topped with guacamole, chorizo, cheddar cheese, and salsa verde, and the Pesto Benny, an English muffin with house made basil pesto, sautéed spinach, mozzarella, and tomato. You can also get The Classic Eggs Benedict, which comes topped with ham and hollandaise. The Jagged Fork; visit thejaggedfork.com for locations.
Breakfast Club
Benedict options at Breakfast Club include the Classic Eggs Benedicts, which is a traditional benny made with Canadian bacon; the Smoked Salmon Benedict, made up of capers, onion, and salmon; the Napoleon Benedict with portobello mushroom, spinach, grilled tomato, and a pesto hollandaise; and the Crabcake Benedict topped with tomatoes au gratin. All options are served with tomato au gratin, hash browns, or diced potatoes. Breakfast Club, 1713 Haggerty Road, Commerce Township; 248-926-0690; breakfastclubcommerce.com.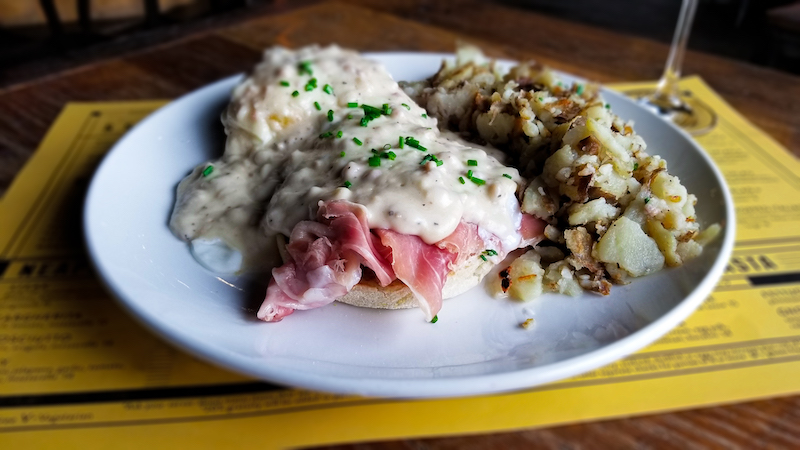 Pop's For Italian
This Ferndale Italian spot has two different Benedict options on its brunch menu. The Prosciutto Benedict is built on a grilled English muffin that's topped with sliced prosciutto, and sausage gravy. The Smoked Salmon Benedict is built on top of a grilled baguette and features salmon, crème fraîche, fried capers, citrus hollandaise, herbs, and house potatoes. Pop's For Italian, 280 W. Nine Mile Road, Ferndale; 248-268-4806; popsforitalian.com. 
French Toast
A French-inspired Cajun restaurant, French Toast serves up a traditional eggs Benedict dish — made with Dearborn ham and built on a biscuit — as well as two unique options. Along with the usual poached eggs and hollandaise sauce, the Crab Cake Benedict is made up of Maryland crab cakes and topped with pico de gallo. The Arcadian Benedict is a vegetarian-friendly meal made with fried green tomatoes and spinach. Both plates are served with house hash, grits, or potato pancake and mixed greens. French Toast, 40370 Five Mile Road, Plymouth; 734-335-6533; and 43225 Ford Road, Canton; 734-667-3029; frenchtoastbistro.com.
Poached
This breakfast and lunch spot offers eight different kinds of eggs benedict including a traditional benny, crispy chicken benny, bacon avocado benny, crabby (crab cake) benny and others. Add hash browns or fresh fruit to your breakfast or brung Eggs Benedict order for an additional charge. Poached, 46350 Dequindre Road, Shelby Township; 586-991-7448; poachedrestaurant.com. 
This post was originally published in 2021 and is updated regularly.