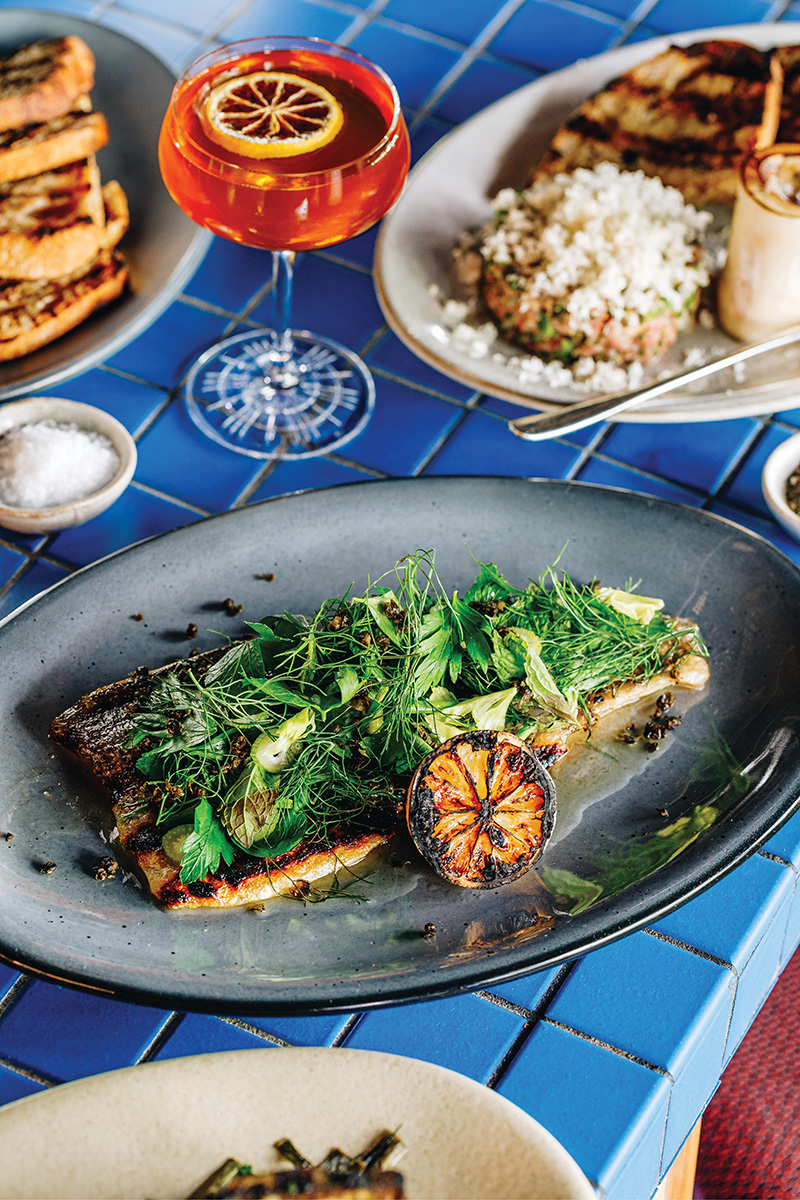 Seated at one end of the sunken bar at Barda on a balmy night in July, I was transported back to evenings spent at Magnet. The trendy but short-lived venture transformed a Core City auto radiator repair shop into a contemporary restaurant with a direct sight line to a wood-burning oven and grill. At first, I straddled disappointment and nostalgia. The unchanged space left little room for first impressions — after all, half the allure of a new restaurant is just that, its newness. The better part of me, though, was happy to see new life in a place gone too soon. 
Nevertheless, the space's afterlife as an Argentinian restaurant makes perfect sense. Fireside gatherings typify Argentine dinners. "That's why I was thinking, 'Bring the fire here,'" Barda chef and owner Javier Bardauil told The Detroit News earlier this year. "Well, somebody already built it for me." When he first visited Magnet in 2019, the Argentina native discovered an open-kitchen concept powered by an open-fire grill, ideal for searing hearty meats and charring locally sourced vegetables. "I wouldn't change anything," he told The News. 
Bardauil kept his promise. Today, Barda maintains the same blue-tiled walls and countertops of the original buildout. Ceramic plateware still tops wooden tables, and neon red lighting continues to bounce off the blue walls, casting a majestic purple glow upon diners' faces in the same way stage lighting reflects on the crowd at a buzzing concert.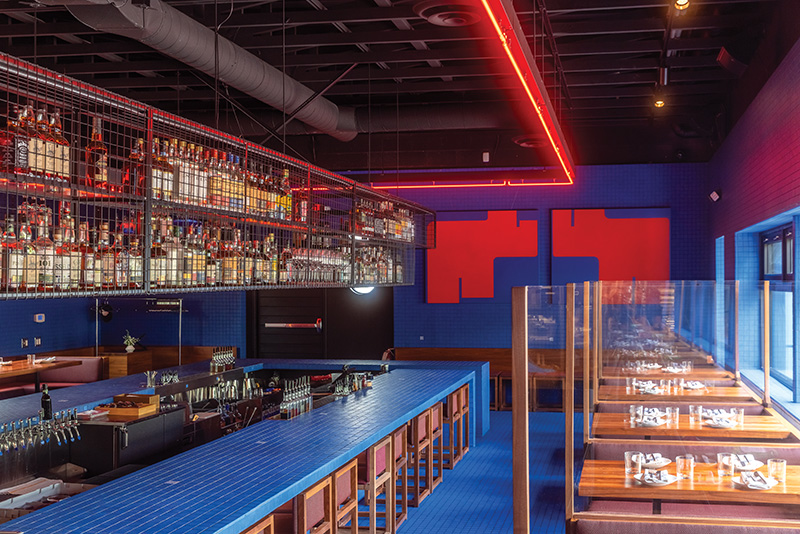 It's rare, if not unheard of, to inherit a turnkey space so beautifully designed, let alone one perfectly suited to the craft of wood-fired cooking. When he did, Bardauil took it and used the opportunity to pour his own identity into the food. 
Barda brings a new cuisine to metro Detroit. A first of its kind, the Argentinian restaurant diversifies a landscape where Mexican eateries dominate the Latino market. The concept is authentic, not inspired, and it's helmed by Bardauil, whose experience in Argentinian cooking spans decades. He's worked in the kitchens of acclaimed Buenos Aires restaurants such as Patagonia Sur and Happening. He's even taken his skill to television as host of Cine y Cena, a cooking series broadcast in Latin America in the early 2000s. Bardauil is joined by co-owner Ignacio Gerson and Chef Michael Goldberg, former chef at Israeli-inspired lunch spot Allenby, as chef de cuisine. 
Whereas the menu at Magnet was veggie-forward, Barda, true to Argentinian culture, celebrates traditional meat dishes. For starters, Carne y Hueso, meaning Flesh and Bone, features a mold of finely chopped beef tartare topped with spicy horseradish alongside a dense bone filled to the brim with buttery marrow. Sourdough toast, etched with smoky grill marks and glistening with rendered beef fat, serves as a rich utensil for the app.
Tira de Asado, a classic Argentinian short rib dish, arrives on a plate in a coriander-pepper crust. The steak knife here is merely a formality, as the meat is fork-tender and easily slips right off the bone. Inch-thick slices of rare Bife, or strip loin steak, lie on a bed of melted butter infused with chimichurri. 
Bardauil's level of mastery on the grill extends beyond the red meat specialty here. There's fish — a whole roasted trout is served in a phenomenal jus of capers and herbs with a warm halved lemon, its pulp caramelized by a flash in the open fire — and charred vegetables, too. 
Fans of Magnet's popular Smashed Beets or whole roasted cauliflower can take comfort in knowing that Barda is carrying the torch with fresh but familiar takes on each. Thin slices of vibrant beets, artisanally manipulated into the shape of a rosette, are glazed, dusted in pulverized dehydrated raspberries, and served with a puddle of ajoblanco. A filling cauliflower steak is fire-roasted and coated in creamy bagna càuda and crunchy house-made breadcrumbs for a medley of flavors and textures. 
Roger James Fruin and Robert Wilson, alumni of Bad Luck Bar and Kiesling, respectively, head up the beverage program, where Patagonian wines and flavors shine. At the bartender's suggestion, I turned away my usual Malbec for the El Enemigo, a dry Argentinian Cabernet Franc that hit all the right notes. Meanwhile, a yerba mate-infused house rum, Fernet — the spicy, aromatic spirit and unofficial drink of Argentina — and Bolivian brandy make appearances as the South American stars of the cocktail menu.
As I sat at the bar that summer night, feeling the heat of the kitchen and the warming sensation from a few glasses of fine wine, I could confidently say, Barda is deserving of hotspot status.
---
This story is featured in the October 2021 issue of Hour Detroit magazine. Read more stories in our digital edition. 
Facebook Comments