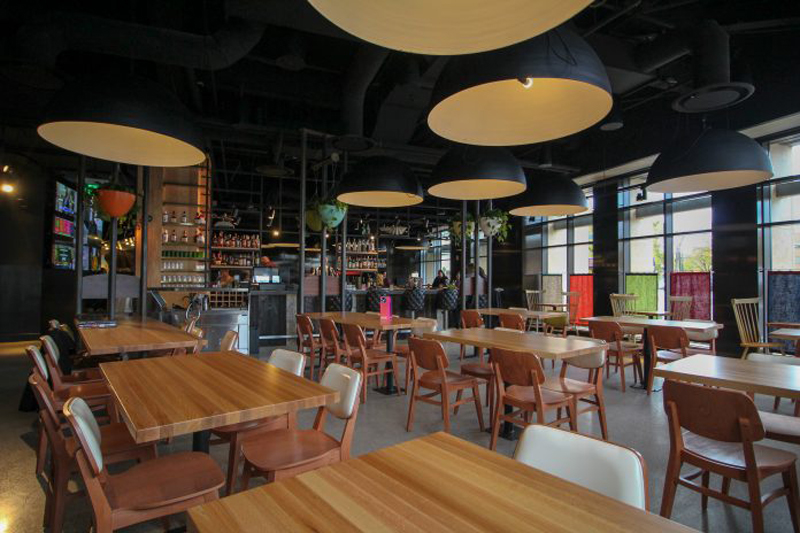 Monday, Beth Hussey, former partner of Kramer Restaurant Group, and award-winning executive chef, Emmele Herrold, open their inventive casual fine dining eatery, Hazel, Ravines, and Downtown (HRD). Located in Birmingham off of Woodward Avenue, the 10,000 square-foot space features a grab-and-go market, offering fresh juices and sandwiches, local spirits from their horseshoe shaped bar set, an expansive opening dining room seating up to 130 patrons, and a petite, outdoor grotto. Hussey and Herrold have curated not one, but three distinct menus that satisfy every culinary craving. "[We wanted to create] a guest experience that will go unmatched in Birmingham," the duo says.
Herrold and Hussey crafted the bills of fare, named after nearby neighborhoods, with the intention of enticing a variety of eaters. While their Hazel menu focuses on comfort food, think cheesy potatoes and green bean casserole, Ravines evokes the palate of a seasoned traveler, listing Argentine Asado as an entrée, and Turkish Custard as dessert. HRD's third menu, Downtown, caters to metro Detroit's food-trend-followers, with offerings like a gouda cheese charcuterie board and a vegetarian burger featuring curry, cucumber, and yogurt. What's common among the three is that all ingredients are sourced from local partners. Herrold and Hussey, in taking to the farm-to-table bandwagon, run their operation as a scratch kitchen, preparing all stocks and sauces in-house. HRD serves lunch, dinner, and brunch on the weekends.
The interiors certainly reflect the mesh of crowds that Herrold and Hussey hope dine at their restaurant. Colossal yet sleek hanging lamps are suspended over closely arranged, soft oak tables and mid-century inspired chairs, while iron and leather-studded stools sit at a wood-paneled bar; such a contrasting arrangement somehow captivates."With HRD, we set out to create a neighborhood place where everyone is welcome," said Hussey. "We envision an accessible, comfortable space that focuses on a sense of community, while maintaining excellence in food, drink and service." Aware of Detroit's growing restaurant scene, the two set their sights on Birmingham for HRD, noting that the city lacked neighborhood hangout. They hope their spot plays host to business lunches, first dates, and friends reuniting.
---
For more information, visit hrd.kitchen. 34977 Woodward Ave., Birmingham, MI; 248-671-1714. B, L, & D Daily. 
Related: A Lesson in Authentic Indian Street Food at Neehee's