As a kid, J.D. Simpson would peer through the spindles of his family home's staircase, looking down at the adults eating, drinking, and being merry.
"My penchant for entertainment came from my parents," says the born and bred Detroiter. "They entertained as far back as I can remember. They would have wonderful parties, particularly Christmas parties."
The images and sounds of flowing food and drink, lively music, and people dressed to the nines stuck with him, so when he got older, his parents let him throw the parties.
Entertaining these days for Simpson and his partners, Roger Yopp and Ron Scott, is more than a hobby. On a recent Saturday evening at their restaurant, SavannahBlue, and adjacent Willow, a stylish and sophisticated speakeasy, on Times Square in downtown Detroit, I could envision the stories that Simpson told me to be somewhat like what I was seeing unfold around me: people dressed to impress while feasting on generous portions of flavorful dishes such as sumptuous shrimp and grits, crispy catfish fritters with Cajun remoulade, and luxurious lump crab cakes; sipping on killer cocktails; and being treated like royalty due to good old-fashioned hospitality.
Southern hospitality with a Detroit twist is SavannahBlue's motto. The Detroit part of the equation comes from growing up in Motown, Simpson says. "Our friends were Motown kids. … We all went to school with [Motown artists'] children. They lived in the neighborhood. I remember Gladys [Knight], she took us to football practice every day. And then you had the Four Tops. I was in Levi [Stubbs] III's wedding. He is one of my best friends."
The kids of Motown legends had a coveted style about them.
"They wore the coolest clothes; they had the coolest stuff, and that was just the style that they adopted from their parents, and we picked up a lot of that because they were our friends." The business partners, who have been friends since childhood, wanted SavannahBlue and Willow to reflect that style, which they consider "an authentic Detroit style," Simpson says.
The men have been in the hospitality game for more than two decades, starting at a time when Detroit wasn't seeing the brisk development it sees now.
"We had businesses downtown at a time that you could throw a bowling ball down Woodward Avenue and not hit a soul," Simpson recalls of the late '90s and early 2000s, when separately, he and his now-partners ran businesses like TV Lounge, Club Network, and Lola's, the first two being fixtures of the late-night scene and Lola's a restaurant/jazz joint.
The Restaurant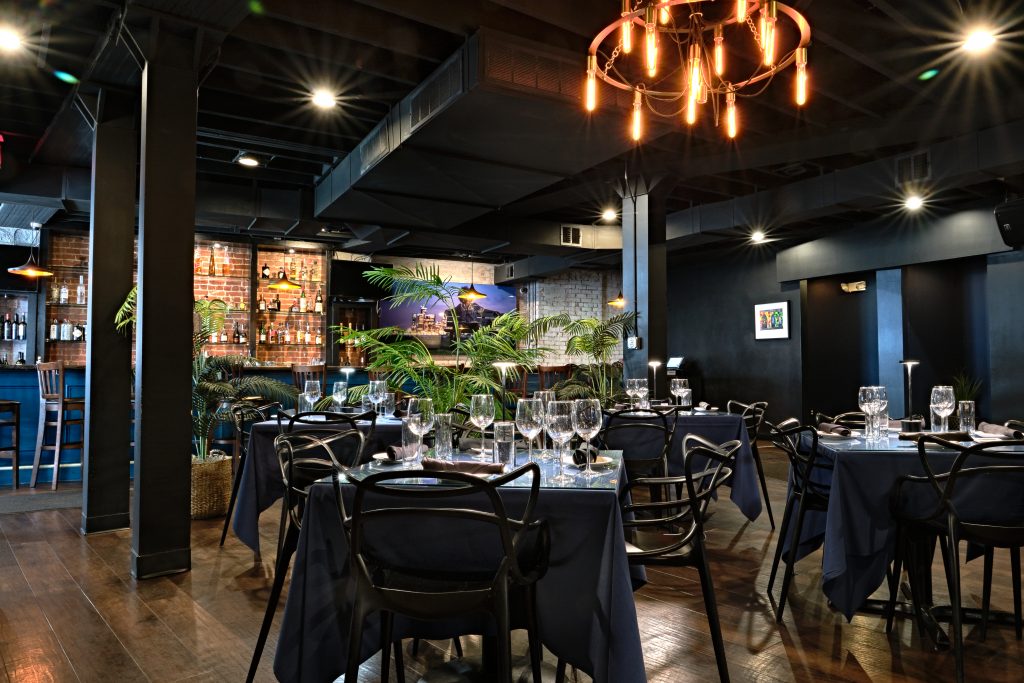 The trio and Yopp's wife, Tanya Heidelberg-Yopp (who has since passed away), decided to join forces to open SavannahBlue in 2016 after experiencing success on their separate hospitality ventures. Last year, they opened Willow, in the alley on the opposite side of SavannahBlue's entrance.
At SavannahBlue, the menu still looks like it did when they opened the doors seven years ago — with some updates but the same inspiration.
"The dishes are certainly traditional-based dishes that are inspired [from] throughout the South. You've got New Orleans and jambalaya, and some of the Cajun inspirations, and you've got the fried chicken, which is just straight Southern cuisine," Simpson says.
The chicken is done a little differently at SavannahBlue, he says. "We do a pounded-out white-meat breast as opposed to what you typically would get, which would be the bone-in pieces, … and then [the breast is] deep-fried." The dish is served with smoked turkey collard greens and candied sweet potatoes.
Simpson credits SavannahBlue's creative spins on classic Southern food to the opening chef, Christopher McClendon, and McClendon's teacher at Schoolcraft College, Shawn Loving, a renowned local chef and longtime friend of Simpson's who helped guide the new restaurateur to the local dining scene.
These days in the kitchen, three chefs work together to oversee SavannahBlue's food offerings, with Calvin Washington as the "overall orchestrator" dealing with ordering and processes, Elijah Broughton as the jack-of-all-trades, and Mike Banks as the "culinary imagination guy that comes up with new dishes and experimental stuff."
But there are dishes that have been there since the beginning, the ones that will go nowhere. "We call them 'hitters,'" Simpson says.
One of those staple items is the shrimp and grits, which boasts a tantalizing interplay of flavors from Parmesan in the grits to Cajun spice on the shrimp. The grits were so creamy and well seasoned that my dining companion was perfectly content just eating the grits and forgoing the shrimp. Other signature items include the red wine-braised oxtails over saffron cheddar risotto and the catfish, as well as the greens and the mac and cheese. The last is a healthy portion of elbow pasta bathed in a silky milk custard with a pinch of black pepper; if I had one complaint, it was that there was not enough of that craveable cheesy crust on our portion.
Another standout was the lump crab cake, which didn't skimp on the crab and was served with corn brussels slaw, grilled lemon, and Cajun remoulade. The grilled lemon is a prime example of the extra touches and details that mark the elevated approach SavannahBlue takes to its food; the extra step of charring the lemon brings both smokiness and brightness to the dish. The catfish fritters are served simply, with just a side of Cajun remoulade that accentuates the perfectly crispy and crunchy exterior thanks to the dredge in cornmeal.
"The bottom line is we sell Southern-inspired, fancy-plated soul food," Simpson says.
That sophistication and style extend to the rest of the restaurant, with its exposed brick, large windows that provide glimpses of the People Mover as it whizzes by, and striking black-and-white photography on the walls that depicts iconic Detroit sites such as Hudson's department store and the Wright-Kay Building.
"We built SavannahBlue on a culture that is authentically ours. We have Black-influenced food; we lean into our culture … because it's authentic to us," says Simpson, who repeatedly emphasizes his pride in being a Detroiter and commitment to supporting Detroiters.
Simpson also believes in "investing in people that are young and that typically may not get the opportunities to work in the hospitality industry."
"We're able to give people chances. That's one of the blessings about the business and one of the things we're proud of," he says.
One of those employees is Detroiter Lynsai Barnes, who's been with SavannahBlue and Willow from their beginnings. She started as a server and quickly moved to bartending when management found out about her bartending chops. When she expressed interest in management, they supported her and provided mentorship to help her take the next step.
"We're big on the [idea that the] business should reflect what the city of Detroit looks like," Simpson says. "We have the opportunity to disperse hospitality equitably, maybe more so than it's been dispersed historically, maybe a little bit more than how it's currently being dispersed."
For example, Simpson dines out frequently, and sometimes he'll find himself as the "only Black guy in the restaurant."
"It necessarily doesn't bother me, but it's not necessarily reflective of the diversity of a world- class city," he says.
The Speakeasy
Willow is the perfect place to start or end your evening if you're dining at SavannahBlue. Look for the gold-painted door with a willow tree etched into it in the alley on the opposite side of SavannahBlue's entrance. You ring the doorbell, and the hostess beckons you into the intimate space with enough seats for 50 (reservations highly encouraged).
On the walls are photos of Motown icons and Black bartender and author Tom Bullock, as well as portraits of "Black Eden," the historic resort town of Idlewild in northern Michigan.
The drinks here are unique with complex flavors and extra touches that elevate them, such as smoked cinnamon on the Willow Old Fashioned. The G.O.A.T caught our eye, but it wasn't available when we came in before our reservation. The bartender told us they had sold so many of it the night before that they were out.
That cocktail is the creation of Barnes; her inspiration was a watermelon and arugula salad with goat cheese offered at SavannahBlue. She started to experiment with infusions and came up with a savory vodka. The infusion is an overnight process, and the result is then paired with watermelon, basil, and strawberry.
"When we come up with drinks, we have a small team, but everybody's drinks are represented in the menu," Barnes says. "They're really intentional. They're coming from our hearts, and we're hoping that you're gonna love them. These cocktails are labors of love."
Forward Thinking
Looking ahead, Simpson hints at further expanding the business, potentially by opening a spot somewhere else in the city or utilizing a current empty space with a new concept.
"We're trying to decide now what exactly that's going to be," teases Simpson, who received — along with Scott and Yopp — a James Beard Award semifinalist nomination in 2022 in the outstanding restaurateur category.
While the longtime hospitality entrepreneur is thinking of what's next, he's doing so with an eye toward the next generation to keep the businesses going.
"Detroit is certainly on the upswing. It takes young, new, fresh ideas and fresh energy to keep the momentum. We have a responsibility to pass it on and bring some people forward so they can continue in hospitality, continue to get better."
SavannahBlue and Willow are located at 1431 Times Square, Detroit. Call 313-926-0783 or visit savannahbluedetroit.com and willowdetroit.com for more information. 
---
This story is from the July 2023 issue of Hour Detroit magazine. Read more in our digital edition.