---
Royal Oak — it's a city that offers boutique shopping, independent coffee shops, a number of Irish pubs, and five record stores. But one thing that the idyllic cityscape lacks is an upscale cocktail lounge; specifically one that sits on a rooftop.
"There's a lot of sports bars, and others of that nature, in Royal Oak right now," says Adam Merkel, founder and owner of his namesake restaurant group, which includes the soon-to-open Pinky's Rooftop.
Merkel, having established a few of Howell's highly prized restaurants like The Silver Pig, Cello Italian, and Diamond's Steak & Seafood, partnered with interior designer and architect Ron Rae of Ron and Roman, to decorate the space.
"Adam and I have worked together on a number of restaurants. We've both come a long way together, as I understand him and he understands me. He's very open-minded to everything and that's made it very easy to be creative," Rae says.
The name for Merkel's rooftop hearkens back to a Detroit restaurant, once located at Jefferson Avenue and Grand Boulevard near Belle Isle, that was called Pinky's Boulevard Club. Dating back to the 1920s, the once speakeasy turned premier bar-and-multiple-course eatery was rumored to be frequented by high-profile locals like former Detroit Pistons player Dave DeBusschere.
By the '80s, Pinky's was no more, and the building that once housed the club became abandoned and later dilapidated. As feverishly adored as Pinky's once was — there are numerous online threads of metro Detroiters continuously reminiscing its heyday — the landmark lacks any modern historical presence, online or in the city.
"I always loved that place. They tore it down and put a Starbucks there years ago," Rae says. And that was that.
---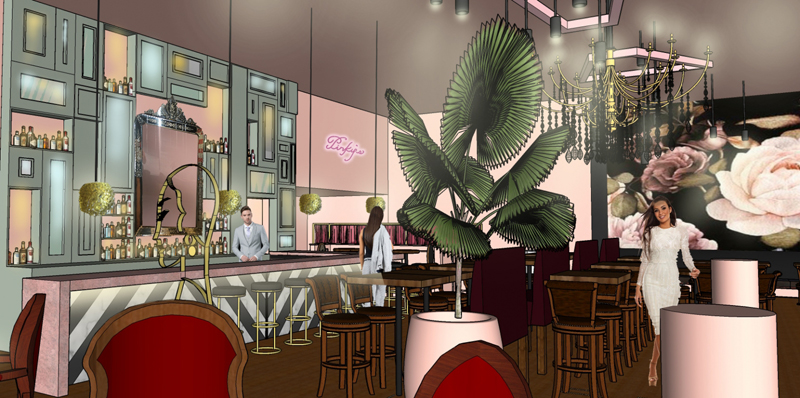 ---
The name extends past the legacy of the defunct joint, as Rae has conceived an unofficial mascot for the spot, who also goes by the name of Pinky.
The "girly girl who loves pink" is represented throughout the space; a pink marble bar countertop compliments soft-wood flooring and walls painted blush. Rae has planned for a more tangible nod to Pinky in the outdoor garden.
"We have a beautiful cast iron female statue from a courtyard in New Orleans, that was made around 1850. She is French, a la a Statue of Liberty."
During the summer, the enclosed rooftop will open up to outdoor seating, encapsulated in a lush garden of tropical plants.
An unintentioned mission to decorating Pinky's was one of sustainability and local sourcing.
"We love repurposing something, and while meeting budget is important, it allows us to be creative with the space," Rae says.
Hunting Michigan flea markets for finds, the duo have revitalized sofas, thought to be 50 or 60 years old, in soft-pink and brown leather.
The owner of former Cafe Via offered Rae and Merkel the booths from his Birmingham restaurant, which is currently under renovations. They also consigned Detroit artist Onjay Sikora, who hails from Poland, to create artwork for the 150-seat space.
"As we go through the process to create this space, we continue to be surprised by how it evolves and has it comes into its own," Merkel says. Pinky's is expected to open this spring.
100 S. Main St., Royal Oak; (248) 291-520; pinkysroyaloak.com
---
---
What are your favorite places to eat in the metro Detroit area? Tell us in the comments below!
---
Related: 5 Food Trends to Try Right Now