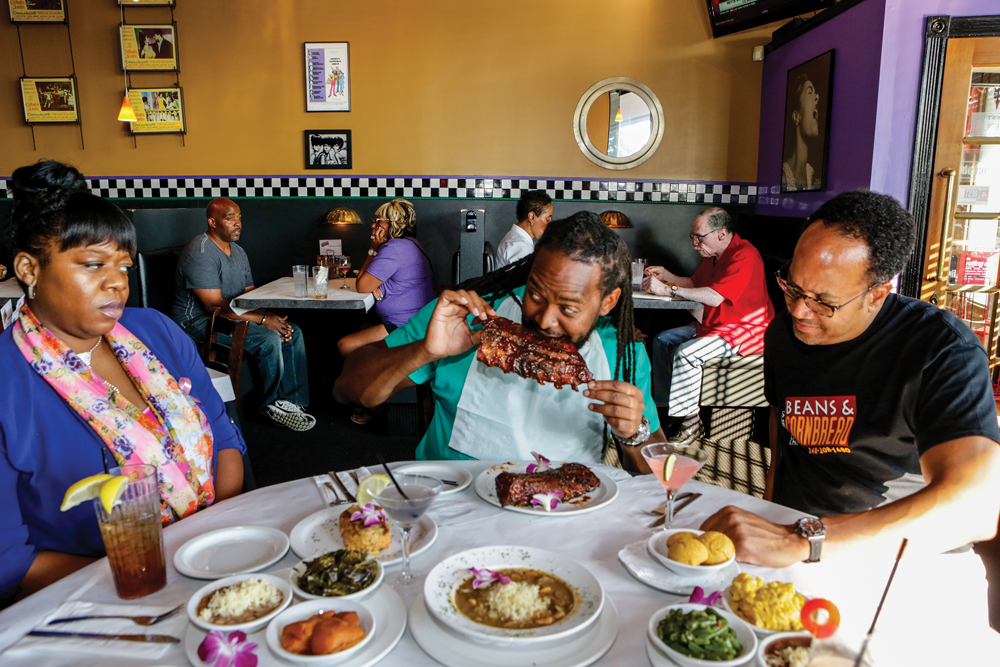 I am The Hungry Black Man, but unfortunately, I flew to Detroit as an angry black man.
In August 2016, I was looking to feature black-owned restaurants on my food site, The Hungry Black Man, for National Black Business Month. The past few years, my team and I have been all over the country, and I figured it would be best to travel out of my native Miami, where we have relatively few black-owned establishments. So I Googled "city with largest African-American population," and Detroit came back No. 1 with a little over 700,000 black people.
Damn! I didn't even know there were that many black people in Detroit. I then followed it up with searches like "Detroit black-owned restaurant," "Detroit food scene," "Detroit soul food." Eventually I landed on a Washington Post story titled, "One of the country's poorest cities is suddenly becoming a food mecca." I was a little turned off by the phrase "poorest city," but nonetheless, I clicked through, hoping for leads on a few black-owned spots.
To my dismay, there weren't any — aside from the mention of a former Detroit mayor's son who's part owner in a new restaurant in downtown.
I was bewildered. Like, I never thought I would ever use the word "bewildered," but that is exactly how I felt. Plenty of other articles seem to take the same approach, like a 2014 New York Times roundup, which at least highlighted one new black-owned spot. National Geographic also put out a mostly whitewashed lineup, while acknowledging the food scene in Dearborn, which has one of the largest Arab-American populations in North America.
I'll say it again: bewilderment. I mean seriously, what were these journalists doing? In a city with 700,000 black people, how is it even possible to find only one black-owned restaurant?
I'd heard a lot about the population loss in Detroit, but was it really possible all the black people had left and opened restaurants in Canada? Where the hell did Aretha Franklin and Stevie Wonder eat back in the day? I guess they were eating seared pork belly with artichoke spread and a side of grilled toasted-coconut Brussels sprouts. Man, hell no. They weren't eating that sh*t. You know good and well Aretha — especially — was eating some homegrown soul food, and still is.
I decided to reach out to someone at the Washington Post about the article to inquire about the missing diversity. After a short conversation, I was in so many words told, "If you feel the article is so incomplete, then you take a shot at writing a more comprehensive one." Really? Did they actually just tell me, "Get yo black ass off this phone and write about your own people?" Again: bewilderment. But on the bright side, it got me to hop on a plane to go see what the hell 700K of my people had cooking.
And what I found didn't disappoint.
I decided to arrange our tour of black-owned restaurants by cuisine type and menu offerings. One thing that impressed me right away was how diverse the offerings were. I mean, Detroit had bakeries, bars, soul food spots, French cuisine, Neo-American cuisine, international cuisine, burger joints, and even a damn black Mexican spot! They had beautiful interiors —  some recently remodeled — and many eateries I visited utilized local bakers, farmers, distillers, and breweries. This was very different from other cities I've visited, where price was king.
Longtime restaurateur Johnny Cannon told me how his New Center Eatery (home of Detroit's original chicken and waffles) sources desserts from a local Jewish bakery, even though it isn't the cheapest option. But he does it because they bake their products fresh daily using ingredients from Eastern Market. It's a culture of mutual love that I wish my native Miami had.
How a writer could overlook one of our first stops is beyond me. Sweet Potato Sensations is a 30-year-old artisanal restaurant and bakery where founder Mrs. Cassandra Thomas and her daughters serve up pancakes, waffles, and other dishes made from sweet potatoes. You can also order vegan items, like their collard green and black-eyed pea soup. And please don't forget their delicious chess pies!
I asked Thomas if she feels left out of the conversation about Detroit's food scene. She said simply, "We don't worry about recognition. We are too busy keeping our customers happy and coming back day after day."
Or what about Beans & Cornbread — outright, my favorite soul food spot in Detroit, where owner and operator, Mr. Patrick Coleman, has been serving grateful customers for more than 20 years? Anything that's part of the traditional African-American culinary canon, they have it.  Their salmon croquettes are seriously the best I've had outside of my 98-year-old great-grandmother's kitchen, and their Kool-Aid cocktails are ridiculous. Plus, it's hard not to be charmed by the manager, the formidable Ms. Jaquitta Terrell, who could have easily served as a general in the Persian Gulf War.
---
Or what of April Anderson, a born-and-raised Detroiter, who opened the all-organic Good Cakes and Bakes bakery on the Avenue of Fashion, and whose red velvet cake is so good Jesus comes in at least twice a week for it? Detroit even has the world's oldest continually operating jazz club in Baker's Keyboard Lounge, where the food and drinks menu captures the essence of the great migration, with African-American staples like collard greens, macaroni and cheese, and delicious fried chicken.
From Eastern Market, to stopping for great live music and a slab of ribs at the historic Bert's Marketplace around the corner, to the delicious classic burger at Cutter's Bar and Grill, I couldn't help but feel these were the places where Detroit's "food mecca" truly lives. At the very least, they deserve a mention.
On my return flight to Miami, the intense emotions that fueled my trip to Detroit felt far away, now replaced with admiration for the culinary legacy of this amazing city. It's clear to me there's nothing "sudden" about Detroit's food scene. What makes it special is its history. For me, it brought back nostalgic memories of my grandmother and her homemade cooking — her ability to take scraps and turn them into culinary masterpieces. That ingenuity and grit can't be learned. It's developed unconsciously, and it gives rise to menus that grow from circumstances and family traditions as opposed to market research and years of culinary school.
In some ways, it feels like Detroit is one of the last great American cities that still has a true culinary culture birthed from the migrants of Old World countries and ancestral American cuisine carried by African-Americans during the great migration. Atlanta and D.C. have nothing on Detroit.
I vividly remember being on the way to my first review, happily skipping around Detroit like a black male Judy Garland on the Yellow Brick Road, only to be stopped dead in my tracks by a lady who was helping us with directions. While explaining who we were and why we were in Detroit, she said, "Why the hell would you leave Miami to come to Detroit? We don't have sh*t up here."
I was flabbergasted. Again, I never thought I would ever use a word like "flabbergasted," but you hear something like that and how else can you feel? It wasn't the only time our team heard this either, and it often came from native Detroiters. It felt disappointing that some folks honestly didn't know what they had and how special it is.
But then again, why should we expect them to when we choose not to celebrate it?
---
Find more from food writer Starex Smith at thehungryblackman.com.