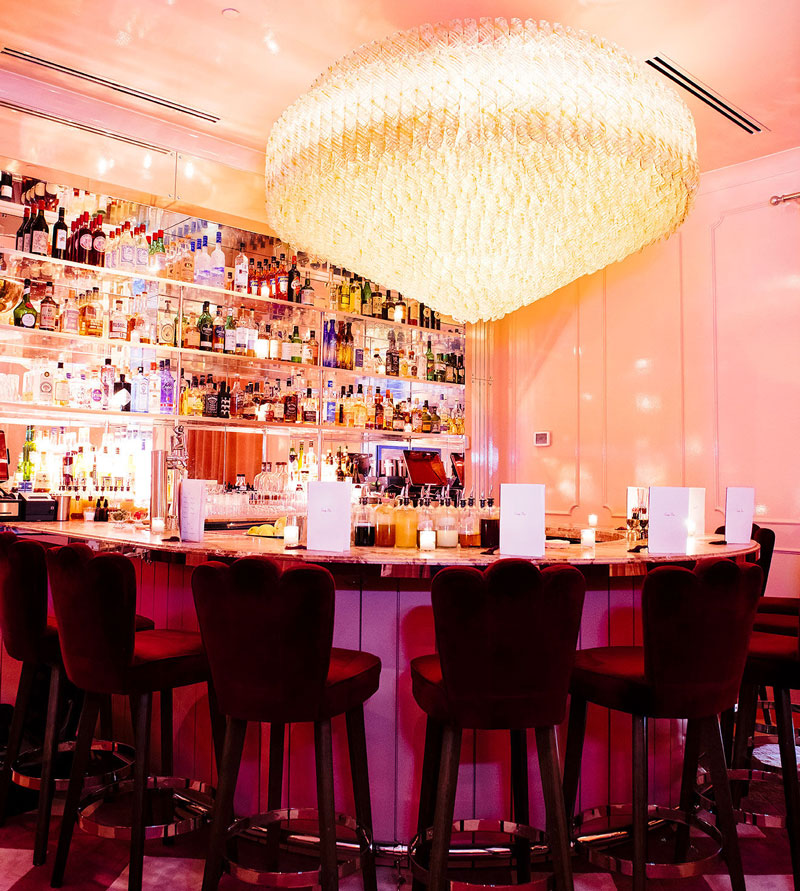 The Wurlitzer Building, built in 1926, stood empty for more than 30 years before Brooklyn-based developer, ASH NYC, bought the 14-story structure in 2015. After a nearly four-year renovation, the firm revealed the Wurlitzer's glamorous new incarnation: The Siren Hotel.
Apart from housing a modernist restaurant, in-house coffee roaster, and floral design studio, the hotel is home to Candy Bar — a plush cocktail lounge coated wall-to-wall in Jayne Mansfield pink, lined with velvet booths, and anchored by a glittering disco ball. Its romantic bar seating is illusory and exactly where you'll want to spend Saturday night.
Candy Bar is exclusive in its own sense, the bar being hidden behind a heavy, velvet curtain that momentarily opens every few minutes for patrons entering and exiting the quaint space.
Reservations cannot be made in advance, and the bar's Instagram profile promotes arriving early to grab a stool or booth in the cozy space, which seats less than a subway train cart would. This, however, does not seem to deter anyone, as lines to sip on one of the bar's signature cocktails can come with a 2-hour wait.
But the hype, and cocktails, is certainly worth the wait. Candy Bar's menu is evocative of its surroundings, with sweet and feminine-colored libations concocted out of the finest spirits and topped with playful garnishes.
The Bubble Rum mixes extra dry rum, bubble gum syrup, lemon sherbet, Suze, and hopped grapefruit bitters, which Candy Bar describes as "alluring, juicy, and herbaceous." There are plenty of options to end your night on a sweet note.
What is your favorite metro Detroit bar? Let us know in the comments below.
---
Related: A Peek into Pinky's, Royal Oak's Next Rooftop Bar