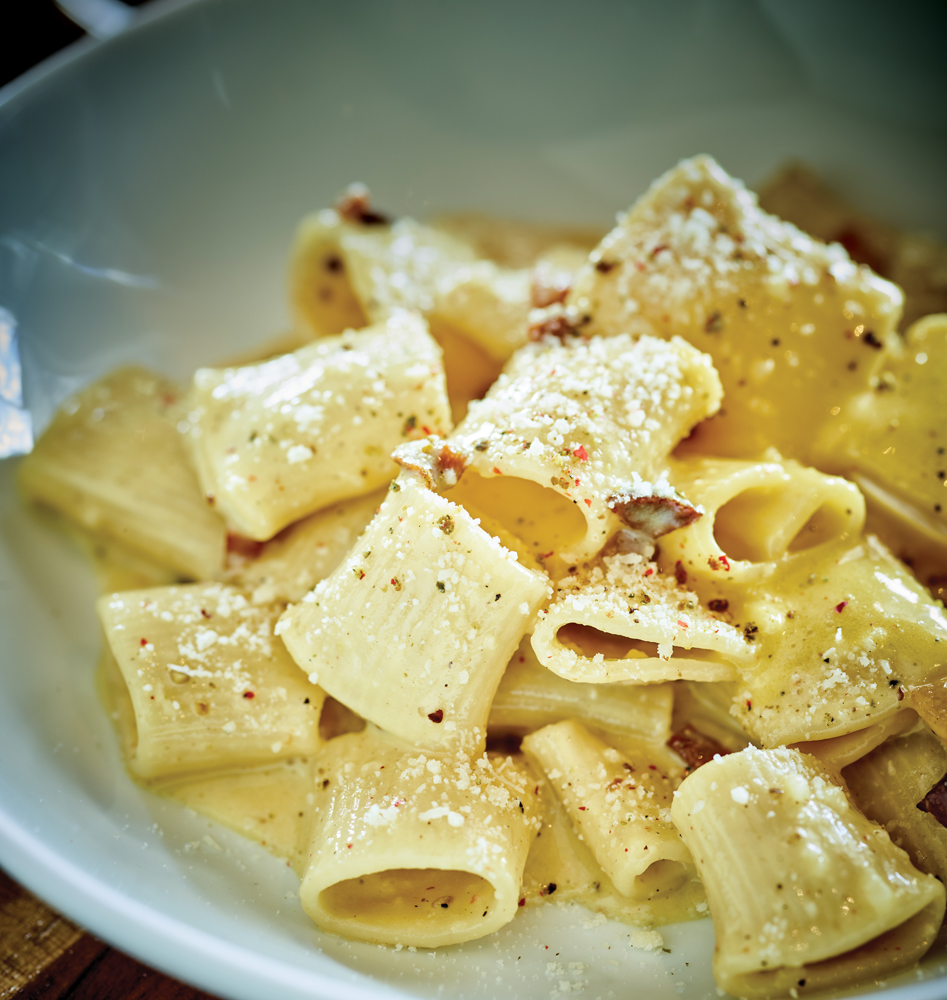 Legend has it that Rome was founded by the twin sons of Mars, the god of war. A jealous king ordered the deaths of Romulus and Remus, who were abandoned on the Tiber's riverbank in central Italy. A female wolf rescued them from certain death and raised them, and years later, they returned to that fateful riverbank to build one of, arguably, the most glorious cities in history: Rome.
This story is printed on the menu of SheWolf, the stylish and much buzzed-about Roman-inspired restaurant that opened last summer on the first floor of The Selden, a high-end condominium development in Midtown. Owned by chef Anthony Lombardo, Tim Ponton, and Frank Arcori, SheWolf lives up to the hype, serving up fresh takes on contemporary Italian food that is paired with attentive service and excellent wines and cocktails.
Lombardo sees many similarities between the Eternal City and the Motor City. The Sterling Heights native came home after years working in Washington, D.C. "Detroiters are proud people, and so are Romans," Lombardo says.
At its peak, the ancient Roman empire encompassed a vast expanse of land, from continental Europe to western Asia to northern Africa. In its heyday, Detroit was home to more than 1.8 million people, many of them lured by plentiful auto industry jobs and their own piece of the American dream. But what goes up must come down.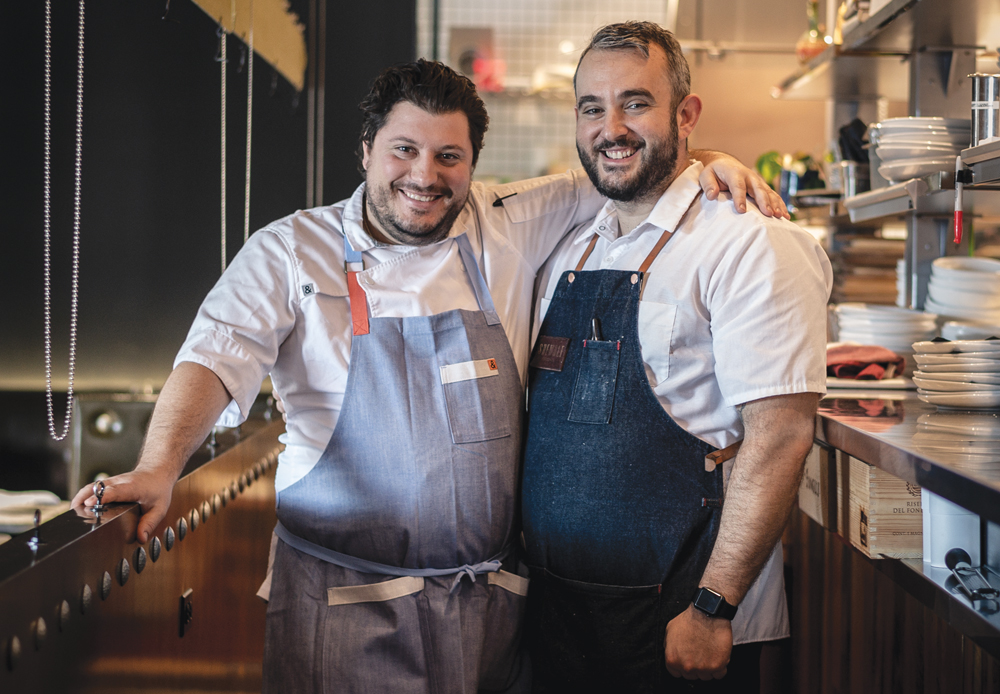 Both fell dramatically, with Rome succumbing to external threats and government corruption, and Detroit crumbling under the weight of financial missteps and the aftermath of the 1967 riots. Today, Rome is a modern metropolis that heavily influences arts, politics, and culture. And after a long decline and the largest municipal bankruptcy in history, parts of Detroit are showing signs of recovery and progress. SheWolf, like many other members of metro Detroit's burgeoning dining scene, is a part of that growth.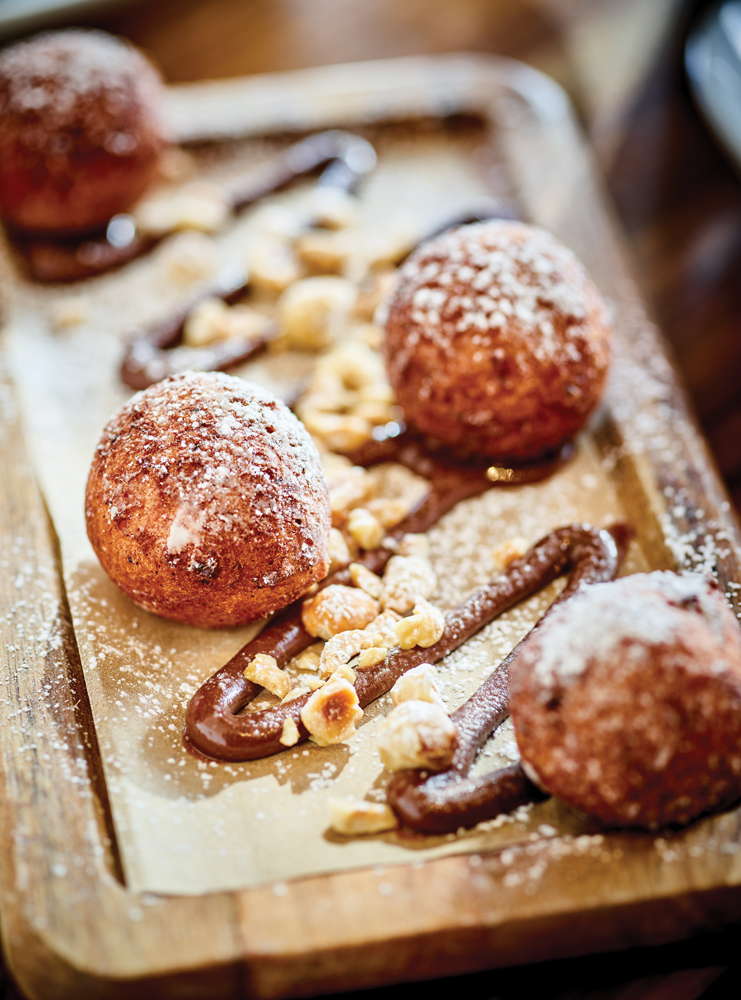 SheWolf is Lombardo's love letter to Roman food. He grew up in a traditional Italian household, and while food played a big role in his family, he got into cooking mainly because no other industry felt like an appropirate fit. Lombardo says he was a terrible student and college just wasn't in his future. It was while working as a dishwasher after high school that he realized his future was in the restaurant world. After graduating from the famed Culinary Institute of America in New York, he lived and worked in Italy as a butcher. Just last summer, Lombardo spent five weeks in Rome exploring pastificios (pasta factories), and now, diners can taste the influence of his experiences in his dishes at SheWolf.
The first thing you notice as you walk into SheWolf is that it's loud. Diners engaging in conversation adds to the ambience, which is more like a dinner party than a formal fine dining restaurant. Tables are close together, so you are arm's length — and a tempting distance — away from your neighbor's food.
The menu is thoughtfully organized to take you on a progression of flavors. The Italian ritual of an aperitivo, a pre-meal drink to whet the appetite, is an essential part of the experience and at SheWolf, the classics get a modern and fun twist. The Aperol These Years is a fresh take on the traditional bright orange Aperol Spritz. Typically made with sparkling wine and Aperol, SheWolf's version features strawberry and basil-infused Aperol and a balsamic shrub, which round out the aperitif's bitterness with fruity and herbal notes and a touch of acidity. Instead of gin, SheWolf's Negroni uses mezcal, which brings a smoky dimension to the classic cocktail.
---
SheWolf is chef Anthony Lombardo's love letter to Roman food and Italian cuisine in general.
---
The wine list is vast and except for Champagne, every wine is Italian. Servers are well versed in the offerings. Even when the service was a little off on one visit (our server took the restaurant's relaxed pace to the extreme), wine suggestions were on point.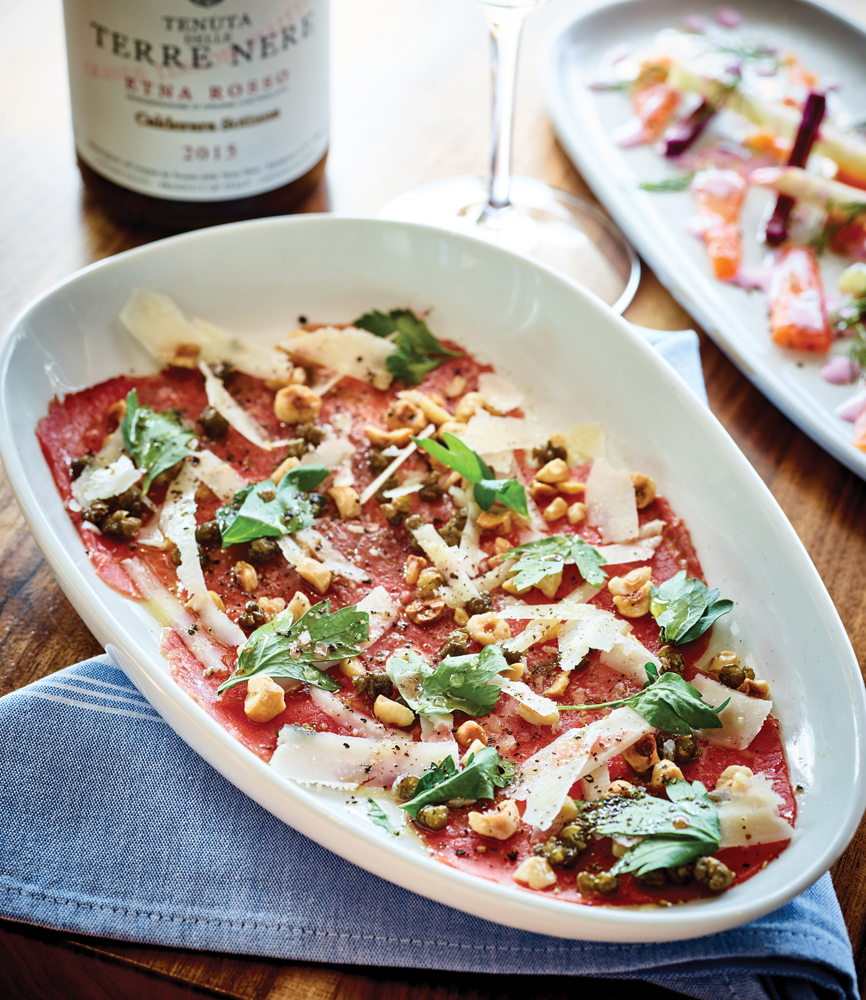 On another visit, our server presented us with an Etna Bianco from the Mount Etna region in Sicily — a unique wine we would have never thought to order. The volcanic terroir of this region imparts a unique flavor profile that paired perfectly with the Grigliata Mista, grilled scallops with prawn, calamari, white beans, celery, olives, and capers.
Lombardo coaxes maximum flavors out of his seafood dishes with restraint, taking great care to not let any ingredient overwhelm the delicate and sweet seafood meat. During one visit, the seafood crudo was a Branzino Nero with black sea bass, melon, white balsamic, fennel blossoms, and poppy seeds. Most recently we enjoyed a fall-inspired crudo with pickled beet and sweet slivers of honeycrisp apple.
During the summer, we had the Fruitti Di Mare, which translates to fruits of the sea. The typical preparation is cooked seafood served on a bed of pasta, but Lombardo's reimagined version was served cold with Manila clams, mussels and rock shrimp served with 'nduja, a spicy sausage spread, and with a cucumber gazpacho served tableside, making for an elegant presentation. "This is a beautiful dish because it shows what Chef can do," our server told us.
The heart of the menu is pasta, specifically the classic Roman dishes cacio e pepe, amatriciana, and carbonara. The carbonara is served with hearty rigatoni covered in silky golden sauce punctuated by pepper and guanciale. The sauce is so creamy it's hard to believe there's not a drop of cream or butter. Instead, Lombardo makes a zabaglione, cooking the eggs slowly so they are not scrambled and whipping it up over a double boiler.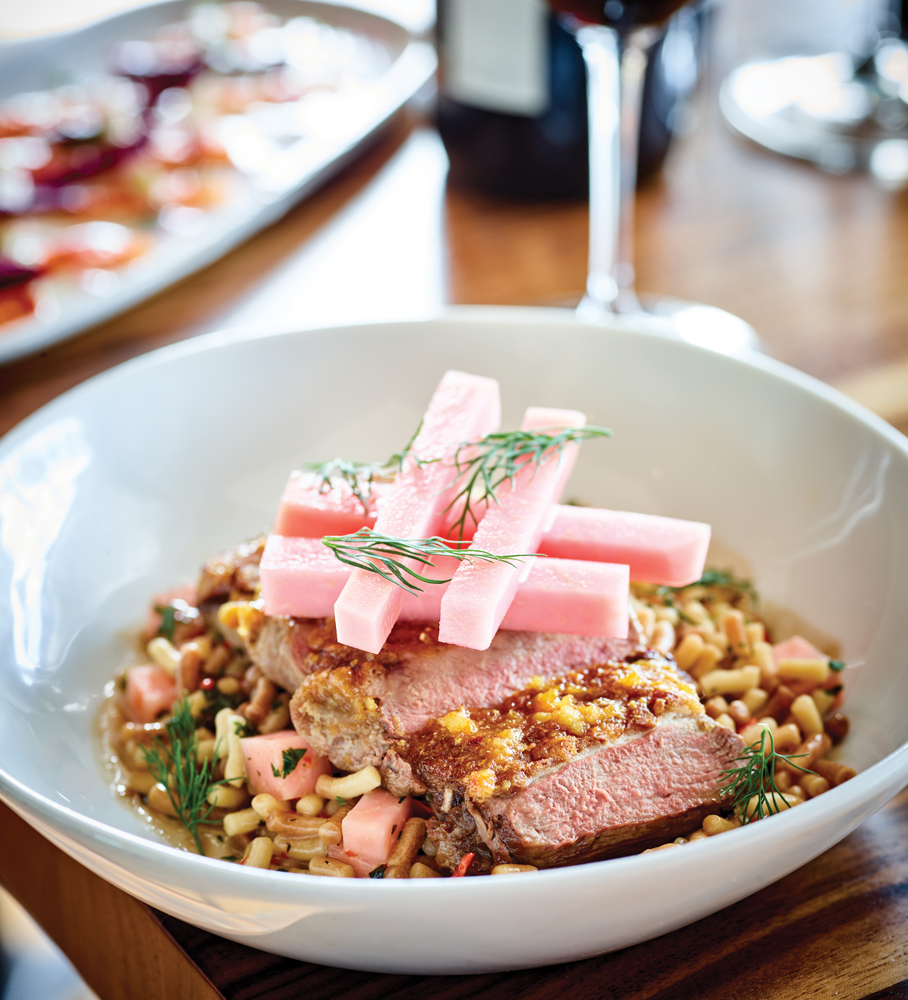 The pastas get more creative as you go down the menu such as the Conchiglie Nere: octopus "Bolognese"-stuffed shells, béchamel, lemon, and pine nut gremolata. The Scarpinocc di Patate is a pungent potato-filled pasta served with spring onions, Taleggio D.O.P. "fonduta," and fermented cabbage. That might seem like a lot of funky flavors on one plate, but Lombardo makes every ingredient work together.
All of the flour for the pasta is milled from grains such as Michigan grains and Iraqi durum on site. "Possibilities are endless when you mill your own flour," Lombardo says. When pasta sits around too long it gets rancid, but that's not an issue at SheWolf.
Under the Secondi section of the menu, the stunning Coppa di Maiale — pork shoulder grilled to perfection with a charred surface enveloping a juicy and tender interior, complemented by a vibrant red cabbage gastrique and stone fruit mostarda — was a standout, as was the Acqua Pazza, featuring a wild red snapper in a flavor-packed spicy broth.
While the meats and fish are executed well, it's the vegetables that shine at SheWolf. The umami-packed mushroom trifolata on the Bistecca Al Funghi stole the show from the grilled teres major steak, while every dish under the Contorni di Verdure section is worthy of main dish status. The Tomate Milanese was so good, after we gobbled up our three perfectly fried heirloom tomato slices with bagna cauda dressing, we had to actively resist the urge to immediately place a second order.
From start to finish, Lombardo takes diners on an epic culinary journey of his experiences in Italy, and diners in Detroit are quickly taking notice. A look at SheWolf's online reservation system in early October revealed the earliest soonest Friday reservation would be a month later — at 9 p.m.
Take whatever you can because a visit to SheWolf is well worth the wait.
---
438 Selden St., Detroit; 313-315-3992. D Tues.-Sun.