Driving Down Orchard Lake Road, I pass by a Wendy's, a Taco Bell, and a McDonald's before turning right onto Inverness, leaving behind the typical scenes of suburbia and entering a 5-acre farm oasis in the middle of metro Detroit.
A dark wooden rustic barn comes into full view, complemented by raised beds with crops bursting from the earth, all sorts of wild plants from berries to chives, and three tall greenhouses painted with colorful scenes of vegetables.
Owning a restaurant was a longtime dream for Nicole and Tim Ryan, whose other business — Ryan Construction Inc. — builds restaurants (many of them the fast-food variety).
After finding the perfect spot in Sylvan Lake, just a few miles from their West Bloomfield home, Nicole says, "We started thinking about it. We thought we could put a barn up. We could have our own farm and use the farm to produce what we cook in the restaurant."
As the vision started to take shape, Nicole discovered the Antique Barn Co., whose owner, Donald Polaski, travels the country saving old barns and giving them a new life.
"It was in line with how we wanted to operate," Nicole says. "We want it to be sustainable and to be respectful of our environment."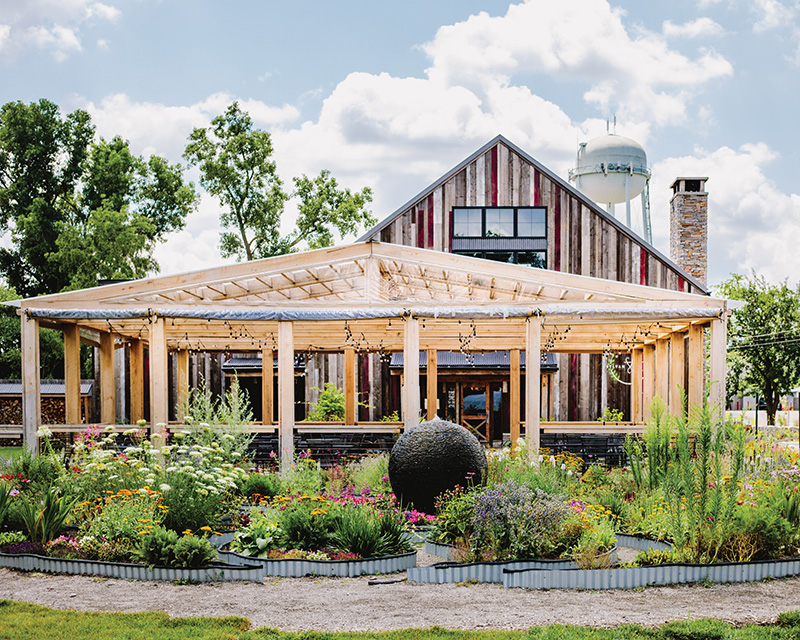 Polaski found the 300-year-old barn in Maine and brought it to Michigan in early 2019. It would take the Ryans' team about two years to transform the bones into the restaurant, which opened in June 2021.
Even though it feels grand and vast when you step into the stunning space, Sylvan Table is homey, welcoming, and inviting. In the early evening hours, natural light bathes the barn. The view from the loft is among the best in the house, where you feel a little bit tucked away but still close to the action.
The expansive bar in the center of the restaurant is a convivial spot brimming with energy as diners sip on cocktails like the "Can You Dig It?" with beet-infused tequila and the crowd-pleaser Love Grows with Valentine vodka, Aperol, grapefruit juice, and rosemary syrup.
The glass-roofed solarium, with its wood-burning fireplace, has a romantic feel to it, especially when the sun goes down and the candles are lit. But it's not just a special-occasion place for date night; I saw intergenerational families and groups of friends all sharing space.
Executive Chef Chris Gadulka says his challenge is to make sure the food matches the vibe and that he and his team deliver. Gadulka, who studied at Schoolcraft College under the tutelage of master chefs and has worked at several restaurants around metro Detroit, including Tribute, has a straightforward philosophy to cooking: Let the food speak for itself.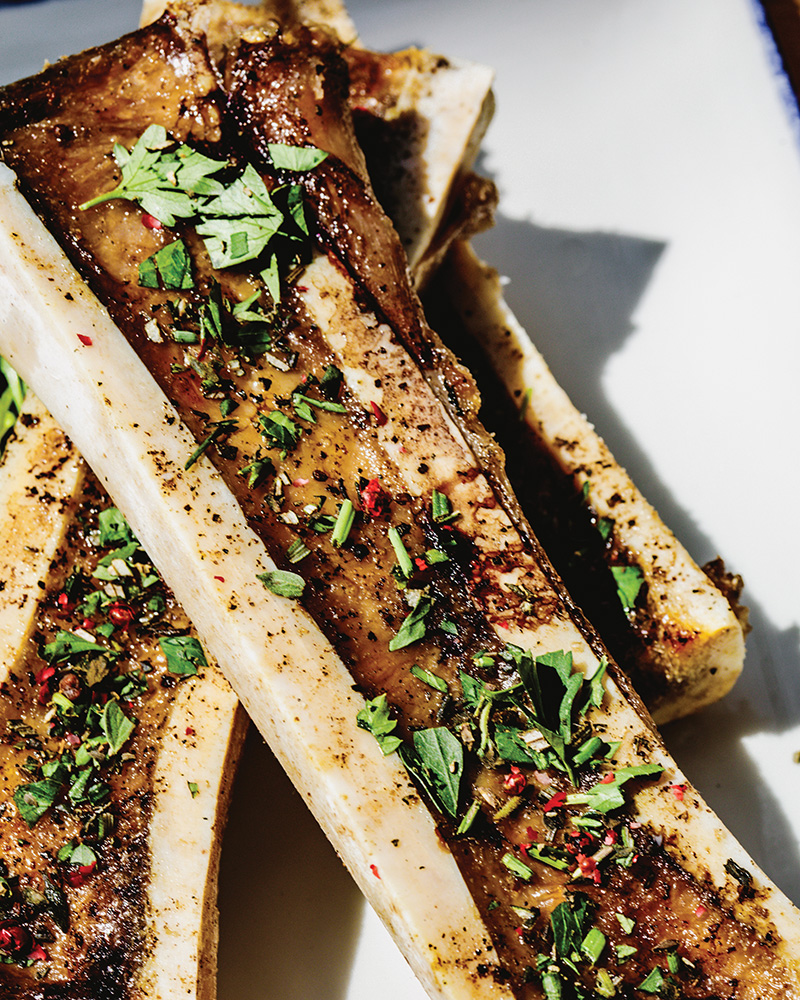 The heart of the restaurant's cooking is the massive wood-fired grill and the wood-fired pizza oven that create some of Sylvan Table's instant classics, like the trout and flatbread.
Meals begin with an amuse-bouche that provides a glimpse of the well-balanced and composed dishes to come. On both evenings I went, a single slice of cucumber, lightly pickled but still crisp and fresh, welcomed us.
We tried the flatbread, a spicy iteration with soppressata and crushed Anaheim pepper tamed by creamy lemon-thyme ricotta, and the bone marrow, a very generous portion with three bones but sadly not enough bread to spread the unctuous marrow on. (Side rant: Why are there never enough carbs for appetizers, whether it's marrow or guacamole? End rant.)
On another occasion, my dining companion and I tried the campagnolo, with housemade charcuterie like an outstanding pork rillette and local goat cheese, but to be honest, the best part of the plate was the perfectly pickled carrots and onions — simply prepared ingredients that spoke for themselves.
For my entree, I opted for one of Sylvan Table's mainstays: trout with ginger black rice, shiitake, leeks, and baby beet. The trout has been one of the most popular dishes since the beginning. Gadulka says they sold out on the first day in three hours, so he called his purveyor and said he would need double the amount.
The next day they sold out again and Gadulka said he needed more, and the purveyor's reply was he couldn't fish the Au Sable River anymore for the restaurant because they'd have to overfish to meet their demand.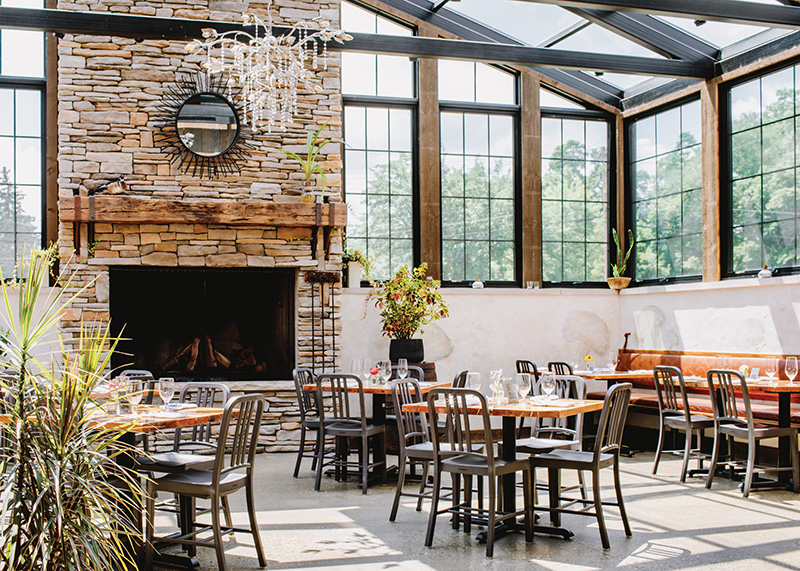 It's not hard to see why, because it's a showstopper. The trout is seasoned with herb oil, salt, and pepper, cooked over the wood-fired grill, and served whole. Gadulka says he is working with an Indigenous community in the U.P. to source the rice to go with the trout, another way Sylvan Table tries to showcase Michigan's flavors on the plate.
On another evening, I went for the other staple, the Chicken Under a Brick. Normally, chicken breast to me is as exciting as cold plain oatmeal, but here, it is cooked to charred perfection, again simply seasoned with salt, lemon, and fresh herbs to accentuate, not complicate.
The shareable sides change often to reflect what's in season. When I visited in late spring, it was peak ramps and fiddlehead ferns season. Our server said a few of the staff members foraged the Michigan treasures recently. The fiddlehead ferns were sauteed with garlic, salt, and butter — no more, no less, letting the greens proudly show off their unique charms of being sweeter than asparagus and grassier than green beans.
The ramp dish was a bit busy, with a large portion of cranberry hummus and sumac overpowering the ramps. With the season so fleeting, I would have liked a more edited dish — i.e., more ramps, less filler. The ramps were sauteed perfectly, however.
Desserts are a must. Even if you are not a sweets person, you won't want to miss the creative and whimsical dishes that punctuate the end of the meal. There were three choices and it was difficult to decide which tempting treat to get.
By the time you read this, it will be September, so it's likely that will mean apple crisp made with fresh local apples. My dining companion had it in spring, featuring apples that were put into storage and tucked away for that time of year, and thought it couldn't get better. So, I'm guessing you won't be disappointed.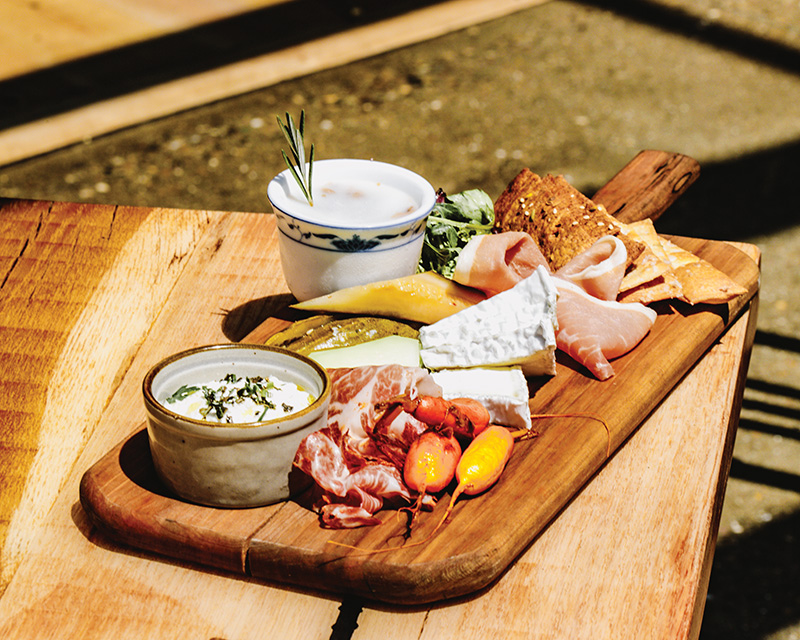 I went for the AB&J Panna Cotta, which is the most elegant and sophisticated peanut butter and jelly sandwich I've ever had. With rye bread-infused ice cream, blueberry gelee, and almond butter, the panna cotta showcases the kitchen's craft and skill perfectly.
"Locally sourced food" is a buzzword that many restaurants throw out to market themselves, but Sylvan Table is truly living the farm-to-fork ethos — even with something like marshmallows. Sylvan Table's farmer, Rick Rigutto, planted on-site the plant used to make the confection, Nicole says. It's this type of experimentation and creativity that excites her.
"We probably won't source marshmallows elsewhere," she says. "It'd be a fun thing to have on the menu for a week, … homemade marshmallow from the marshmallow plant that we grew."
Michigan is the country's second most agriculturally diverse state, but it sometimes doesn't get the same love as the frontrunner, California. At Sylvan Table, the team is showcasing the very best of the state's delicious bounty.
---
This story is from the September 2022 issue of Hour Detroit magazine. Read more in our digital edition.