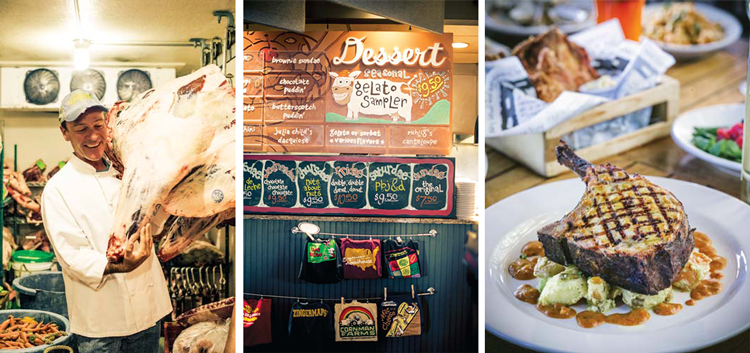 Autumn is back in the Ann Arbor air. With it comes the roar of Wolverine fans rising from Michigan Stadium, where 109,901 spectators (not including standing room) can fill the largest football stadium in the country.
Several blocks away, in another kind of frenzy, the kitchen staff at Zingerman's Roadhouse preps the buttermilk fried-chicken batter, readies oven dishes that will sizzle with macaroni and cheese, and fills baskets with slices of fresh crusty bread and ramekins with luscious fresh-churned local butter. They're ready to feed the beast: the baying, hungry post-game crowd.
Football weekends aside, Zingerman's Roadhouse is a perennially popular stop for food from morning until late night. It's always crowded with an overflow of people, many visiting from out of town. They sit patiently inside and out during the lunch and dinner hours waiting to be summoned for tables. Savory smells of the smoked meats and other specialties waft from the indoor kitchen and outdoor smokers, permeating the terrace and enveloping the Roadhouse with tantalizing clues of what's to come. If patrons mind the wait, they don't show it much.
Zingerman's Roadhouse is a down-to-earth restaurant, located in a former Bill Knapp's on the west side of town. It has a somewhat raucous, vibrant feel that exudes a purposeful energy.
It serves — no, celebrates — American regional food with almost an anthropological seriousness. Dining here, although always fun and enjoyable, is a bit of a history lesson on comfort food. You hear a lot of, "Oh, I remember that," and occasionally, "I can't believe we used to eat that way."
The décor is a little knock-down, a solid second-hand feel with wooden tables and chairs spread throughout three rooms that are linked by a common central kitchen and service area, from which come plates, bowls, and overflowing aluminum trays of smoked brisket, fried catfish, corndogs, and chili. Tables are set with paper placemats and inexpensive diner flatware, and menus are printed on oversized coarse paper.
For starters, choices include Chesapeake Bay crab cakes with Maryland jumbo lump blue crab meat; chili and cheddar fries, twice-cooked in the Belgian style and topped with Ancho beef chuck chili and grated Cabot aged cheddar cheese; Ari's Pimento Cheese, which is a creamy spread of Vermont aged cheddar, Hellmann's mayonnaise, and chopped pimentos.
There's also a Roadhouse Corn Dog made with kosher, all-beef hot dogs dipped in a homemade batter of Anson Mills organic cornmeal, and served with yellow mustard. Or try the Cornman Farms fried green tomatoes, which are buttermilk-marinated and cornmeal-fried green tomatoes topped with hot sauce and buttermilk ranch dressing.
At the Roadhouse, macaroni and cheese is not a menu item — it's a department. In addition to the Meatball Mac and Mushroom Macaroni, these five preparations are quite creative:
• Roadhouse Macaroni & Cheese: Fresh-made (in house) cream sauce, Cabot aged cheddar cheese caramelized with the Martelli artisanal macaroni from Tuscany.
• Smoked Chicken & Monterey Jack: Tossed with pit-smoked, free-range Cornish hens, corn, fire-roasted New Mexico green chilies, and fresh cilantro caramelized with Martelli pasta.
• Pimento Cheese and Bacon Macaroni: "All-out Southern comfort food." Martelli pasta caramelized with applewood smoked bacon and house-made Southern pimento cheese.
• Macaroni and Three-Peppercorn Goat Cheese: Handmade goat-cheese sauce with Cornman Farms roasted red peppers, freshly cracked black, green, and white Tellicherry peppercorns, and Martelli pasta with a Zingerman's Creamery Lincoln Log.
• Cornman Farms Tomato Pesto Macaroni: Roasted heirloom tomatoes, pine nuts, Parmesan, and olive oil made into pesto sauce and tossed with Italian-made pasta and fresh basil. This one isn't made with béchamel sauce.
If ever a menu had such varied description of so many macaroni-and-cheese options, I don't know where it is. There also is a seemingly endless sandwich and hamburger list, as wide as it is long with different types and styles.
Zingerman's Roadhouse takes the word "salad" to a more exotic level, with options that include a genuine old-fashioned Caesar with raw egg-based dressing, and another with applewood smoked bacon, blue cheese, and hard-boiled eggs, or warm spinach and mushrooms sautéed with leeks, fennel, red peppers, and cheddar cheese.
There are several terrific soups on the menu: a dense, fresh cream of mushroom; a rich gazpacho; and a seasonal carrot and honey. My personal favorite is not really even a soup, it's the robust, rich Ancho beef chuck chili made with superb Cornman Farms beef and black beans. It's dark-chocolate colored, rolling in all kinds of spicy flavors, and wonderfully satisfying. A $5.50 cup alone can almost make a satisfying lunch.
Regarding entrees, there are many choices of smoked beef, fresh mashed potatoes, and braised rich greens with smoky bacon. Locally raised pigs are used in all pork dishes, including the smoked bacon, and farmers in Chelsea, Dexter, Homer, and various nearby locales provide chickens, vegetables, and other products. My personal recommendation for best entree is the to-die-for buttermilk Amish fried chicken, with a batter so crunchy and savory it's absolutely sinful. I wake up at night sometimes craving a battered chicken wing to put me back to sleep. It's not to be missed.
The whole point of the Roadhouse is to celebrate the vivacity and extent of American cooking. And it does so very admirably.
This is not gourmet or high-end dining in an American style. Not at all. To expect anything like it would be a mistake.
What you can expect is the high quality and excellent culinary skill and fascinating and occasionally very familiar foods backed by the Zingerman name.
When Zingerman's Roadhouse opened in 2003, some people (I was one) wondered why anybody would want to create a new restaurant that served the kinds of foods we'd spent 50 years trying to get away from. Our generation looked to Europe, to light pizzas, lattes, al dente, tabbouleh, and salsa verde, and here Zingerman's was serving dishes our grandmothers made.
Clearly, they had a vision. We were wrong. People just love Zingerman's Roadhouse for that old-fashioned food fix.
2501 Jackson Ave., Ann Arbor; 734-663-3663, zingermansroadhouse.com. B, L & D daily.
Cook is Hour Detroit's chief restaurant critic. E-mail: editorial@hour-media.com.