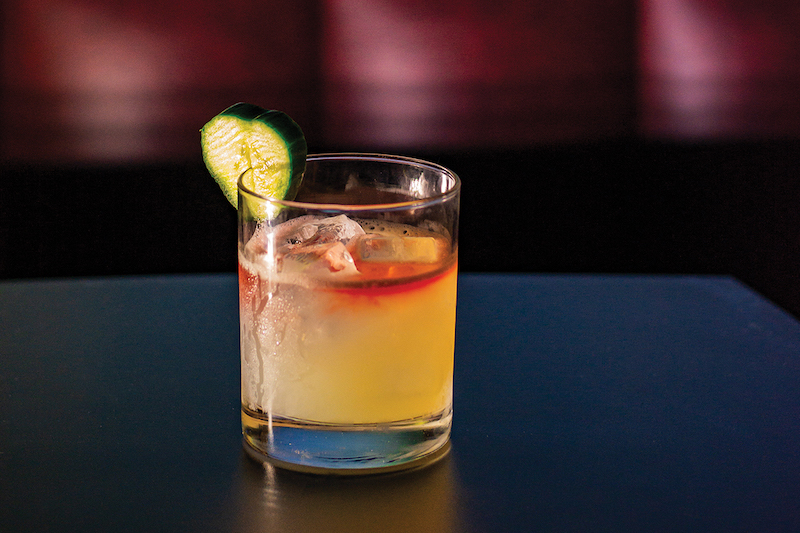 Entrepreneur Paul Devitt runs multiple entertainment venues across the country. From the Beauty Bar chain — where patrons can enjoy martinis and manicures — to Sid Gold's Request Room, a jazzy piano karaoke bar in Manhattan's trendy Chelsea neighborhood. In mid-July, Devitt brought the clandestine fun to downtown Detroit when he opened another branch of Sid Gold's just behind the Siren Hotel.
Drinks at the speakeasy-like venue are exactly the kind of social lubricants needed to loosen up for a karaoke performance in the intimate space. "This one is inspired by a sunset, but the name's been changed to protect the innocent," says Devitt, reluctant to reveal any more information. You'll need to make a trip to learn more for yourself. 
How to Make La Bamba from Sid Gold's Request Room
Ingredients
2 oz. Espolon Blanco tequila
½ oz. St Germain Liqueur
4 dashes Peychaud's bitters
1 oz. fresh lime juice
½ oz. simple syrup
3 slices English cucumber
Directions
Muddle two slices of the English cucumber in a shaker with the lime juice, simple syrup, and St. Germain. Then, add the tequila and a few ice cubes. Shake vigorously. Strain the mixture into a large old-fashioned glass. Add a few more ice cubes, four dashes of Peychaud's bitters, and garnish with the last English cucumber slice.