SavannahBlue has a lot to offer fans of American Southern cooking and soul food, plus it has an energetic atmosphere and slick interior. Trouble is, for most people, the restaurant is practically hidden in plain sight right in downtown Detroit.
The menu is so brief that you could be excused for worrying about finding something to like. But, oh no, almost everything we tasted was superbly good, from the fabulous crunchy fried chicken to the slightly tangy collard greens, and by far the best roasted chicken wings I've had in a long time.
The service could not be sharper, more welcoming, pleasant, and responsive.
And as much as eating dinner at SavannahBlue is a treat, it also has a killer bar with live piano on certain evenings. So in the extremely unlikely event that your stomach somehow missed out on something in the food department, your brain and heart will compensate to fill in the gaps with great entertainment and people-watching in the bar adjacent to the dining room.
Overall, the atmosphere is an upscale, big-city feel complemented by a striking track-level view of the People Mover trains swooping by within feet of the windows, and then bending into a curve toward the center of town.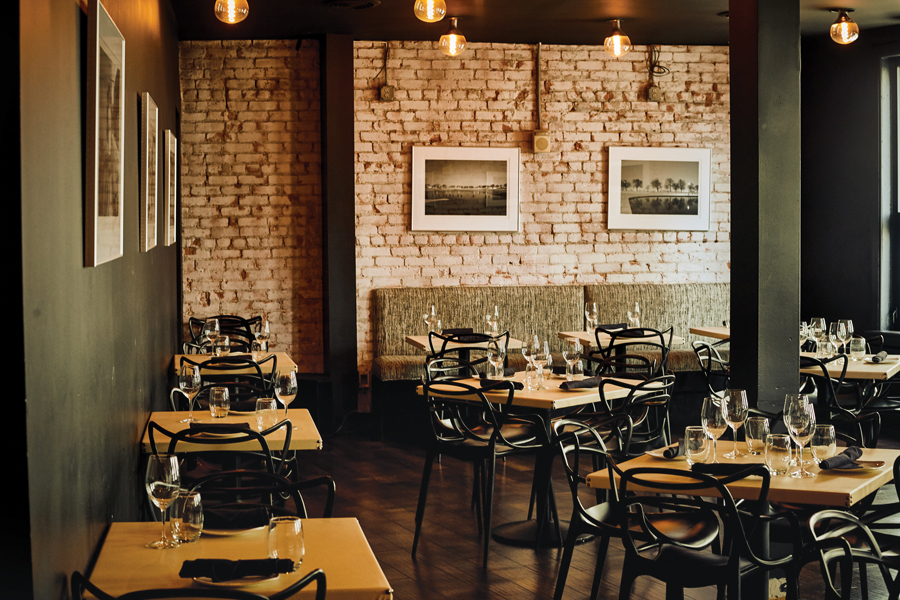 The old, reclaimed downtown brick-and-mortar building with old hardwood floors gives a pleasant, warm feel. The large interior boasts tall ceilings and windows that look out on the nighttime cityscape. Simple ceiling fixtures with clear globe bulbs with orange filaments and solid, warm dark wood and orange brick tones round out the look.
The building is on Times Square, a street barely two blocks long. It's next to a triangular little patch of city land, long known as Times Square Park because it is the footprint of where the opulent Detroit Times newspaper building once stood.
Still, SavannahBlue's location is slightly hidden across from the entrance of a spanking-new parking deck. There's a vertical sign on the side of the building; at street level there is a glass office door bearing the restaurant's name.
SavannahBlue is the project of Detroit attorney J.D. Simpson along with partners Roger and Tanya Yopp. The kitchen is overseen by chef Christopher McClendon, who learned the trade from Schoolcraft College's culinary program under director Shawn Loving, who had his own restaurant in the northern suburbs for many years.
Among the appetizers, one of the more intriguing twists is the so-called Georgian Hummus (as in the state, not the English antique furniture). It's made with black-eyed peas instead of chickpeas, along with roasted garlic, vegetable stock, and a sprinkling of chopped tomatoes.
The chicken wings are hauntingly good, made with a house dry rub and served with garlicky molasses barbecue sauce.
Another first course I liked among the appetizer selection was catfish fritters, augmented by a cabbage slaw and smoked pepper remoulade.
The main courses include an Angus beef hamburger with caramelized onions, garlic aioli, white cheddar, and applewood smoked bacon.
But the stunner, by far, is the fried chicken in a buttermilk batter, which seals the chicken so that when it hits the fryer it retains its natural juices and comes to the table moist and steamy inside and crunchy on the outside. McClendon serves it with collard greens and the most luscious whipped yams cooked with a candied maple-pecan sauce that's the consistency of light mashed potatoes.
Another recommended main dish is the shrimp and grits, which have been treated the way Italians do polenta (the two are cousins). That's accomplished by adding Parmesan cheese during the cooking, while the shrimps are cooked in Cajun spicing. And the dish is finished with an andouille gravy that includes little pieces of the sausage.
Desserts include bananas Foster, a spiced apple with oat crumble topping and ice cream, seasonal fruit cobbler, and a sweet potato pie with bourbon caramel sauce.
I love this place and its menu, but I did have one problem that I need to mention: Two dishes were slightly oversalted, and a third — a braised oxtail with a Wisconsin cheddar risotto, green beans, and crispy root vegetables — was so dramatically oversalted, I sent it back.
The kitchen was apologetic and offered to replace it, but agreed that the entire batch of oxtail and risotto that had been prepped for that night was likely to taste the same. So, it was unlikely that a replacement would be any different.
When I asked our waitress if anyone else had complained about oversalting, she said another customer had the same problem.
In all the years that I've reviewed restaurants, oversalting is one of the most common mistakes I have seen, and often cigarette smoking is the most likely culprit.
I come from a family of serious cooks — this is not a play on my name — and I used to smoke and cook. I also oversalted.
Once I quit smoking, I learned the difference.
I opted instead for the Motor City Boil. It's a creole-style dish of fresh mussels that have been steamed in a Cajun broth with short cobs of corn, shrimp, chunks of andouille sausage, and red skin potatoes. It was terrific.
One other small drawback at SavannahBlue is that there is no elevator, and there are quite a few stairs to the second-floor restaurant. That's OK for most people. But it is unusual to see this lack of access in a modern public location.
All told, SavannahBlue has a lot going for it, and it adds a little more polish and diversity to the food and new restaurants already sweeping through downtown.
---
1431 Times Square, Detroit; 313-926-0783. D Mon.-Sat.
Christopher Cook is Hour Detroit's chief restaurant critic. Email: editorial@hour-media.com