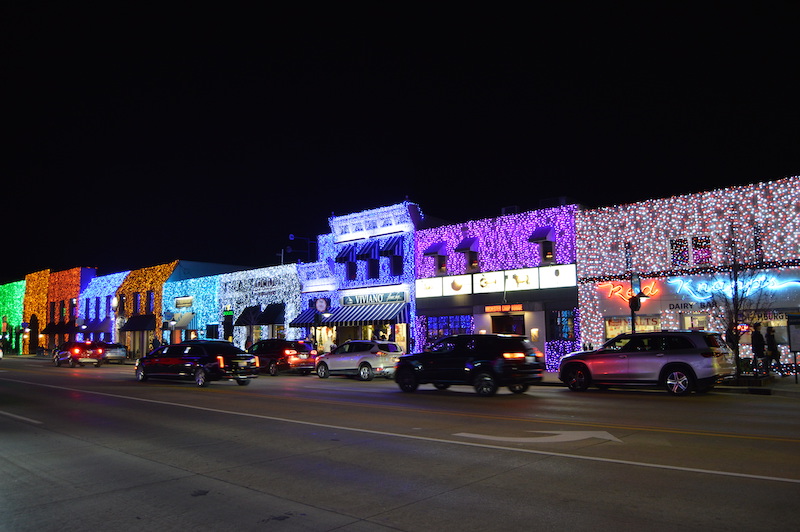 The holidays are almost here, and the halls in metro Detroit are getting decked with holiday light displays that are sure to put even the biggest Scrooge in the holiday spirit.
From special events that feature lights to communities that go all out this time of year, and even a couple of drive-thru options, here are 11 of our favorite local displays that you simply can't miss this winter.
Wayne County Lightfest
The annual Wayne County Lightfest drive-thru display occupies four miles of Hines Park and features nearly 50 animated displays made up of more than 100,000 lights. The event runs 6-10 p.m. on select days. Enter the display on Merriman Road between Ann Arbor Trail and Warren Ave. Wednesday-Sunday Nov. 16-Dec. 24, closed Monday and Tuesday. $5 (cash only) per vehicle. Hines Park, 7651 N. Merriman Road, Livonia; waynecounty.com. 
Glenlore Trails: Aurora
Back by popular demand, Michigan's original illuminated forest will offer a one-mile outdoor path that is illuminated by glowing lights, and full of seasonal story moments and other activities. Select nights Nov. 17-Dec. 30. $15-$25, free/kids 3 and under. Glenlore Trails, 3860 Newton Road, Commerce Township; glenloretrails.com. 
Magic of Lights
Drive through more than a mile of spectacular displays and digital animations that showcase beloved holiday characters. Highlights of this display include a 32-foot-tall waving Christmas Barbie, the Bigfoot monster truck, and life-sized dinosaurs. In addition, the 200-foot-long Enchanting Tunnel of Lights, along with the 12 Days of Christmas, Winter Wonderland, and Toyland will return. Catch it 5:30-10 p.m. Monday-Sunday and 5:30-9 p.m. on Thanksgiving, Christmas Eve, and Christmas Day. Nov. 17-Dec. 30. Tickets start at $22.50 a vehicle. Pine Knob Music Theatre, 33 Bob Segar Drive, Clarkston; magicoflights.com.  
Night Lites
Take in this five-mile display from the comfort of your own car or hop aboard the Night Lites Express for a train ride through the lights. The display is open 5:30-9 p.m. Sunday-Thursday and 5:30-10 p.m. Friday-Saturday. Nov. 17-Jan. 7. Tickets start at $35 per car; $15.75 for train rides. Michigan International Speedway, 12626 US-12, Brooklyn; nitelitesshow.com.
Northern Lights at Beacon Park
Visit Detroit's Beacon Park to explore glowing lighted displays including a 15-foot sit-in snow globe, a giant walk-thru snowflake, massive gleaming polar bears, and so much more. The display features 125,000 lights that are 95 percent recyclable. Nov. 17-Jan. 16. Free admission. Beacon Park, 1901 Grand River Ave., Detroit; empoweringmichigan.com. 
Wild Lights
The Detroit Zoo, and all the animals that live there, are celebrating the holidays with more than 30 nights of light displays that feature millions of twinkling LED lights adorning the zoo's buildings, trees, and sculptures. This year welcomes new enhanced experiences within the display including the Field of Light, Underwater Trail, Enchanted Trail, and an environmental art exhibit. Plus, the return of the wishing tree and The Polar Express 4D movie. Select nights Nov. 24-Jan. 7. $17-$75 online, $26-$75 at the door, $8/parking. The Detroit Zoo, 8450 W. 10 Mile Road, Royal Oak; detroitzoo.org.
The Big, Bright Light Show
Downtown Rochester will glow as more than 1 million lights drape the area's buildings and businesses. They will click on at during Lagniappe (Creole for a little something extra) on Nov. 20 and will light up every evening from 5 p.m.-midnight through Jan. 21. You can drive through the downtown area to see them or take them in while you shop. Nov. 20-Jan. 21. Free. Downtown Rochester Hills; downtownrochester.com.
Canterbury Village Holiday Stroll
Take a walk through the village to take in lighted displays and visit with the costumed characters bringing them to life. Be sure to have the kiddos bring their letters to Santa so they can drop it in his mailbox. No cost for admission, online registration required. $5 parking. Canterbury Village, 2359 Joslyn Court, Orion Township; canterburyvillage.com. 
Winter Wonder Lights  
Meadow Brook Hall hosts this self-guided outdoor event where everything is washed in a glow of holiday lights and sounds. Plus, bonfires and more seasonal activities. For an additional cost, check out some of the indoor decor at Meadow Brook during a Holiday Walk. Nov. 24-Dec. 30. Tickets start at $22.50 for adults and $12.50 for kids, kids under 2 are free. Meadow Brook Hall, 350 Estate Drive, Rochester; meadowbrookhall.org.
Holiday Lights at the Farm
The Farm Center at Wolcott Mill Metropark gets into the spirit of the holidays with traditional holiday decorations and thousands of sparkling lights. Listen to holiday music on a tractor ride around the farm fields to see them all. Pre-registration is required. Select nights Dec. 1-17. $8/person, free/kids under 2. Wolcott Mill Metropark, Farm Center, 65775 Wolcott Road, Ray Township; metroparks.com.
Holiday Lights  
Take a walk down Main Street in Greenfield Village to see carolers, fiddlers, and tons of lights adorning the village's historic homes. Guests can also take a ride in an historic Model T or a horse-drawn carriage. There's shopping, too. 6:30-10 p.m. on select days. Dec. 1-28. $28.50-$38, free/kids under 5. Greenfield Village, 20900 Oakwood Blvd., Dearborn; thehenryford.org.
Looking for even more holiday fun? Check out our list of Nutcracker and Holiday Shows in metro Detroit.
This post has been updated for 2023.