17 Mile
For the most part, 17 Mile is an idyllic drive through leafy, residential suburbia. The road starts at its easternmost end at the Clinton River in Clinton Township, surrounded by two sprawling cemeteries. There's the 300-acre Resurrection Cemetery, one of the largest in Michigan, known for its bronze statues. To the south, there's Cadillac Memorial Gardens East. Further down the road is Redemption Lutheran Church, noted for its distinct, geometric stained glass window.
Heading west, there's the former site of Sunnybrook Lanes, a complex that once boasted a 27-hole golf course, a 58-lane bowling alley, and an attached motel. It shuttered in 2015, after 79 years of business. On the other side of the train tracks is the Ford Sterling Axle plant, which first opened in 1956. Today, the 171-acre facility employs more than 2,000 and manufactures axles and rear-drive units.
As it crosses into Troy city limits, 17 Mile is renamed Wattles Road — a nod to Alexander Wattles, who settled the area in 1837. Another bit of local history is a joint called the Gathering Place, a fixture in the community since 1936. The walls are covered in decades' worth of framed historical photos.
Wattles ends at Kensington Road, but Lone Pine Road is regarded as the continuation of 17 Mile — even though it's not connected to Wattles, and is located about a half mile to the south. One of the first stops on the renamed road is the 319-acre Cranbrook Educational Community in Bloomfield Hills, whose Cranbrook House and Gardens and Cranbrook Academy of Art both sit along Lone Pine. The road continues west, winding around the areas' lakes before terminating at Orchard Lake Road.
---
A Look at Cranbrook
The sprawling, 319-acre Cranbrook Educational Community campus is home to Cranbrook Schools, Cranbrook Academy of Art, Cranbrook Art Museum, Cranbrook Institute ofScience, and Cranbrook House and Gardens — the original country home of newspaper magnate George Booth. The name comes from Booth's father's homeland of Cranbrook, England.
39221 Woodward Ave., Bloomfield Hills
---
18 Mile

At Orchard Lake, 18 Mile is also known as Long Lake Road. Perhaps it's an apt name, considering this stretch of road takes a long, veering route around this area's numerous small lakes.
Heading back to Woodward, some points along the way heading east include Bloomfield Hills Country Club and the nearby Bloomfield Deli, in business since 1992. The winding route continues east, past Woodward, finally stabilizing after Squirrel Road.
Continue east past Troy High School and you'll enter a commercial strip. With its stark red and black Chinese architecture, Kim's Restaurant is bound to turn your head. First opened 42 years ago, it's a local favorite, known for its large menu and treats like green tea ice cream and bubble tea. In the warmer months, a group of classic car aficionados meets here every Tuesday to show off their sweet vintage rides.
At Dequindre, at the Sterling Heights border, Long Lake changes to 18 Mile. Hungry? Stop by Jerry's Fruit Market and Bakery for fresh fruit, bread, and falafel.
Eastward is more industry — including another Ford-owned factory, the Van Dyke Transmission Plant. The 145-acre plant employs nearly 1,500 workers and opened in 1968.
---
19 Mile
Nineteen Mile extends a bit farther east than 18 Mile, beginning at Romeo Plank Road, near the site of Chippewa Valley High School and International Academy of Macomb. Continue west and stop by Ernie's Mediterranean Room — still run by the heirs of one Ernie Backos, who established the restaurant in 1979, the restaurant serves up authentic Mediterranean fare.
After passing the Henry Ford Macomb Community Hospital in Clinton Township, 19 Mile veers to the south slightly, heading into what's an even more densely populated residential part of Sterling Heights. The road is also interrupted by the Clinton River Park, but picks back up on the other side, where it takes you through an industrial park with many tenants, including companies specializing in tile work, refrigeration, forklifts, and more.
After Mound, 19 Mile widens. After Ryan Road, you'll pass the towering dome of Nativity of the Virgin Mary Macedonian Orthodox Cathedral. Following the trends with the previous two mile roads, 19 Mile gets renamed after Dequindre, becoming East Square Lake Road. Further west is Troy Union Corners Cemetery. Established in 1831, it's one of the oldest public cemeteries in Troy and the resting place for many Troy war vets.
Continuing west, you'll approach the Sylvan Glen Golf Course (south on Rochester, check out Camp Ticonderoga, a restaurant with a cabin-like atmosphere). After Livernois Road, 19 Mile gets renamed West Square Lake Road. At Crooks, it runs parallel with I-75.
After crossing I-75, more signs of metro Detroit's rural past show up in the white picket fence and red barn of the Charles L. Bowers School Farm. After a jog at South Opdyke Road, Square Lake continues east, passing the Moose Preserve Bar & Grill, another cabin-themed eatery. Square Lake also winds around the lakes to the west, finding its end at Pine Lake Country Club in West Bloomfield.
Farming Out
The 96-acre Charles L. Bowers School Farm was purchased by the Bloomfield Hills School District in the 1960s for educational purposes, and today features horses, sheep,donkeys, and other typical barnyard animals. In the fall, the site hosts a corn maze. They offer guided tours, but make a reservation on the farm's official website if you plan on visiting.
1219 E. Square Lake Rd., Bloomfield Hills
---
20 Mile
What is only colloquially known as 20 Mile used to be a sleepy, almost country highway with farms and pasty shops (yes, pasty shops in the lower peninsula) is now a bustling freeway known as M-59, or Hall Road, (we referred to its nickname, "Hell Road," in last year's City Guide). But in many ways, Hall Road just might be the most American of all of the mile roads — a phantasmagoria of sights that shed some light on what our country is and what it aspires to be.
At its easternmost edge is Selfridge Air National Guard base in Harrison Township, a local demonstration of military might. Just to the west of the base, a capitalist success story in Morley Candy Makers, the headquarters and factory where homegrown chocolatier Sanders has made its famous Bumpy Cake since 1986.
What's more American than leisure time? Stop in CJ Barrymore's, an amusement park that features an arcade, batting cages, bumper cars, laser tag, rock climbing, and more. Down the road is Macomb Community College's Center Campus, which includes the Macomb Center for the Performing Arts. The center has hosted a diverse lineup of performing acts including country icon Roseanne Cash and Blue Man Group in recent months.
Continuing west, you'll find not one but two malls — a suburban American institution if there ever was one — in Partridge Creek and Lakeside Mall. Between the two malls and the surrounding strip mall developments, you're likely to find just about any national brand you could possibly imagine — from Taco Bell to Bed Bath & Beyond — and beyond … including Chili's, Mongolian Grill, Old Navy, Red Lobster, Fuddruckers, Red Robin, Nordstrom, P.F. Chang's, Wal-Mart, etc., etc., etc.
Love it or hate it, this is the true heartland of America — a generic strip of national brands and a homogenized experience wherever you go. On a long enough timeline, the entirety of the U.S.A. might look like Hall Road, from coast to coast.
Further westward, Hall takes you just south of downtown Utica. Despite being a major thoroughfare, Hall only takes you past the backs of Utica's old downtown buildings — almost creating the impression of peeking behind a movie set.
As Hall veers northwest, it sweeps past numerous industrial strips in Rochester Hills. Here, Hall runs parallel to the Clinton River, which snakes northwest from the east side of metro Detroit. In Pontiac, it takes you south of the site of the Pontiac Silverdome — once the home of the Detroit Lions, the long-embattled players of that distinct pastime known as American football. Since the team moved back to Detroit, the field has fallen under a state of disrepair, awaiting demolition.
A road called Dobry Drive splits off of Hall, continuing as South Boulevard west of Dequindre. This is regarded as the true continuation of 20 Mile. Follow South Boulevard west and you'll encounter Callahan's Music Hall, a venue that specializes in the great American tradition of the blues. Further west, Pontiac's massive Ultimate Soccer Arena has undergone an expansion, making it what the ownership believes could be the largest soccer facility in the world.
To the south is the former site of General Motors Pontiac Truck Assembly Plant, which was demolished in the wake of GMC's financial collapse and bankruptcy. Opened in the 1970s, the plant once employed three shifts that worked around the clock during its peak. Surrounding the site are neighborhoods that, like the rest of the American auto industry, have seen better days — for instance, the neighborhood barber, John's Barber Shop, is now closed.
One of the last stops on South Boulevard is another former GM parcel, the former General Motors Validation Facility. But it has a far different fate than its cousin to the east.
Much like the city of Detroit — and the auto industry itself — there are signs of new life. The site is now being developed as the $60 million M1 Concourse, which will feature high-end climate-controlled "car condominiums" and a high-performance track for luxury automobile gearheads. It's slated to open this spring.
Sock it to Me
Since soccer has finally gained popularity in the U.S., Pontiac's Ultimate Soccer Arena has undergone a massive $8.5 million expansion. Opened as a 265,000-square-foot facility in 2007, it's now 365,000 square feet, featuring Astro-Turf fields, a gear shop, locker rooms, and a second-floor mezzanine viewing deck above each field.
867 E. South Blvd., Rochester Hills
Have a Sweet Tooth?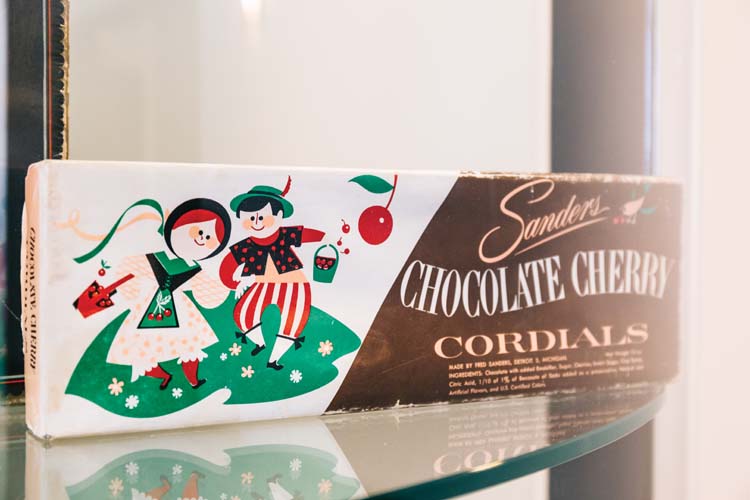 Frederick Sanders founded Sanders Chocolates in 1875, which went on to become a leading local confectioner (thanks to their Bumpy Cake). In 2002, Morley Candy Makers, Inc. purchased Sanders. Today, Hall Road is Sanders'  headquarters — and the closest thing metro Detroit has to Willy Wonka's Chocolate Factory. Yes, they do tours; yes, you get to see how the chocolate is made; and yes, there are free samples.
23770 Hall Rd., Clinton Township
---
Part of our City Guide 2016, exploring metro Detroit mile by mile.