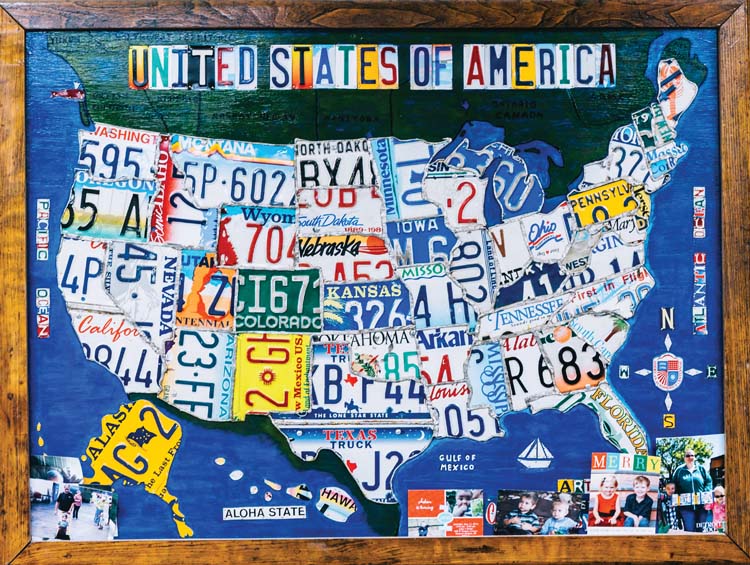 13 Mile
Some mile roads have identity crises. They change names and appearances. They ramble off in peculiar directions only to find themselves again like Euro-tripping college students. But not 13 Mile. For the most part, the road stays true to itself (with a brief fling as Chicago Road) in a single, relatively contiguous stretch from Lake St. Clair to Walled Lake.
But for all that predictability, 13 Mile is not without its quirks.
Take, for example, License Plate Heaven in Fraser, a family business that makes signs, maps, and other art more from old license plates. It's "where license plates get a new life."
Heading west into Warren, the road makes its one and only detour. Champane's Wine Cellars is here — a converted hockey rink that now boasts one of metro Detroit's most extensive wine, beer, and liquor selections. The award-winning Kuhnhenn Brewing Company also lies just north at Chicago and Mound roads.
Continuing west into Madison Heights, the Red Oaks Waterpark is visible from the road, while the Red Oaks Nature Center is tucked away down a residential street between two Madison Heights neighborhoods — a natural oasis amid the urban sprawl.
Throughout Madison Heights, it's hard to miss the abundance of Vietnamese restaurants, markets, nail salons, and businesses. The stretch of John R connecting 12 and 13 Mile has been referred to as "Little Vietnam," as it contains some of the metro area's most popular Vietnamese joints.
At the corner of 13 Mile and North Main in Royal Oak is Hippie's Pizza, an area favorite for specialty pies like the Cheech and Chong (taco sauce, chicken, steak, tomato, and onion) and The Marley (toasted hemp seeds, vegetarian sausage, and pineapples).
Past Beaumont Hospital, things quiet down, passing by Groves High School and Detroit Country Day in Beverly Hills before entering Bingham Farms.
As a final point of interest, the strand of 13 between Drake and Halsted roads in Farmington Hills is a designated historic area, sporting signs that direct visitors to several historical houses. Many of the properties were relocated here under the direction of Henry Ford, who purchased them as part of the historic Botsford Inn before the widening of Grand River Avenue could swallow them up. The Botsford Inn is near present-day Grand River and Eight Mile, where it still stands today.
Beyond the Pho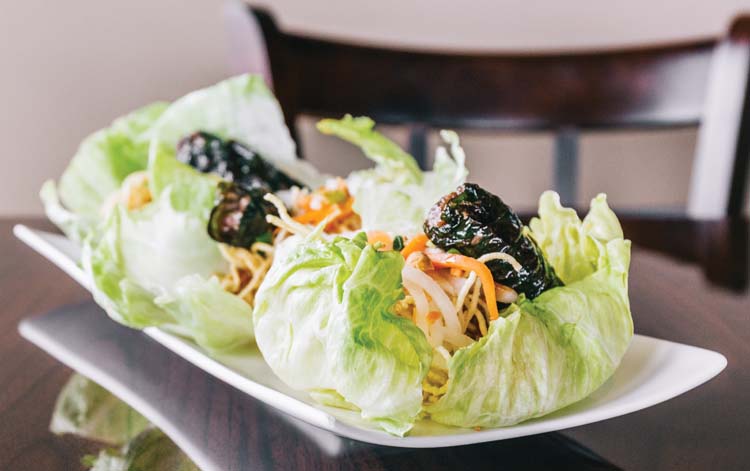 It's true that Madison Heights boasts a robust Vietnamese contingent — witness Quan Nem Ngon, Thuy Trang Restaurant, and Que Huong Restaurant (order the pho). But the businesses between 12 and 13 Mile along John R and Dequindre represent a variety of other Asian cultures. QQ Cafe and Bakery offers bubble tea, a Taiwanese invention. Kim Nhung Superfood store at Dequindre offers a variety of Asian foodstuffs. Still, if you're seeking an authentic Vietnamese banh mi sandwich, Madison Heights is the place to find it.
---
14 Mile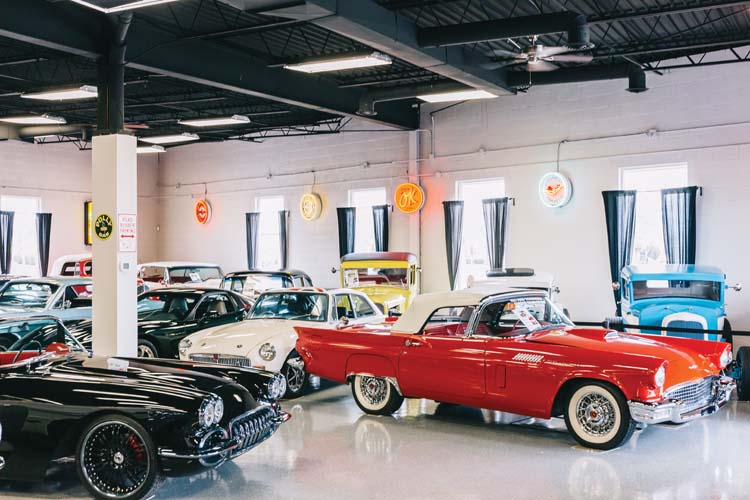 Every mile road has its landmarks — mental images that spring forth at the mention of its name. Depending on your point of view, 14 Mile  might evoke an image of Franklin Cider Mill, downtown Clawson, Oakland Mall, or a sprawling golf course.
From its origin in Walled Lake, 14 Mile winds past neighborhoods and strip malls, with a roundabout appearing at Farmington Road and another (newly completed) at Orchard Lake Road and Northwestern Highway.
Ah, roundabouts. You either love them or you hate them. Increasingly, however, metro Detroiters have embraced them. A 2010 survey conducted by West Bloomfield Township reported that 66 percent of respondents were in favor of more roundabouts.
Beginning at Inkster, 14 Mile meanders unpaved through Bloomfield Township and into Franklin, popping out at Franklin Road and the Franklin Cider Mill. The 179-year-old mill has long been a fall favorite for unpasteurized cider and fresh-baked doughnuts.
The road continues east until Cranbrook and Evergreen roads, where you'll find the Birmingham-Bloomfield Art Center, the Lincoln Hills golf course, and a corner of the Birmingham Country Club.
After Southfield Road, 14 Mile crosses through Royal Oak and into Clawson, a "Little City with a Big Heart," according to the city's motto. It may not get the attention other metro Detroit suburbs like Ferndale or Royal Oak do, but downtown Clawson boasts a variety of notable dining and shopping gems. Just outside of downtown lies the Clawson Steakhouse, a local favorite (including the signature 30-ounce porterhouse).
Beyond Oakland Mall, 14 Mile forms the Madison Heights/Troy, and Warren/Sterling Heights border before crossing into Fraser.
The Fraser stretch between Utica and Garfield roads is home to El Charro Mexican restaurant (their puffy soft shell taco pairs well with the sangria) and the indoor showroom (by appointment only) for Showdown Auto Sales, a specialty American muscle car shop that buys, sells, trades, and consigns classic autos.
The road meets its own end to a life well-traveled at Harper Avenue in Clinton Township after passing Hebrew Memorial and Lincoln Memorial parks.
Little City, Big Surprises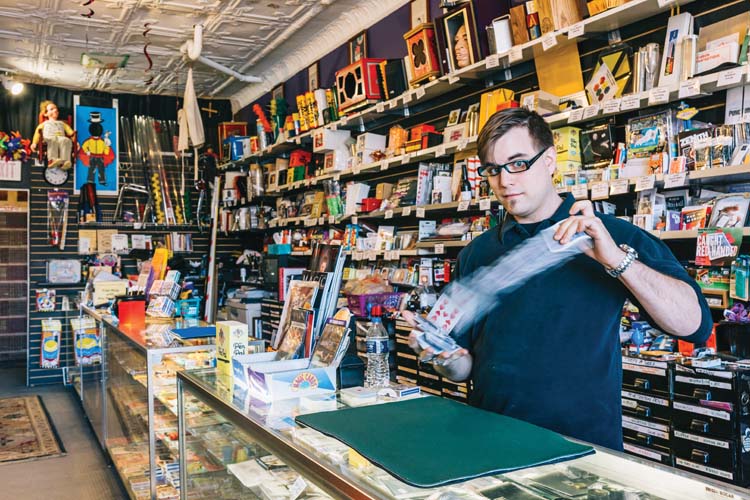 Clawson is full of pleasant surprises, especially in terms of its dining and shopping scenes. Beloved sushi spot Noble Fish can consistently be found at or near the top of any "Best Sushi in Detroit" list. Clawson Grill fulfills the need for a small town diner with big breakfasts, and Due Venti, which specializes in northern Italian cuisine, boasts a seasonal menu whose highlights include rabbit ragu and cauliflower fritters. On the shopping front, Clawson caters to several niche markets. Wunderground Magic Shop is the place where aspiring and professional magicians go to gear up, and although comic shops are typically few and far between, Warp 9 and GOB Retail, separated by a scant half mile, provide a respectable selection of comics, collectibles, and more.
Fore the Love of Golf
If it ever seems like metro Detroit has a disproportionate number of golf courses, you're onto something. Michigan boasts over 850 public golf courses, which ranks in the top five in the country. According to Golf Digest, our fair state also lays claim to having more five-star courses than any other.
---
15 Mile
It's hard to tell, simply by looking, which mile road is the hands-down ritziest — 16 mile with the Somerset Collection? Seventeen Mile with Cranbrook? But even money is on 15 Mile (or Maple Road, according to its west side name) a road rich in both a financial and cultural sense.
Fifteen Mile winds through West Bloomfield, downtown Birmingham, Bloomfield Village, and the communities of Troy and Sterling Heights.
Our journey begins at the border between West Bloomfield and Commerce Township. It's also where West Maple Road turns into East West Maple Road.
Read that again: East West Maple Road. Is there no other way to describe this stretch of pavement than with two opposing cardinal directions?
Heading east, (on West Maple Road) the Jewish Community Center of Metro Detroit (in terms of square feet, the largest JCC in North America) spreads out to accommodate its abundance of educational and recreational resources — the Frankel Jewish Academy, a slew of summer camps, an aquatic center, arts, culture, and education programming. Behind the JCC is the Adventure Park at West Bloomfield, a high ropes course with speedy ziplines.
Just west of Telegraph and the uber-upscale Oakland Hills Country Club, there's the Maple Theater and Kitchen in Bloomfield Hills — a small indie movie theater catering to the affluent moviegoer with a taste for Oscar-caliber films. The Maple also boasts a cozy lounge where pizza, sandwiches, and charcuterie are served, with cocktails available at the bar. The trendy spot also includes one of the Great Lakes Coffee Roasting Company's metro Detroit locations.
The stream of Range Rovers and Cadillac SUVs continues east on Maple, past the Birmingham Historical Museum and Park into downtown Birmingham, where upscale shopping and dining abounds.
Beyond Birmingham lies Troy, whose Maple stretch includes the Troy Motor Mall. As if to provide cultural balance to both ends of the road, there's also the American Polish Cultural Center, home to both Wawel Polish Restaurant and the National Polish American Sports Hall of Fame.
Sedans, pickup trucks, and work vans now account for most of the traffic as Maple officially turns into 15 Mile in Sterling Heights (tune into 1700 AM radio for Sterling Heights news and info).
The Middle Eastern community that has sprung up here over the past two decades is noticeable in businesses like Shisha Town Hookah Lounge and Hanna's Fruit Market, a Chaldean-owned shop offering fruit, bulk grains, nuts, and more.
Past the Chrysler Sterling Stamping Plant where hoods, roofs, and fenders are built, Sterling Heights gives way to Clinton Township, where Green Lantern Pizza shines bright on the way to Lake St. Clair.
Shop, Snack, and See the Stars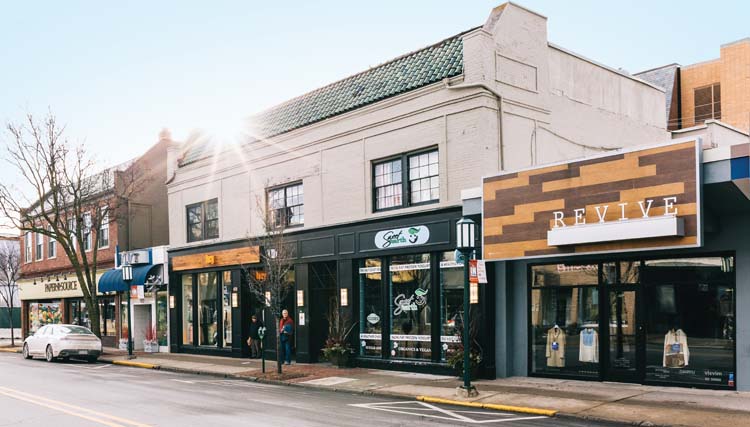 If you seek a metro Detroit socialite, look about you. Downtown Birmingham is the upscale shopping district of metro Detroit. Fashion boutiques include the luxury brand store Found Objects and the upscale men's clothing store Revive, while dining options include The Stand Gastro Bistro, Social Kitchen and Bar, and the beloved brunch spot Toast. A final point of note: If there's a place in metro Detroit to spot celebrities or sports stars, it's here, particularly around the Townsend Hotel — the preferred choice for many A-List visitors.
Poletown North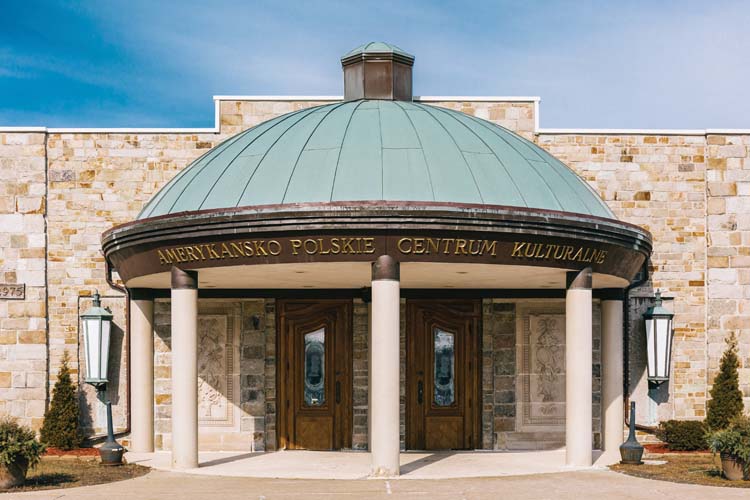 Michigan is home to the third largest Polish population in the country, so it's no surprise that the American Polish Cultural Center serves as a gathering place and banquet andconference facility for area Poles. Wawel Polish Restaurant serves staples like kielbasa, city chicken, stuffed cabbage, and pierogies. The National Polish-American Sports Hall of Fame includes trophies, jerseys, medals and other memorabilia (including an autographed bottle of champagne from NASCAR driver and Michigan native Brad Keselowski) from Polish American Olympians, hockey greats, football players, bowlers, and more. Across the street, a Polish market and a Polish bookstore add two more splashes of Eastern European culture to metro Detroit.
2975 E Maple Rd., Troy 
---
16 Mile
The winner of the "most named" contest goes to 16 Mile (aka Walnut Lake Road, Quarton Road, Big Beaver Road, and Metropolitan Parkway).
Along its western stretch are neighborhoods like Greenbriar Village, the Shenandoah Country Club, and the main branch of the West Bloomfield Township Public Library.
There's plenty to notice along Walnut Lake Road. The brief unpaved stretch between Haggerty and Drake that curves around Pleasant Lake is officially a "natural beauty road," as determined by the DNR and the county Road Association.
Moving east, Walnut Lake passes its namesake body of water and coexists briefly with Quarton Road before ending at Franklin Road. From here, Quarton takes over, crossing Telegraph and Lahser Road. Just before Woodward, the Manresa Jesuit Retreat House catches the eye as a 39-acre "place of quiet, peace, and prayer."
On the other side of Woodward, Quarton officially becomes Big Beaver, a name that elicits plenty of snickers. According to an 1877 history of Oakland County, "the place derives its name from a large dam, erected by a colony of beavers across a little brook near the place." (Still funny.)
Nowadays, the structure most associated with this stretch isn't a beaver dam; it's the great Skywalk connecting Somerset Collection North with Somerset Collection South — aka the even fancier side of Somerset.
As Big Beaver moves into Sterling Heights, the road officially becomes 16 Mile and Metropolitan Parkway. The Freedom Hill Amphitheatre looms large from the bisected road. Since reopening in 2013, the venue has hosted events like the Stars and Stripes festival and Chill On The Hill.
Residential driveways, streets, and lawns are dotted with boats and boat trailers as the road heads east toward Lake St. Clair. Metropolitan Parkway continues to Lake St. Clair Metropark in Harrison Township, where the road circles back on itself, looping through one of metro Detroit's most scenic and activity-rich metroparks.
Define 'Beauty'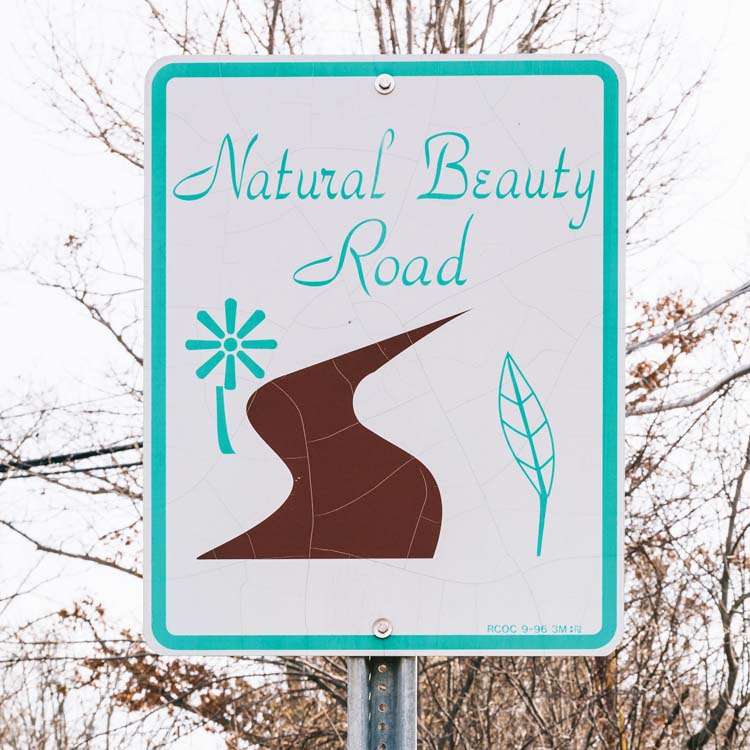 What does it take to qualify as a "natural beauty road" anyway? Outstanding natural features, naturally, including native trees and vegetation.
But there's more. It should "preferably have no development along them…" The surface doesn't matter, "one can be dirt, gravel, or hard surface." But it should function as a "local access road … which serves the adjacent property owners" and/or "a road serving those wishing to travel for the purpose of enjoying its natural beauty …"
And slow down to smell the native vegetation. Natural beauty roads are intended to be low speed roads for purposes of enjoyment.
On to 17 Mile – Hall Road.
---
Part of our City Guide 2016, exploring metro Detroit mile by mile.