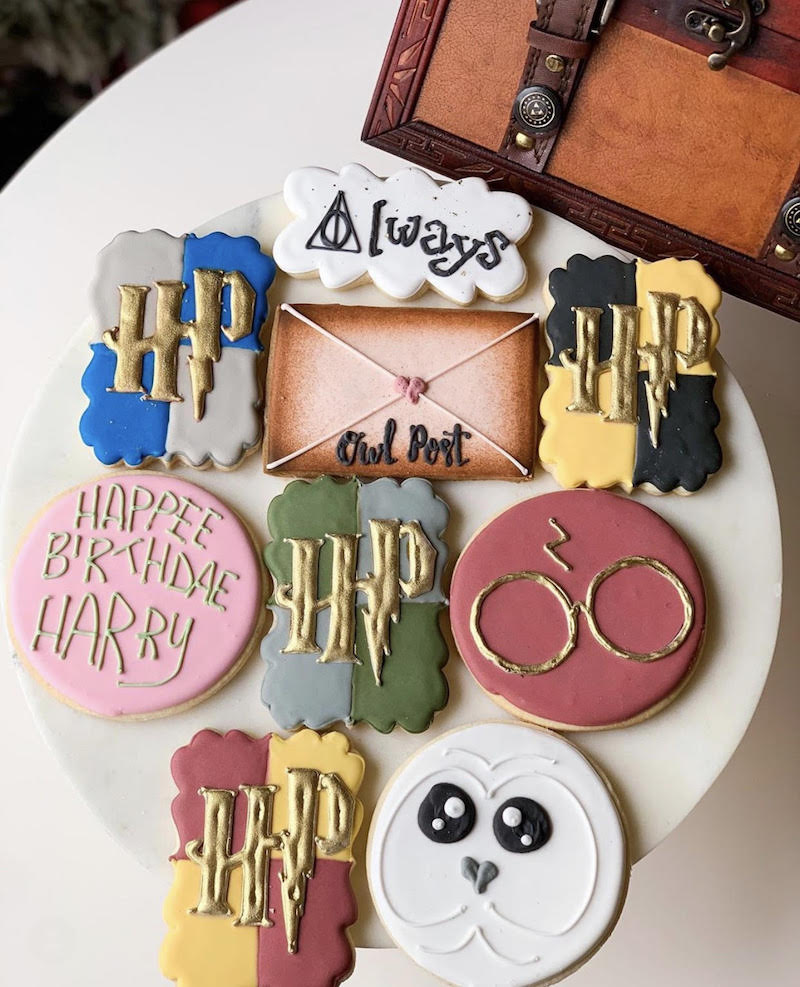 Dearborn-based Gateaux Patisserie is a Paris inspired bakery owned by sisters Suendos Farhat and Sueha Beydoun. "We traveled all the time growing up, but France always left its mark on us," Suendos says. "When you think of pastries, you think of Paris." But this month, the shop is taking a slight departure from its traditional French roots. Instead, it's embracing a more whimsical theme: Harry Potter.
Gateaux Patisserie, located at 1004 S. Military St., began its second annual Back to Hogwarts takeover on Sept. 1. The Harry Potter takeover of the bakery is a full-fledged fan experience, and it lasts the entire month in honor of the back to school season. In addition to themed decorations like floating candles and Hogwarts house flags, the menu follows the wizarding world theme. Some of the additions include Voldemort's Ispahan, Hagrid's Hut Chocolate Tart, Hogwarts macarons, and the shops famous Butterbeer.
Other treats include Gateaux's Death Eater Frap: a double shot espresso, Ghirardelli chocolate drink topped with whipped cream and dark chocolate; Dumbledore's Army Frappuccino: vanilla bean and white chocolate drink topped with whipped cream and white chocolate sauce; and Polyjuice Potion: lemon and lime drink with sparkling ginger ale. "So much planning goes into an event like this. We've been preparing for about two months, start to finish," Suendos says. "We do it all ourselves in terms of design, product development, and recipes."
The sisters are, and always have been, Harry Potter fans. "An event like this is risky," Sueha says. "We took a chance because these books and movies have had such an impact on our lives." The annual event has been a major success in the community, even drawing visitors from out of state.
This bakery isn't just for Harry Potter super fans, though. Started in March of 2018 as a small pastry shop, Gateaux Patisserie has now expanded with the addition of a tea room. The shop is open from 10 a.m. to 10 p.m., Sunday through Thursday, and 10 a.m. to 11 p.m. on Friday and Saturday. For more information about the bakery and its Back to Hogwarts event, visit gateauxpatisserie.com.
Facebook Comments