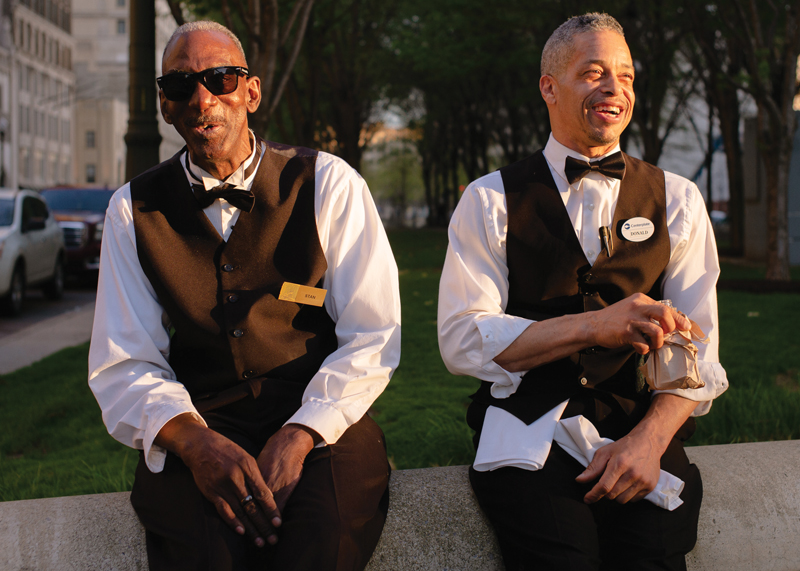 Pre-Cass Corridor, it was like, anything goes. Anything goes back in our old Detroit Greyhound bus days.
Despite our auto-centric notoriety, metro Detroit's public transportation has earned a far less honorable reputation than we care to admit. (In recent years, the city has topped lists of having some of the worst transit systems in the country for those commuting between the city and its neighboring suburbs.) But dependable transportation options are aplenty if you're an out-of-towner simply looking to get in, around, or out of the downtown area.
Zipping through Detroit via bus, rail, or bike offers promising opportunities for people-watching — and as any avid traveler can attest, some of your most memorable stories are culled from mass transit experiences. For Detroit native Donald Watkins, a particular occurrence on a Greyhound bus has remained at the forefront of his memory for more than 50 years.
"I'm coming back from New York and my partner gives me this fruitcake as I board the Greyhound bus," Watkins says. "I'm thinking, 'What a weird present,' but after two or three days in New York, I'm broke. I don't have any money to buy anything to eat, so, actually, it comes in handy."
Twelve hours and the entire fruitcake later, Watkins returns to the Detroit station to find his luggage has been misplaced. "So, I strap my carry-on over my shoulder and laid back for a few. When I woke up, what I didn't know, is that it was a day and a half since I had sat down — that was a hash-freakin'-fruitcake!"
While most methods of transportation discourage riders from traveling under the influence, mobile bars like The HandleBar and Detroit Cycle Boat are all for tipsy travels.
—Lyndsay Green
---
Get Around Town With These Public Transportation Options
The Handlebar
Each ride on this pedaling pub is equipped with a Bar Handler who shows off the best spots in the city. 340 Macomb St., Detroit; handlebardetroit.com
Greyhound
The largest North American bus service takes passengers across the United States in the most comfortable way possible. Book a trip on a Greyhound bus for a weekend in Chicago or a vacation in Florida for a fraction of the cost of a flight. 1001 Howard St., Detroit; greyhound.com
MoGo
Developed in Wayne State University's Office of Economic Development, MoGo is a nonprofit bike-sharing program that provides non-motorized transit to the city of Detroit. With 44 stations in Michigan, MoGo is a convenient and eco-friendly form of travel. mogodetroit.org
Detroit Cycle Boat
Founders of the Detroit Rolling Pub have created the first 16 passenger pedal-powered boats. Detroit Cycle Boat provides riders with a captain and deckhand, and the rest is up to you. The boat is open to all ages and makes for a perfect adventure. 100 St. Clair St., Detroit; detroitcycleboat.com
Scoop Carpool Service
Scoop is an innovative ridesharing service that is building friendships among travelers across the state. Developed in the Bay City area, Scoop is working to improve transportation efficiency by placing commuters in carpools that pair riders based on their destinations. takescoop.com
Lime
These green scooters are helping promote a greener city. With the intention of reducing dependency on personal automobiles and improving urban living, Lime electric scooters are available at multiple stations in the Detroit area. li.me/locations
The People Mover
Stretching nearly three miles, this system runs on a single track that loops fully around downtown Detroit. With 13 stations throughout the city, the People Mover takes passengers to some of Detroit's biggest attractions. thepeoplemover.com
The QLine
This 6.6-mile streetcar travels through Midtown, New Center, and the North End. The QLine operates every day, and a day pass costs just $3. Frequent riders can purchase monthly and annual passes. qlinedetroit.com
Tunnel Bus
At the low price of $10 round trip, Detroiters and visitors alike can travel to Canada and back on this convenient bus. The tunnel is open 24/7 and is perfect for avoiding the traffic that frequently accumulates at the Windsor border. 100 E. Jefferson St., Detroit. dwtunnel.com