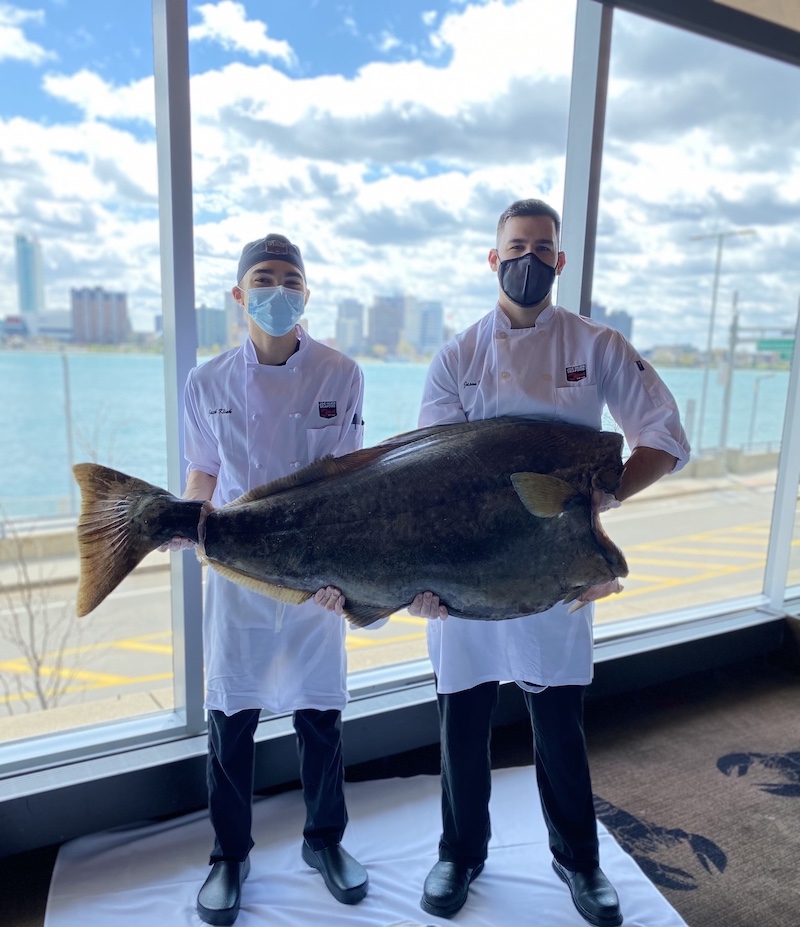 The chefs at Joe Muer Seafood known a thing — or two or three — about fresh fish. The restaurants regularly have massive halibut shipped in (as evidenced above), and Joe Muer's culinary team is skilled at turning these catches into tasty entrées. Today, the Joe Muer team is sharing a recipe for one of those dishes. The restaurants' Alaskan halibut is served with fingerling potatoes, bacon lardons, roasted asparagus, wild mushrooms, and beurre blanc. Give it a go at home or stop at Joe Muer's downtown Detroit or Bloomfield Hills locations to leave the cooking to the pros.
How to Make Joe Muer's Alaskan Halibut Entrée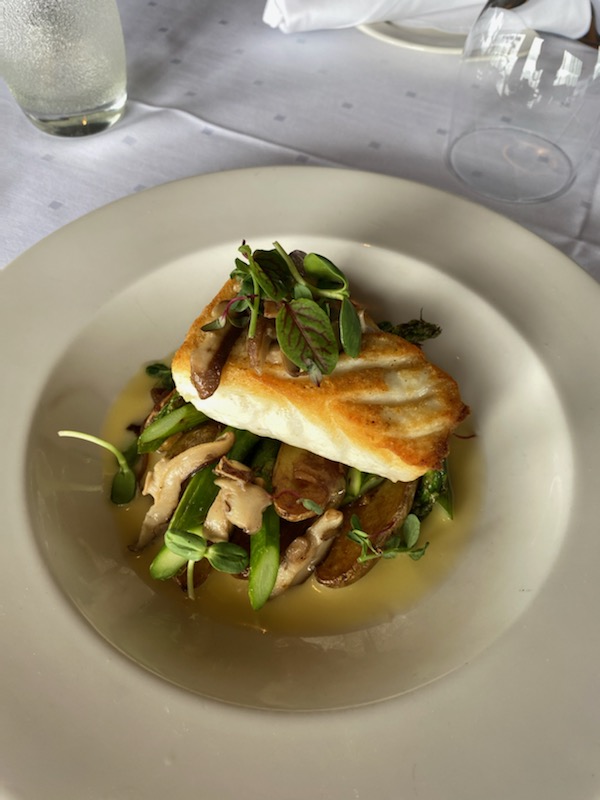 Ingredients (serves four)
6 oz. Alaskan halibut portions
6 slices of bacon
1 qt. of fingerling potatoes
20 pieces of asparagus for each plate
8 oz. of wild mushrooms (any mushrooms will do — a blend of button, baby bella, and shitake is a nice flavor variety)
Kosher salt & white pepper (to taste)
2 Tbsp. butter
2 Tbsp. vegetable oil
Extra virgin olive oil
* Beurre blanc
*Beurre Blanc ingredients
1 cup white wine
¼ cup apple cider/white wine vinegar
1 shallot, minced
4-5 sprigs fresh thyme
A few black peppercorns
A couple bay leaves
½ cup heavy cream
1-pound unsalted butter, small dice
Kosher salt & white pepper (to taste)
Directions
Heat pan to medium heat, until pan is hot but not smoking. Season halibut portions with kosher salt & white pepper. Add vegetable oil to pan, sear halibut filets on med heat for 3-4 min or until golden. Carefully flip, continue cooking about 2-3 min, depending on thickness and desired doneness.
Dice standard bacon slices into ¼-inch bits, render slowly in sauté pan on med-low heat.
Cut potatoes in half lengthwise, toss with extra virgin olive oil, season with kosher salt and white pepper. Roast in 350F oven for 10-12 min until golden. Season with salt and white pepper, toss with extra virgin olive oil. Roast in 350F oven for 5-6 min.
Slice mushrooms into uniform size. Sauté in a little butter on medium heat for 2-3 min.
To make the beurre blanc, reduce wine, vinegar, shallot, thyme, and peppercorns and bay leaves on medium in a saucepan. Heat, reduce by half. Add heavy cream, reduce by half. Slowly whisk in cold cubed butter to create the emulsified sauce. Season with kosher salt and white pepper to taste.
To serve, ladle 2 oz. of beurre blanc on bottom of plate. Mix rendered bacon lardons with fingerlings, carefully place down, followed by roasted asparagus. Finish with halibut filet topped with mushroom blend.
---
Joe Muer Seafood, 400 Renaissance Center, #1404, Detroit; 313-567-6837; and 49475 Woodward Ave., Bloomfield Hills; 248-792-9609; joemuer.com
Facebook Comments