As you walk into Madam, your eyes are drawn to the two larger-than-life women, who make a bold statement without saying a word.
The 12-foot-tall portraits, made by blending photos, paint, and a layer of gold leaf, showcase women who are vibrant, provocative, sophisticated — maybe even a little mysterious and surprising — much like the stylish and sumptuous space that is the flagship restaurant of the luxurious and posh Daxton Hotel.
At Madam and the hotel, art is a key ingredient, along with the food. Daxton hosts an Art of Dining series, featuring international artists such as Los Angeles-based Stephen Rowe. A 2021 salmon dish inspired by his "I Love the Silence of Blue," which hangs in the wine-tasting room, stands out in his mind.
"As an artist, I've never experienced a food and wine pairing of my works," Rowe says, adding that the chefs crafted "some plates that resembled my art; that was quite amazing to see the artistry they created."
Making its debut in early 2021, Madam and its home base of Daxton Hotel were a part of the Chicago-based Aparium Hotel Group, whose portfolio of boutique hotels spans the country from Colorado to New Jersey and includes the Detroit Foundation Hotel downtown.
Chef Garrison Price, who worked for culinary titans such as José Andrés and Jean-Georges Vongerichten, helping to open restaurants across the globe, oversaw Daxton Hotel's seasonally driven, vegetable-focused bill of fare with a global spin. Chef Rece Hogerheide, a sous-chef at the time, took the reins when Price left in early 2021, and now the menu is overseen by chef Clifton Booth, another local who came on as sous-chef and was coached up and elevated.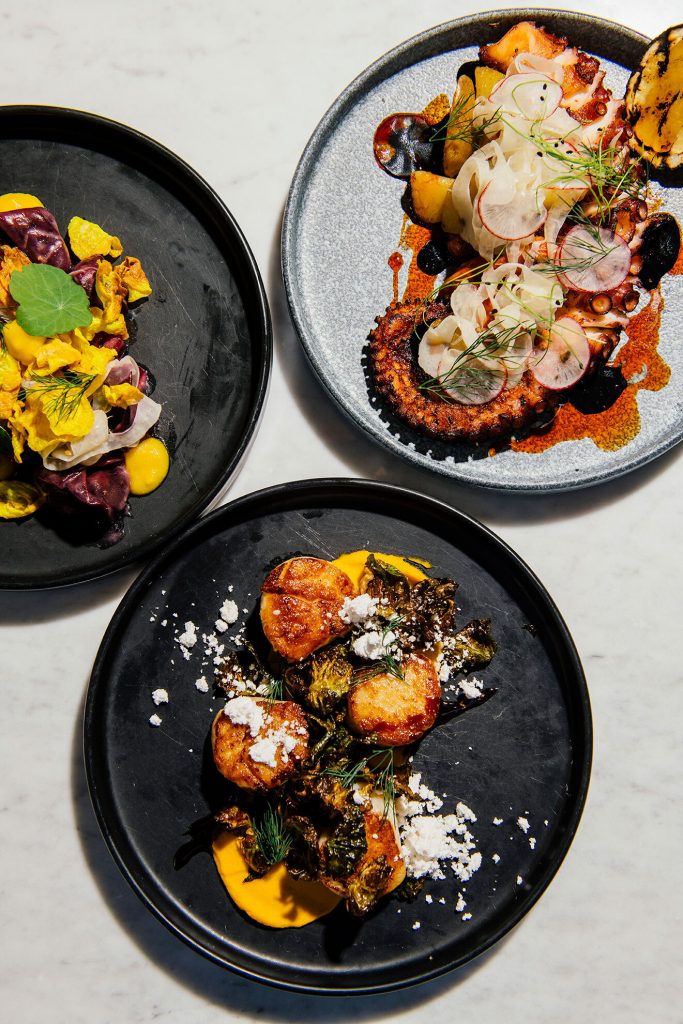 Since opening two years ago, Madam has continued to carve its niche with its global take on farm-to-table, taking diners on a journey from Michigan, with simple local greens transformed into a symphony of flavors that belies its side dish label, to Asia, with staples like mushroom dumplings, to Europe, with flavor-forward entrees like the Spanish octopus.
Combining modern art (the aforementioned portraits were created by Dutch artist Karin Vermeer in her signature style), polished service, and locally focused food that tantalizes with every bite, Madam has quickly become one of metro Detroit's best restaurants and is our 2023 Restaurant of the Year.
Thinking Globally, Acting Locally
When it comes to Madam's approach to food, Daxton owner Mark Mitchell says the restaurant is farm-to-table but with a different spin.
"Normally, when [other restaurants] do farm-to- table, everybody just kind of goes off of what I would say is more of an Americanized menu," Mitchell says. "When you look at our menu, when you look at some of our pasta dishes [for example], it brings in some flavors from around the world."
A recent pasta dish that shows off Madam's approach to flavors is the beet tortelloni, which seems to encompass a conflicting assortment of flavors: The combination of pickled fennel, Boursin, and orange puree initially had us shaking our heads.
When we dined at Madam, our server, Teal, assured us we'd enjoy it, and she did not let us down. The orange puree, which promised some sweetness, also included plenty of zest, the perfect amount of bitterness to complement the other flavors. Another pasta dish featured potato gnocchi with Calabrian sausage, sofrito, spinach, and Manchego.
The signature dishes of mushroom dumplings and forbidden rice exemplify the "farm-to-table with an international twist" approach. The dumplings are Asian inspired, borrowing from China and Japan with a house-made chili oil paired with a soup dumpling filled with mushroom dashi. The forbidden rice is fried with house-made Italian sausage and served piping hot with a sunny yellow raw farm-fresh egg that cascades over the rice and coats every grain when you pierce it with your fork.
Side dishes here are no mere afterthought — they shine as brightly as, if not more than, the main event — as demonstrated by the ancient-grain risotto served with the salmon. The salmon itself was grilled to perfection, but the risotto it sat on stole the show. Roasted root vegetables, pimento creme fraiche, and arugula salad rounded out the dish.
On another visit, it wasn't an entree but rather a side dish that left us wanting to drink the rest of the sauce in the bottom of the bowl. Seasonal greens were sauteed and simply dressed with a voluptuous cream sauce topped off with a paper-thin disc of crisp and lacy Parmesan. It exemplified how great simple cooking can be, the comforting flavors embracing us with each bite.
"We look to keep things as fresh and seasonal [as possible] and to rotate the product out as often as we possibly can," Chef de Cuisine Booth says.
"It's been amazing [working and coming up at Madam]; all the culinarians we have are so driven," Booth says. "And it truly is humbling to see how much passion they all have. I've been in the industry for over 25 years. Just seeing the growth in the kitchen and seeing where these kids are. And just remembering being that old and [thinking], 'I remember doing this.'"
As the chef de cuisine, Booth collaborated with Hogerheide on the menu before Hogerheide left. And Booth, "who has been instrumental in driving the Madam menu, … has taken on Madam's menu entirely himself," says Daxton marketing manager Josh Griffin.
One of the dishes where you can see Booth's influences at work is the Spanish octopus, which has become a fixture on the constantly evolving menu. Booth brings his knowledge of Spanish and French flavors to this dish, with the intense flavors of Spanish chorizo complemented by the tang of pickled fennel and squid-ink vinaigrette.
One thing that hasn't changed is the dedication to working with local producers and farmers.
"Everyone that we work with is very passionate about what they do," Booth says. "And it shows; the quality of the ingredients that we are getting in is top notch. You know when a farmer really cares about what they do because it speaks in not only the flavor of the ingredients but the appearance and the care that they take. When you can look at a carrot and you break it open, you see the layers of colors and you see the layers of different textures of everything. And then you taste it next to a commodity-style, and it's night and day."
Daxton Hotel works with more than 20 local farms and purveyors, according to Griffin. Some of the farmers they work with include Fisheye Farms, Featherstone Gardens, and Motor City Seafood Co. About 75 percent of the menu is locally sourced, Booth says.
"We're able to showcase what [the farmers and producers] are doing to the community," Booth says. "I like to treat them like rock stars. Because they're the reason that this is on a plate. We just make it look good and taste good."
Cocktails and wine add another dimension to the experience. One of our servers, Dawn, expertly recommended to us drinks suited to our likes after a short quiz: the Madam (with tequila, Aperol, pineapple, lime, and Firewater bitters) for me because I like fresh and light drinks that make me feel like I'm sitting on a beach along the coast of the Pacific Ocean, and an Old Woodward for my companion, who loves anything bitter with bourbon.
On another occasion, Teal navigated us through the wine list, the selections of bottles spanning 15 pages — a wide variety including everything from interesting whites from the Old World to reds from the New World, including a wallet-friendly Cabernet from Napa Valley we enjoyed with our meal. We asked for a recommendation for our fish course, and Teal came through again with a surprisingly fruit- forward Chardonnay that paired well.
Desserts are also as interesting and thoughtfully constructed as the main dishes, highlighting the best of local producers' bounty while looking like art on plates. The Local Apple Pie — with Heaven's Door bourbon, miso caramel, and vanilla ice cream — was made with a white cheddar crust, giving it a slightly salty and subtly savory twist that made it among the best we'd ever tasted.
The citrus olive oil cake was decadent and luxurious, with ganache, crystallized chocolate, and chocolate anglaise. While that chocolate on chocolate on chocolate could be excessive, the orange notes of the soft- as-a-down-pillow cake balanced out the richness.
Speaking of pillows, the long benches wrapping around tables have plenty of them — no matter where you're seated, you'll feel like you lucked out to be led to your own little nest before you partake in your meal. And that's part of the charm at Madam. The servers anticipate your every need and keep the meal going at a nice pace. We didn't even realize four hours had flown by, and not once did we feel like it was time to take the table conversation elsewhere. But if you don't want the night to end, there's always the Geode Bar & Lounge.
A 'Place for People to Come and Gather'
When we left at 10 p.m. after dinner on a Thursday, both the bar and lobby were packed; we saw many more women at the bar than there had been four hours earlier, many in their 30s and 40s.
The Geode Bar is an extension of Madam, making it the perfect beginning or ending to the meal. On one occasion when we arrived 20 minutes early for our reservation, we saw a few people in the hotel lobby.
The bar area was about half full, with a group of about eight men who appeared to be businessmen from out of town but could have been locals meeting for happy hour. There was also a couple; the woman was from Dearborn and had been to Madam and the Geode Bar & Lounge many times. She wanted to bring her companion there — he was from Chicago and in Birmingham for the first time — because she likes it so much. The restaurant and bar see more locals than travelers, Griffin says.
Daxton recently expanded its seat offerings in the bar area by adding more tables and chairs near the front windows, creating a more welcoming atmosphere with a unique metropolitan feel where people come and go as well as sit and enjoy cocktails. For us, it had the feel of being on vacation and discovering a fun, upscale bar where the action was.
Since its opening, Madam has evolved into a "place for people to come and gather," Mitchell says.
"[The menu] was a little bit more eclectic when it started out," Mitchell says. "Some of the items now are, let's say a little bit more mainstreamed, which is nice for people because a lot of times there are great restaurants, but they're destination [restaurants] where you would only go maybe once a year or twice a year. Originally, that's kind of how we saw the restaurant. And then [Madam] was so welcomed by the community and everybody around [that] it ended up being a gathering place. So now we have people that frequent literally weekly."
Full Circle
One of Madam's most popular dishes is the mushroom dumplings, which have been a menu staple since the restaurant first opened its doors in 2021. It is also among the quintessential dishes that exemplify the Madam ethos of sourcing locally, making everything from scratch, and wasting nothing.
As of mid-December, chef de cuisine Clifton Booth says, the kitchen staff had rolled about 27,000 dumplings in 2022.
Here's how the pros at Madam make them:
They start off with a mushroom mix (sourced from The Mushroom Hub in Windsor, Ontario) that features fresh shiitakes and oyster mushrooms.
Aromatics, such as ginger, scallions, and garlic, are added.
The dumpling is similar to a Chinese soup dumpling, which is usually filled with meat gelatin. Here, they use mushroom dashi (a Japanese soup stock) jelly, which utilizes the trim cut from the mushrooms.
Then, it's rolled into a rice flour-based wrapper. The dumplings are blanched, then steamed.
They're served with house-made "Chili Crunch" (Madam's version of the popular Chinese condiment chili crisp, which has chilies, fermented soybeans, and aromatics like garlic and ginger) and nestled on a bed of pea leaves. And if there is still some waste, it goes into the compost. Some of that compost goes back to the farms that grow their produce.
"It comes full circle," Booth says.
Feast for the Eyes
Art is an integral part of the experience of dining at Madam and visiting Daxton Hotel as a whole, with more than 400 original pieces of art curated from around the world by Saatchi Art. Each guest room includes a custom piece of artwork from one of more than 80 artists representing 40 countries. Some of the pieces even come from owner Mark Mitchell's personal collection.
Here is a look at some of the artwork you'll see at the Daxton Hotel.
Geode Bar & Lounge
The adjacent lounge to Madam is a work of art itself, crafted by Romeo-based metal fabricator Andy Gaskey. He fabricated about six different individual pieces that were shipped to Birmingham, then assembled in place over the bar. The geodesic shape is a recurring motif at the hotel and restaurant, from the water glasses to some of the light fixtures (middle right). There's even a signature cocktail called the Geode Spritz, a delicious and deceptively light concoction made with vodka, Pama liqueur, Campari, lemon, grapefruit, and Prosecco.
Pink Bunny by Roark Gourley
As you walk to the bathroom, you might glimpse out of the corner of your eye a hot-pink bunny (middle left) down the hall lit in an eerie way that may or may not bring to mind the film Donnie Darko (2001). But the story of the pink bunny is far from sinister — its name is a play on one of Mitchell's kids' nicknames and represents a pas- sion for family, community, and laughter (the hotel is named after one of Mitchell's kids, while Madam is an amalgamation of Mitchell's and four of his kids' initials). The 9-foot-tall sculpture was hand-carved and then got its eye-popping color from a special paint process that required rapid appli- cation to ensure there was no dripping.
Custom Lighting Installation
The lighting installation in the Wine Room at Daxton Hotel (top right) is a custom fixture that was created by Yellow Goat Design, specifically for the hotel. Over the mantel is the painting "Hats to Make You a Beauty" by artist Karin Vermeer.
"The Golden Mechanical Horse" by Adrian Landon
Landon is the artist behind the hotel's flashy 24-karat-gold-plated horse (bottom left), which gallops for a full minute. Expression of raw energy is a central theme of Landon's work, and that passion is on full display in this sculpture. Landon is known for creating "Wings of Glory," a Pegasus sculpture that had both a wingspan and height of 35 feet, for Burning Man.
"Stop and Smell the Roses" by Stephen Rowe
When guests check in to the hotel, one of the first things that greet them is an ab- stract painting by LA-based artist Stephen Rowe (bottom right), a personal favorite of Mitchell's. "That's the first piece of art I ever collected," Mitchell says. "And I thought it only appropriate that I put that behind the front of the house." Rowe has several other pieces featured at the hotel, including "I Love the Silence of Blue" in the wine room. "As an international artist, I feel very honored to be in amongst some amazingly talented artists that Mark has collected," Rowe says. "And I believe the focus of the Daxton supports the artist and the arts, and that makes Birmingham a great destination to go see some great art."
The Backstory
Daxton Hotel had been a longtime dream of local entrepreneur Mark Mitchell, who has built a successful career in creating visions and making them reality. The founder of Visiting Physicians Association (which expanded into the holding company HarmonyCares) and the Mitchell Family Office, a management platform that has invested in more than 20 companies across a wide swath of industries, has entrepreneurial roots that go back to when he was a 15-year-old launching a landscaping business.
"I had some friends that were literally pushing lawn mowers, doing lawns around their subdivision, and I thought, 'They can do it better than this,'" Mitchell recalls. "And then my dad taught me as long as you work hard and hire good people and work alongside them, they'd work really hard for you."
When Mitchell told his dad he wanted to start his own venture, he told his son that for every hour Mitchell worked, he would match what he made. In addition to that seed funding, he gave him his 16th birthday present early, a used truck.
Mitchell ran the business after school and through his second year of college at the University of Detroit Mercy, where he majored in economics. He sold the business for a sum in the "hundreds of thousands," quite the payday for a college sophomore.
Mitchell's work in the medical management field has led him all over the globe, and his international travels inspired him to bring the type of hotel he'd stay at, such as The Peninsula in Beverly Hills, California, where the staff remembers your name, to Birmingham.
"The whole goal with Daxton Hotel was to make an architectural and design experience, so every time you walked into a room or turned a corner, you had an 'Oh, wow' experience," Mitchell says.
Part of that "Oh, wow" experience comes from the hundreds of art pieces all over the hotel, from the custom light fixture in Madam that resembles a pearl necklace to the artwork in the guest rooms. (See the "Feast for the Eyes" sidebar for more.)
It was always a given that Daxton Hotel — which was five years in the making, from design to construction — would be in Birmingham, with Mitchell on a mission to make the metro Detroit suburb a destination on par with the top cities in the world.
"I wanted to bring something to the local community. I wanted something that the community could be really proud to stand beside and something that people would come to," he says.
More Photos of Madam
Madam is located at 298 S. Old Woodward Ave., Birmingham. Call 248-283- 4200 or visit daxtonhotel.com for more information. 
---
This story is part of the March 2023 issue of Hour Detroit. Read more in our Digital Edition.