The occasion calls or dinner plans, and it's all on you. So, how's your restaurant-going game? Does it begin and end with making reservations and picking up the check? Why be that person, treating your someone special to the same ole routine? Don't just settle for this or that. Order like a big-night-out boss — have it all.
There's prime culinary talent at work in this town, and nothing proves that more prodigiously than places where tasting menus are in play. Here are a choice few gastronomic garrets currently sculpting epicurean art in fine multicourse fashion.
Grey Ghost Detroit, a busy Brush Park haunt, custom tailors its menus to meet group requests. Presiding co-Executive Chefs Joe Giacomino and John Vermiglio are kindred spirits when it comes to conjuring singular experiences of breaking bread and making merry. These guys count the late, ultra-great restaurateur Charlie Trotter among their mentors.
From Wagyu flank to fried bologna and shimmering tuna tartare to pork schnitzel, they weave finesse and familiarity together to create tasting-menu tapestries.
"Every dish rises from a careful, collaborative consideration," Giacomino says.
"But we're not above slipping in a cheeseburger — cut in four — between courses, either," Vermiglio adds. "We don't take ourselves too seriously."
"Our entire hospitality team understands," Giacomino sums up, "they're not order-takers. They're Sherpas."
Good point. When you're offering to take people to the prandial mountaintop, only equally stellar service and cuisine will get you there. So says this Ghost we can believe in.
At Cass Corridor's SheWolf Pastificio & Bar (named after the mythic foster mother of Rome's fabled twin founders), Executive Chef Anthony Lombardo's "curated menu" serves loyal legions who line up nightly at his gates.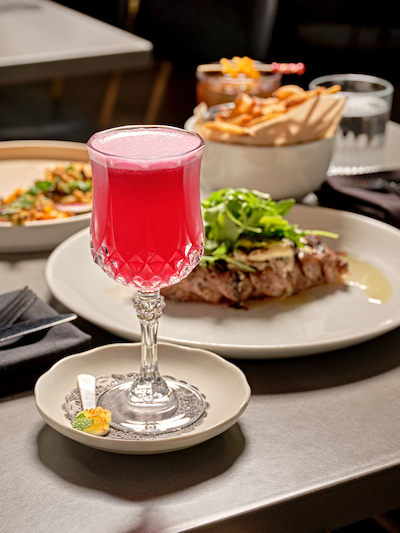 SheWolf eschews set courses — common to most tasting menus — letting diners have their say, instead, as to what pleasures of team Lombardo's Roman table they'll partake in. From land or sea, paired with purist pastas or fresh goods from the garden, patrons pick and choose their way through four courses of both plated and family-style renderings.
What more could anyone ask of this accommodating and accomplished Italian Cucina Curata? The cost is $99 per person, with three wine pairing options also available ($45-$130).
Sitting in on a SheWolf preservice (staff meeting) afforded me some insight into the premium placed on delivering the level of service one would expect at this price point. They discuss the details of consummate professionalism. Proper course timing. "Reading" and leading a table through a sublime, seamless experience. Gracious tableside manner. The food, cocktail, and wine menu knowledge necessary to answer any and all questions and requests. Everything it takes, essentially, to deliver on the promise of a most memorable meal.
I count close to two dozen dining-room staffers at the roundtable roundup. Together, they will service a space that likely seats less than 100. That kind of crew-to-customer ratio leads me to believe SheWolf must be killing the hospitality game. And whatever those aromas were wafting from the kitchen by the time I exited, just as the doors opened for dinner service, they left me assured of the feast being prepared — and a little envious of those I passed outside waiting to file in.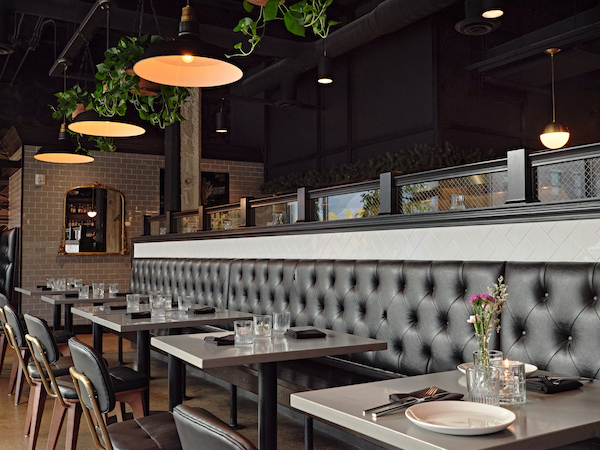 Ending in downtown's historic financial district, city-slick Maru's sights seem set on cornering more than its share of the market. Catering to sushi sophisticates and raw novices alike, the restaurant rolls out a menu and bar program that will satisfy anyone's palate. Nigiri and sashimi chefs are company-schooled like samurai.
"Maybe 10 percent of our culinary crews attain that expertise," says Maru Detroit Executive Chef Ryan Lucas.
There are eight sets of such skilled hands prepared to make the prime cuts here, and the nightly larder is limited. The savviest of diners sit down and negotiate particulars (preferences, prices) from the get-go while the getting's good.
Whether it's the most pristine or more pedestrian sushi styles you seek, assembling handcrafted platters to your tastes is Maru's pleasure. And while there are certainly standard-bearer sakes and flights to savor, I recommend letting Maru's spirits guide (aka bartender), Kenny Forsgren, pour you some state-of-the-art Japanese whisky, perchance to lift you higher with a nip or two of refined Scotch- and Bourbon-style spirits crafted and distilled in the Land of the Rising Sun.
---
This story is from the February 2023 issue of Hour Detroit magazine. Read more in our digital edition.