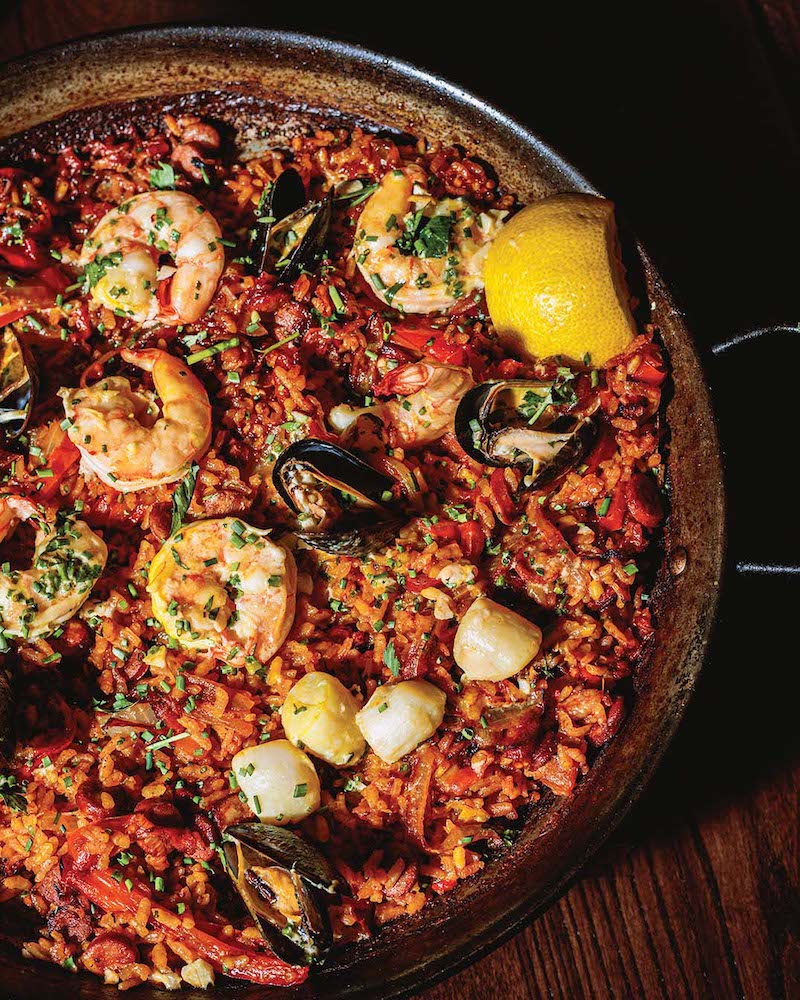 A couple of years ago, my husband and I decided to forgo Thanksgiving turkey and all the family stress and drama that goes along with the meal and head to Barcelona for a week, trading turkey and pumpkin pie for tapas and cava. All week, we enjoyed the simple pleasures of fresh tomato spread on crusty slices of bread. We discovered pintxos (i.e., small snacks, like little, deconstructed charcuterie boards on a stick). We feasted on a three-star Michelin Catalan lunch that included roast pigeon, blue crab with caviar, and cured foie gras and anchovy shavings on paper-thin garlic bread — a bite of food that looked more like a Dalí painting than an appetizer.
But the meal that sticks out to me from that whole trip was the exceptional seafood paella we had on the last day of our vacation.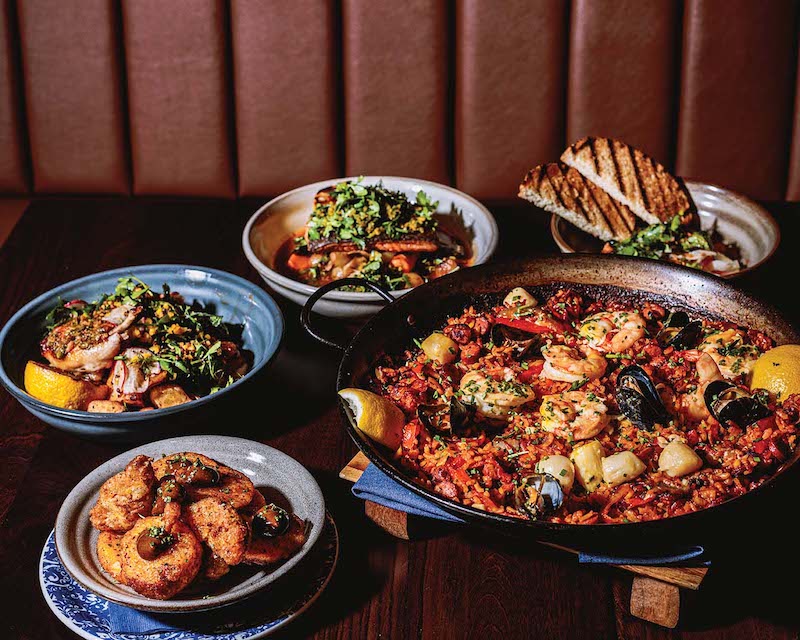 The pan might as well have been a net for catching all the seafood in the dish — so many plump lobsters, whole shrimp, and mussels that you couldn't even see the rice underneath. It is tempting to gulp a dish this good in large quantities, but it demands you take a small bite and enjoy every second. I can still taste this paella: the freshness of the seafood, the savory rice, the crisp and refreshing Albarino wine our server suggested to pair with
it … We leisurely whiled away the hours as lunch encroached upon dinner. It was the exclamation point to cap off a week full of good food.
Since COVID has pushed pause on my trips abroad, I've dreamed of that last meal in Spain wistfully. I was reminded of it recently upon making a trip to Olin, a downtown Detroit brasserie located in the former Puppet Art Theatre. Olin is run by Holly McClain, a restaurateur who grew up Downriver and went on to develop and operate renowned eateries in Chicago. After returning to Michigan a few years ago, she opened Highlands in the GM Renaissance Center with Shawn McClain, her husband and a James Beard Award-winning chef.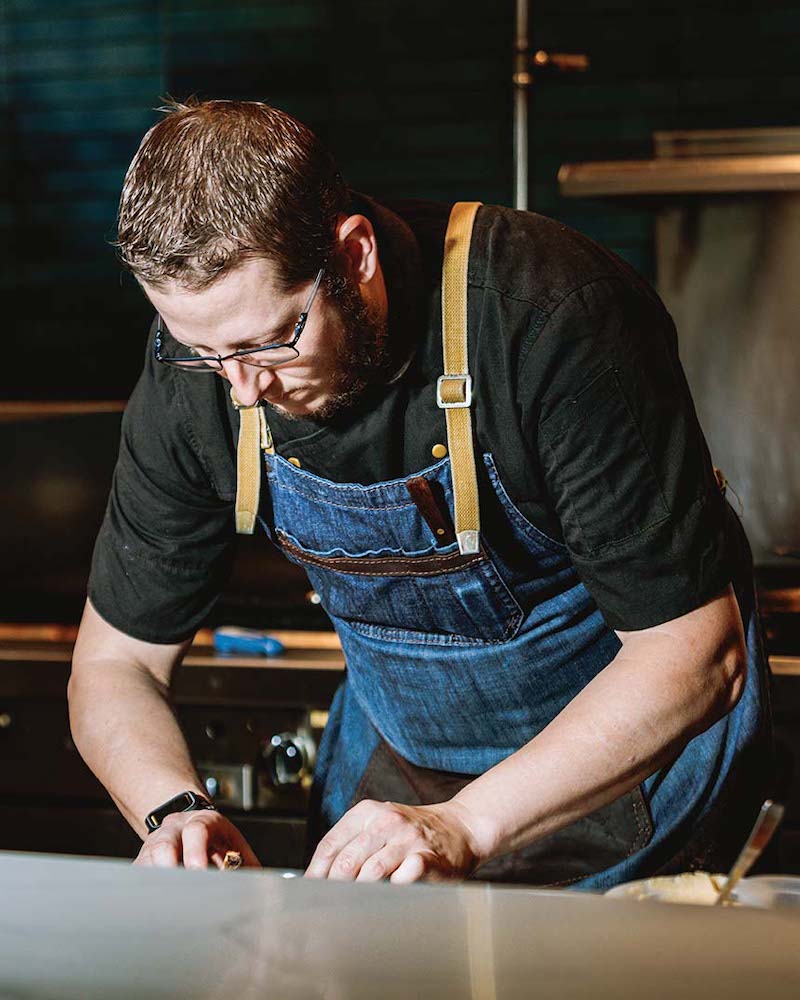 Walking into Olin on a recent Tuesday evening was like walking into one of those neighborhood tapas or pintxos bars in Barcelona — lots of buzz and conviviality, loud in an energizing way — with some modern American and Detroit flavor. The playlist rocked alternative and indie tracks from the early '80s to 2000s, from Talking Heads to The Killers.
The large, open, and airy space boasting the art deco building's original black-and-white tile floors is carved into distinct sections that cater to whatever the diner's mood: a 13-seat bar; a 20-seat lounge with luxurious sofas; and a 100-seat dining room that features an eclectic mix of seating, from a chef's table with leather banquettes to cafeteria- style booths. Two large photography murals by Lisa Spindler reinforce the industrial elements, such as exposed brick and wood beams, of the distinctive space, designed by Birmingham's McIntosh Poris Associates. Everything at Olin is well balanced, from the decor to the food.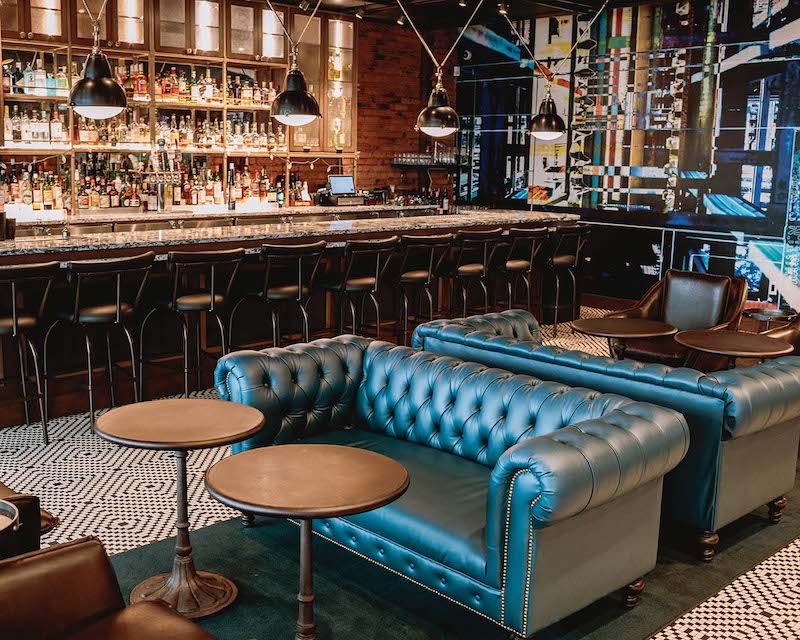 Each component of the dishes we tried was in harmony with the others. We started off with the Potatoes and Artichokes Bravas, the burrata, and the pretzel. The potatoes and artichokes did not look or taste like any patatas bravas — typically crispy fried potatoes in a tangy pimento-forward sauce, often drizzled with aioli — that I've had, but Olin's version is uniquely its own; the pimento sauce is traded for harissa oil, and the aioli recieves a black-garlic spin that brings greater depth of flavor compared with a straightforward garlic aioli. The housemade burrata is served with earthy golden beets, sweet caramelized brown fig, chili oil, and fermented honey.
My dining companions and I also selected a couple of items that would probably not appear on a menu in the Mediterranean but are right at home in Michigan. The walnut Caesar features a snowcap of Parmesan — the "proper" amount, our friend noted. The housemade pretzel, from Olin's sister business, Twist, could have been nothing more than a mediocre carb, like the bread brought in baskets whose only mission is to take up stomach space. But it's done exceptionally well — fluffy and tender on the inside, with a golden and glossy exterior bathed in butter and sprinkled with sea salt.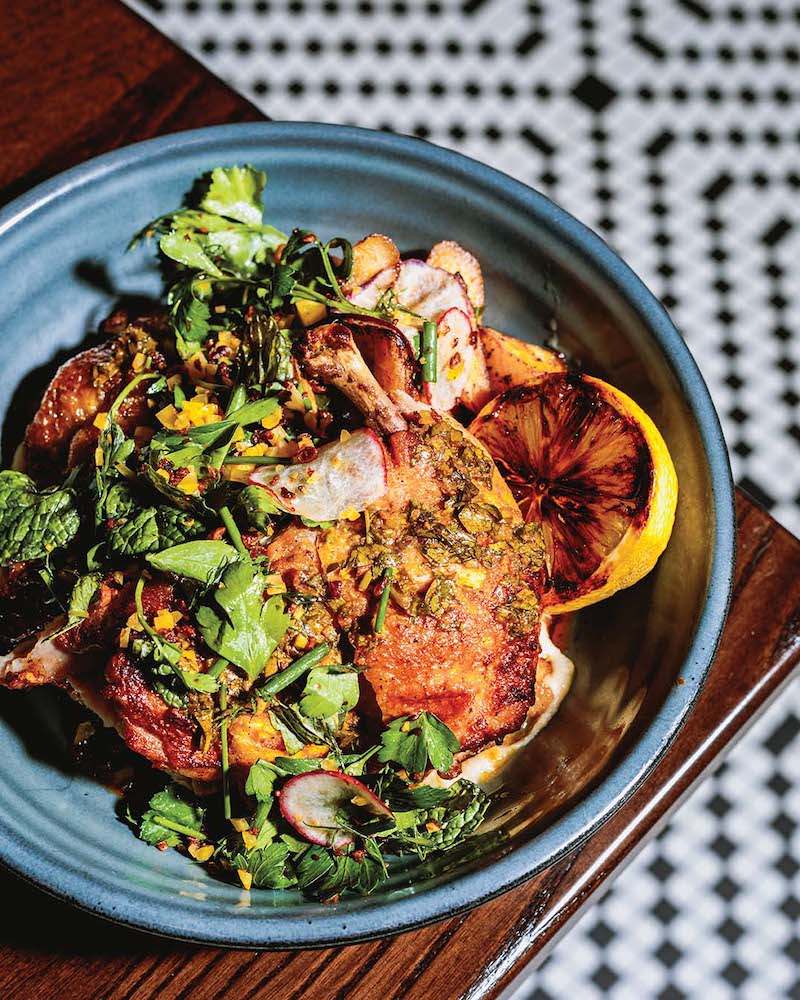 In fact, it's those simple things done well that are Olin's strength. Our server had suggested getting the roast half chicken, which seemed like a wasted order in a high-end restaurant, but upon taking our first bites, we were confident we had made the right choice. Flavor permeated every inch of the chicken — notes of lemon and garlic from the chermoula complemented by the sweetness of roasted parsnips. The velvety parsnip puree contrasted nicely with the crisp chicken skin, another example of how Olin melds textures and flavors seamlessly.
And then, there was the showstopper: the paella. The menu calls it Executive Chef Andrew Shedden's ode to one of Spain's most iconic dishes, and indeed, it's a heartfelt love letter. We opted for the seafood paella with chistorra sausage (a smoky variety from the Basque region), mussels, shrimp, and bay scallop. I almost missed the ramekin of aioli, but a drizzle of the creamy sauce is a must.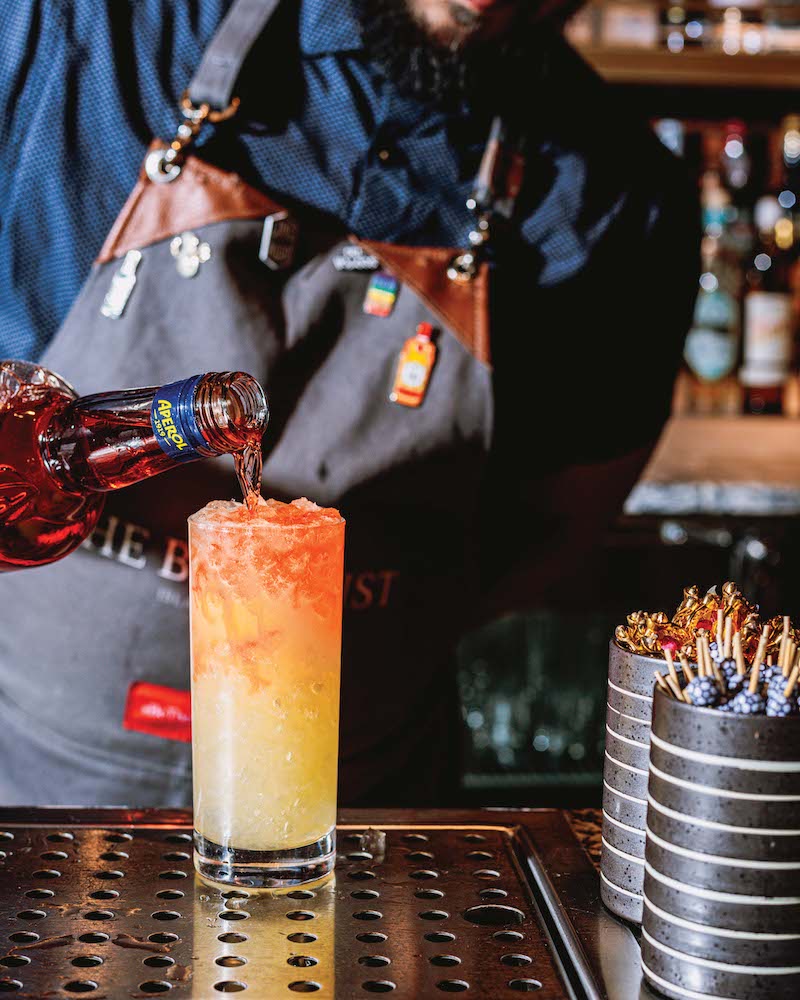 The wine list is brief but well curated. Our server, admittedly, did not have extensive knowledge of the offerings, suggesting a white when I wanted red, but she sent over a server who had more command of the selection. She explained which wines went well with the bill of fare (a couple next to us also offered a great suggestion — another example of the conviviality) but I had already set my sights on two wines I'd enjoyed in Barcelona: a Priorat and an Albarino, two varietals I don't see often around here. The bold Priorat was a perfect match for the chicken, and the Albarino, paired with the paella, brought me back to Barcelona.
It may be a long time before I find myself at that Barcelona restaurant again, but until then, it's good to know Olin is right here in Detroit for whenever I'm craving a taste of the Mediterranean.
Olin Bar & Kitchen, 25 E. Grand River Ave., Detroit; 313-774-1190; olindetroit.com
---
This story is featured in the February 2022 issue of Hour Detroit magazine. Read more stories in our digital edition.