From a prandial perspective, Italy's Piedmont Region can boast two things they offer us all to a singular standard: elusive and exclusive white truffles, and the world's best Barbera and Barolo wines.
The former, a rarified fungus only found by rooting underground around the Alba in early autumn, routinely fetches returns in the range of $2,800-$3,000 per pound for those who forage them for annual afficionados' feasts.
The latter, deeply luxuriant nectars layered with flavor notes enough to exhaust one's viticultural vocabulary, are as precious in their own right, thanks in part to the noble Nebbiolo grape's reputed petulance during cultivation.
To date, the wild-growing white truffle has yet to be domesticated, while vintage big wines in the Barbera and Barolo categories elicit unbridled praise from those who appreciate all it takes to bottle them.
Recently, in the private dining room recesses of Downtown's San Morello restaurant at the Shinola Hotel, Chef and Owner Andrew Carmellini, along with some certified wine wonks, paired those wines with the last of this season's truffles in a tasting menu tour de force.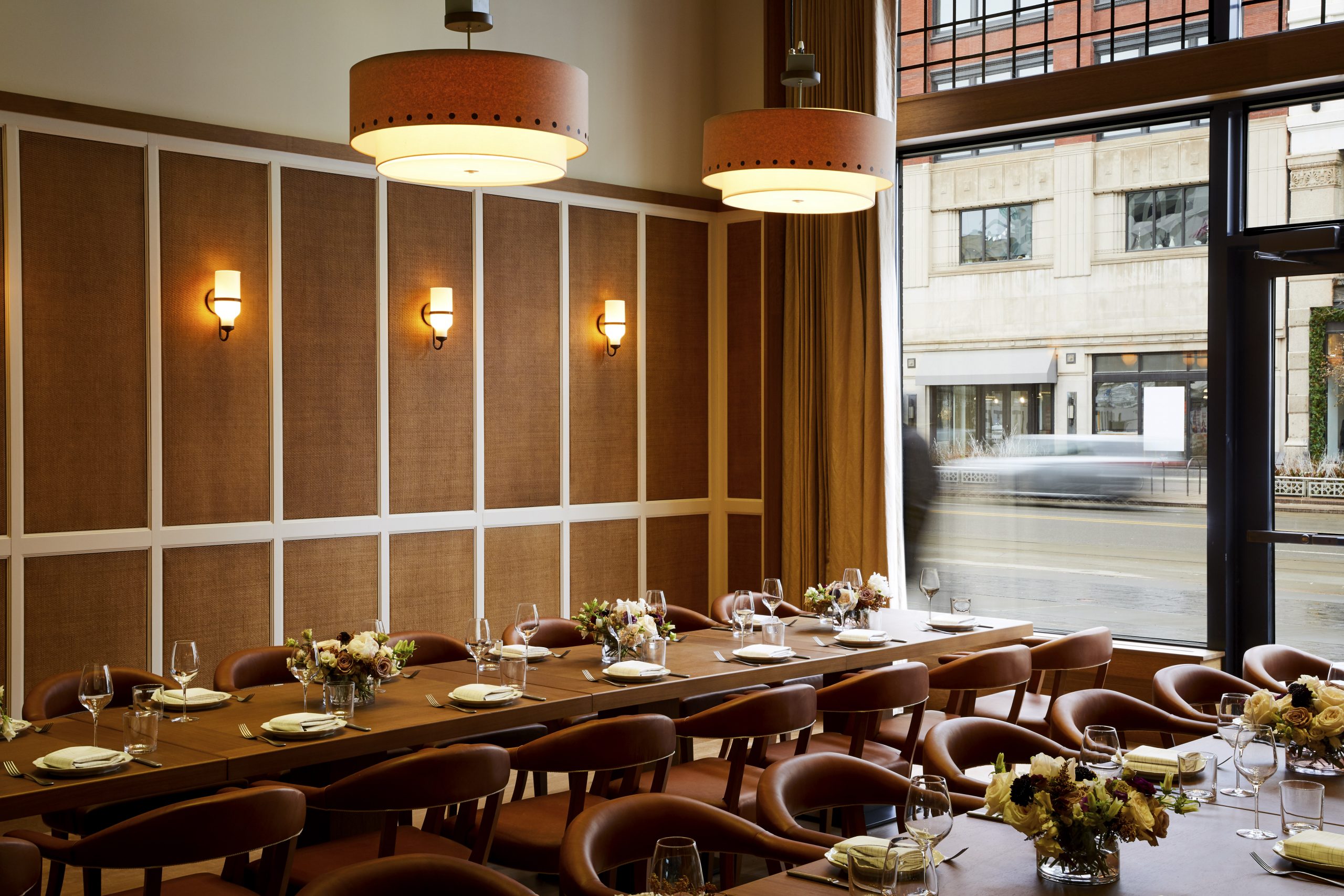 From first course to last, a sold-out roomful of attendees were treated to an evening's table impressively set and served.
Hors d'oeuvres of truffle-foamed arancini and prosciutto-wrapped grisini were passed for starters as we sipped a soft, Nebbiolo-blushed sparkling and a silky, sweet vermouth from Torino (Turin) so luscious I took a half bottle home.
After a pertinent truffle tutorial from Carmellini and some wine label introductions by Noho Hospitality & Wine Company beverage director, Josh Nadel, and presiding Plum Market master sommelier, Madeline Triffon, we proceeded into a first, crudo course of bigeye tuna accompanied by a timorasso, an ancient white wine varietal which Piedmontese wine makers brought back from the brink of extinction back in the 1980's.
With a crisp minerality not unlike fine French white burgundy, it proved a refreshing complement to the radish and jalapeno-studded tuna.
Truffle-infused oils, sauces, and such aside, the most pristine pleasure the supreme white variety adds is when simply shaved fresh like flakes of pure gold over whatever dish it gloriously gilds.
Our pasta course proved that. A good base to begin with, artichoke and ricotta-filled ravioli arrived resting among earthy mushrooms releasing their rich natural broth. Right behind followed the man with whole truffle and slicer in hand, who put the cherry on my Thursday one sliver at a time as I prayed he'd lose count of what seemed reasonably my share.
 "You got more than me," a new friend also dining solo across the table insisted. She looked dead serious and disappointed.
"Your thoughts on this Barbera?" Gleefully agreeing to myself, changing the subject seemed a better strategy to me than offering to share. "Bold yet unassuming, with hints of Ranch and Polyester in the finish." I ladled her a little humor.
In our hosts' estimations, evidently, it took two barolo labels to stand side by side with the most impressive main course. "Brasato" beef (pot roasted, for lack of a truer translation), sliced and served perfectly rare to medium rare (for my tastes), came plated with braised cippolini and dauphinoise potatoes in a plate-licking pool of fat-rendered oxtail and Barolo Demi.
Right down to irresistibly tender tidbits of oxtail ragout at the bottom of the plate, I'm guessing this came pretty darn close to what's served in Heaven on meat and potato nights.
As to the aforementioned dueling barolo labels, they actually came from the same producer (Paolo Scavino) and were paired to demonstrate how differences in terroir can result in wines of diverse character, even when made from the same grapes by a single vintner.
True enough. From one glass, I tasted more fruit and soft tannins. From the other, more dryness and depth. I'd match those impressions to each specific label if I could, but you know how wine tastings go. Once all those half-glasses start adding up, it's hard to keep track.
Dinner wound down with my kind of cheese course before dessert. Vacherin Mont d'Or, a brie-like cow's milk cheese, was served unctuously warm and oozy.
Watching four chefs whip, spoon, shave (white truffle) and serve it melted my triple cream lover's heart. Had anyone within arms' length dared ask for a bite of mine slathered on warm, blistered baguette, I'd have bitten them for sure, though I might have considered trading away my dessert wine for someone's bread and cheese.
Another Barolo-style similar in flavor profile (says me) to sherry or port, I just couldn't get past a vinegary nose I perceived. Two lifelong wine professionals to my left explained why I wasn't right about that. My bad, maybe. To each, his own.
Finishing with airy pumpkin cheesecake, wine-poached pear and cinnamon gelato sated sweet tooths.
By the time everyone said thank you and goodnight to San Morello, we were left with a lot to chew on.
From the culinary crew and wait staff who served up incredible fare and hospitality in generous measure, to wine experts who managed to pluck from their professional perspectives' parables on the time and patience, effort and expertise it takes to create pleasures in life worth toasting, it all amounted to memorable evening.
 Yes, white truffles are fabulous. Wine, well made, is a wonder. But the finest meals are the ones we share in the good care and company of others. Thank you, San Morello, for those reminders.
San Morello is located at 1400 Woodward Ave., Detroit. Visit sanmorello.com for more information. 
Facebook Comments