This year's 10 best new restaurants in Detroit — including Magnet, YumVillage, Penny Red's, and Highlands — are not to be missed.
Magnet
4842 Grand River Ave., Detroit; 313-656-2640; magnetdetroit.com
When Magnet opened in September 2019, the interest was immediate. After all, the Core City-based eatery was the latest dining concept from Brad Greenhill, the chef responsible for Takoi, which made several "best new restaurant" lists and even garnered a James Beard Award nomination when it first set up shop on Michigan Avenue in 2016.
Greenhill didn't disappoint.
The chef used the new business venture as a chance to play outside the conventions of the restaurant industry, launching the Mediterranean-influenced Magnet with a seasonally changing menu that skewed heavily vegetarian, a culinary philosophy focused entirely on wood-fired cooking methods, and a no-tipping policy.
The result has been a unique addition to the city's budding Core City neighborhood that feels modern in both its design and business practices and its use of ingredients. "The proteins are great," Greenhill says. "But I think at the heart of the restaurant is our work with vegetables."
Those adhering to vegetarian diets will be particularly excited by Magnet's flatbreads, which are served with chickpea or farm cheese spread, cauliflower steak, and various shareable small plates, while omnivores can indulge in an impressive lineup of rotating meat dishes.
Greenhill says in the months to come, the restaurant will tap into more local ingredients — including some produce grown by Magnet itself — and will present diners with the opportunity to enjoy a curated wine menu with light bites in the nearby Core City Park. "There are not too many places in the city that can offer that type of setting, so that's going to be fun," Greenhill says. "Is it summer yet?" —Emma Klug
Mink
1701 Trumbull, Suite D, Detroit; 313-379-6465; minkdetroit.com
Following the success of butcher shop-restaurant hybrid Marrow, the women-led team that also brought us Folk Detroit and the Royce wine bar turned its attention to seafood. The result: Mink, a small (about two-dozen seats) and sleek seafood and wine spot that opened in November in the Corktown space that formerly housed the gourmet grocery shop Farmer's Hand.
Modeled after izakayas — the Japanese equivalents to American neighborhood bars — Mink boasts a drink menu of imported beer, wine, sake, and hard ciders. While menu offerings rotate daily, the usual suspects include Scallop Crudo, Confit Tuna Belly, and Roasted Delicata Squash. But the real stars here are the oysters, sourced from around the country and served at the peak of their seasons.
"Education about what you're eating and where it's from is almost as important as how the food tastes," Mink's website declares. And its proprietors' efforts to educate go beyond being transparent about their sourcing practices. For amateur cooks interested in learning the tricks of the trade, Mink offers various workshops, including Shuck, Yourself!, a lesson in how to properly pop open an oyster. —Page Gardner
Saffron De Twah
7636 Gratiot Ave., Detroit; 586-359-6138; saffrondetwah.com
Saffron De Twah has established itself as a leader in the local food scene since it opened just a year ago, pioneering culinary territory new to metro Detroit. When it launched on the city's east side as a carryout spot, it became Detroit's only Moroccan eatery. Chef and owner Omar Anani says it was his intention to introduce a cuisine not yet represented in Detroit. He hopes doing so will help people learn the distinctions among foods that, despite their significant differences, are often homogenized as Mediterranean.
Unlike generic Mediterranean restaurants, Saffron De Twah focuses on modern Moroccan dishes such as Cauliflower Shawarma Batbout — soft Moroccan pita bread stuffed with veggies and green tahini — and Lamb Tagine with couscous, seasonal vegetables, and tzatziki.
After introducing an enclosable patio this coming summer, Saffron De Twah plans to continue its innovative streak by adding to its year-round seating space with Detroit's first dry bar. The restaurant bought its own still for producing zero-alcohol elixirs. The resulting halal mocktails will be served out of a vintage Airstream trailer.
Anani, who is of Palestinian and Egyptian descent, says ordering virgin drinks while out with friends has sometimes made him the butt of jokes. "This place is clear of that judgment, and people who've never been able to try elevated, thoughtfully crafted drinks will now have that opportunity," he says. Another debut in 2020 will be a larger, more refined dessert menu. "I started as a pastry chef," Anani says. "I have strong opinions on dessert." —Ashley Winn
---
DRINK EXTRA: Saffron De Twah has acquired a still and started developing zero-alcohol elixirs for its soon-to-come halal beverages, which will be served on the patio out of a 1963 Airstream trailer. Options will include house-made sodas, such as the Spiced Orange Carrot, and mocktails including the Shomander, with orange, beet, honey, cocoa, and allspice.
---
YumVillage
6500 Woodward Ave., Detroit; 313-334-6099; yumvillage.com
The premise is simple. At YumVillage, an Afro-Caribbean food truck that opened its brick-and-mortar location in Detroit's New Center neighborhood in April 2019, customers craft a Hot Bowl by first picking a halal protein and a vegetarian side. "I suggest grabbing a stew like our vegan Maafe over Smoked Pepper Fries and getting a side of our jerk chicken or Suya chicken," says the owner and chef, Godwin Ihentuge. With five protein choices and more than 10 sides, the options are plentiful. And you can't go wrong, because each item, according to Ihentuge, is made "with love, fresh every day."
In fact, the chef, who started YumVillage in its food truck form in 2012, puts his heart into the recently opened restaurant. Ihentuge is inspired by local ingredients — such as those found at nearby Eastern Market — as well as a mission to change the restaurant industry for the better. Because of this, YumVillage pays living wages to its workers, compensates chefs who create menu items, and uses eco-friendly dinnerware. "The sooner we take the steps for sustainable work environments, the better off the industry will be," Ihentuge says.
While the New Center neighborhood is not yet known as one of Detroit's restaurant hot spots, Ihentuge is happy to lead these initiatives from the corner of Woodward and Milwaukee. "I am very fortunate that we were able to make New Center our home," he says. "It feels good to take part in Detroit's prolific evolution." —EK
Mootz Pizzeria
1230 Library St., Detroit; 313-243-1230; mootzpizzeria.com
Bruno DiFabio, a six-time champion of the Olympic-inspired World Pizza Games competition, brought authentic, New York-style pizza to Detroit in January 2019 when he opened Mootz Pizzeria in The Belt. And DiFabio doesn't take the authentic part lightly. At Mootz, aged dough is baked in brick ovens — a technique imperative for rendering the
perfectly chewy-crispy crust of a New York pie — and top-quality ingredients are a priority. Award-winning, housemade cheese (known as "Mootzarella") and tomato sauce made with vine-ripened tomatoes top nearly all of the pizzas at Mootz, including the crowd-favorite Uptown & The Bronx. The flavorful pie showcases the best of Mootz with its New York pizza sauce, cup and char-style pepperoni slices, and medley of Pecorino and shaved Parmesan cheese.
In addition to a selection of creative pies, the menu features appetizers, salads, hoagies, and pasta dishes. There's also an extensive lineup of wine, beer, and craft cocktail options. Mootz even rolled out new menu options in December — part of the restaurant's quest for perpetual improvement, says co-owner Lisa Waters. "We're always looking at trying new things," she says.
Enjoy your meal in the restaurant's sit-down section, which is outfitted with dynamic murals and modern décor, or consider grabbing a slice to go at Side Hustle, the quick-service counter next door. —PG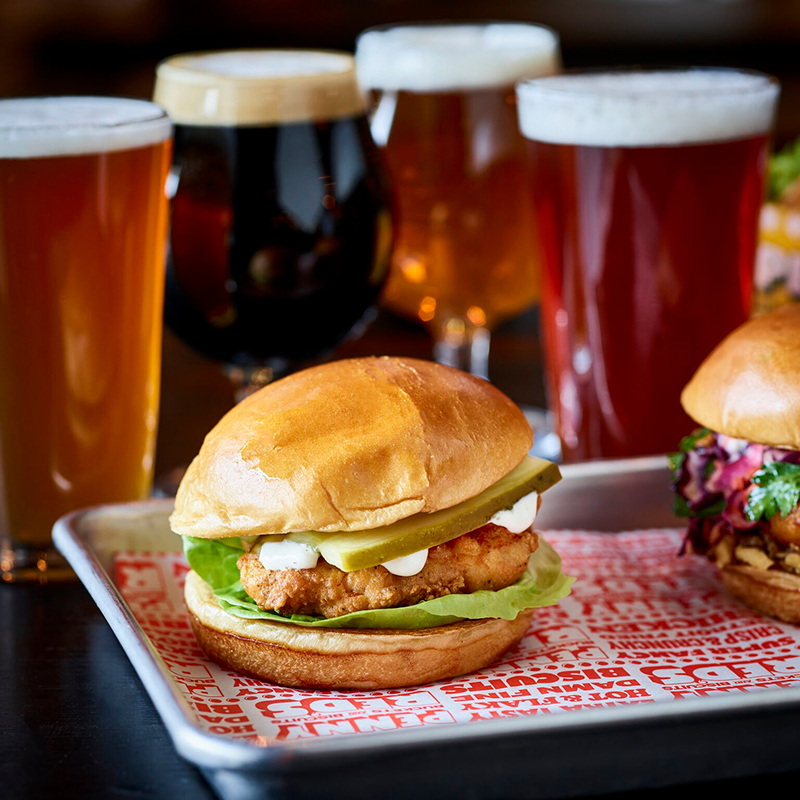 Penny Red's
At Penny Red's, you order at a counter. The menu is limited — there are a few sandwiches; fried chicken buckets ranging from five-piece to 20-piece varieties; and sides such as honey butter biscuits, potato salad, and a banana pudding made of toffee-date cake and bananas foster cream. And the come-as-you-are joint's nostalgia-inducing ambiance is thanks in part to its wood paneling and checkered floor interior.
But this simplicity isn't a shortcoming; it's what has made this new spot a standout since it opened in the alley behind the Shinola Hotel last March. "We keep it intentionally focused on damn fine chicken," says Luke Ostrom, managing partner at NoHo Hospitality Group, which also owns San Morello, Evening Bar, and The Brakeman — Penny Red's neighboring beer hall, which offers communal seating.
The "Buckets of Damn Fine Fried Chicken," as they're called on the menu, are of course fan favorites. The Classic sandwich, which features a thick piece of fried chicken topped with Urban Ranch sauce, sweet pickles, and hot honey, is also popular. Guests can pair these, as well as any of the other savory menu items, with concoctions from the restaurant's complimentary six-flavor sauce bar, which includes unique options such as Joy and Pain Hot Sauce and Good and Tangy. "We encourage trying them all," Ostrom says. —Matthew Hanna
---
DRINK EXTRA: The Brakeman has a full liquor bar, serving cocktails and frozen drinks, but the real draw is its rotating selection of local craft beer. Twelve brews will be available on tap at all times, along with a number of canned small-batch options. Guests can also rent one of the pour-your-own beer tables with individual taps for a more hands-on experience.
---
Highlands
400 Renaissance Center, Detroit; 313-877-9090; highlandsdetroit.com
November saw the opening of the latest lodger in one of Detroit's most elevated restaurant spaces — the 71st and 72nd floors of the GM Renaissance Center. Highlands follows former residents such as Coach Insignia, which held its perch for 13 years before closing in 2017. Despite its succession in a long line of riverfront eateries, Highlands has delivered a concept entirely unfamiliar to the space, which chef Shawn McClain says was intentional. "It's an experience totally reimagined from previous iterations of the space," he says. "The epic views remain, but it's more than just a special-occasion restaurant."
Highlands is a single destination with three distinct yet cohesive concepts, each with its own menu, atmosphere, and style. "It's about providing guests with a myriad of experiences, each with a top-of-tower perspective of downtown Detroit," McClain says. The anchoring space is, of course, Highlands — a fresh, unstuffy adaptation of the traditional steakhouse, with a wine-focused beverage program. Its satellite concepts include Hearth 71, a cozy, casual dining space set around a blazing kitchen fire. Along with an extensive selection of craft beer, McClain says, Hearth 71's menu offers "locally sourced, comforting dishes like Mushroom Bucatini and Half Chicken served with honey butter biscuits and sweet mustard chicken jus." Finally, High Bar, a whiskey- and scotch-forward cocktail spot, serves savory appetizers and indulgent desserts. —AW
---
DRINK EXTRA: Couches and velvet chairs at Highlands' whiskey- and scotch-forward cocktail space are placed window-side, giving guests an aerial view of the Detroit River while they share small plates and sweets. Spirits are imported from around the world to craft cocktails like the Pomme & Circumstance, featuring Laird's Applejack, apple cider, lemon, ginger syrup, and ginger beer.
---
Blue LLama Jazz Club
314 S. Main St., Ann Arbor; 313-372-3200; bluellamaclub.com
In downtown Ann Arbor there lies a dimly lit club with jewel-toned velvet seating and wood-paneled walls, curved to direct each diner's attention to the stage at the center of it all. Most nights, the stage at Blue LLama Jazz Club is graced by regional or national artists, offering guests a chance to spend their limited night-out time experiencing the best of both
worlds: "At the Blue LLama, we've tried solving the problem of choosing between world-class cuisine and world-class music by asking, 'Why can't I have both?'" says owner Don Hicks.
The atmosphere may be straight out of the 1930s, but the food hits a sweet spot between jazz-era-inspired and creatively modern. Composed of New American shared plates, the menu features dishes such as Charred Baby Octopus, Salt Roasted Beet Carpaccio, and various charcuterie boards. And after a successful first year of finding its footing, the cabaret plans to evolve further, taking risks and adding more variety and seasonal specials. Much like the chef-driven restaurant's daily specials, Hicks says, menu changes will be subject to the creative whims of Blue LLama's resident tastemakers. "Chefs Louis Goral and Adrian Estrada push themselves, each other, and their team to try new concepts," Hicks says. "Chef Adrian was dared to turn a tamale into a meatball, and three weeks later, we've got Tamale Bolitos with serrano chili sauce on the menu!" —AW
Ochre Bakery
4884 Grand River Ave., Detroit; 313-686-5694; ochrebakery.com
When Ochre Bakery opened in April 2019 in Core City,  locals sought out the tiny breakfast and lunch spot for its brightly lit, artsy interior and freshly baked bread. Six months later, when it was named one of the 10 best new restaurants in the country by Bon Appétit, the secret was out. "People were traveling from miles and miles away to visit," says chef Jess Hicks, who is part owner of both Ochre and Corktown's Astro Coffee with Daisuke Hughes. Today, the quaint space is no longer Detroit's hidden gem.
The bakery's line is regularly out the door. Hicks calls out the Fruit Danish made with seasonal custard, Lemon Pistachio Cake, and Spiced Scramble as some of the standout dishes. Of course, you can't go wrong with Ochre's staple — the bread by baker Maxwell Leonard. Hicks' goals for Ochre are humble: "We want to continue to learn about and support our local farmers, give service that feels like people are guests in our home, and make food that reflects our unique place in the world," she says.  —EK
Pernoi
310 E. Maple Road, Birmingham; 248-940-0000; pernoibirmingham.com
The intention for Pernoi was clear from the start: Executive chefs Takashi Yagihashi and Luciano DelSignore would bring a Michelin-level experience to the Detroit area.
Two of Michigan's most celebrated chefs, Yagihashi and DelSignore, each with his own flair, sought to establish arguably the single most anticipated restaurant opening of 2019.
Yagihashi is the former proprietor of the Slurping Turtle empire as well as the now-shuttered Michelin-starred Takashi and James Beard Award-winning Tribute, while DelSignore is best known as executive chef at former Restaurant of the Year Bacco. Each brings a high level of talent and skill.
When it opened early last September, Pernoi debuted a well curated à la carte menu of high-end dishes with influences from French, Italian, and Japanese cuisine. Citrus Cured Salmon, juicy duck, briny Ossetra caviar, and braised Wagyu short rib are among the decadent menu items that embody the restaurant's elevated approach. Today, a tasting menu boasts seven courses of the chef's choice.
In recent months, the restaurant has experienced some shifts in direction — Yagihashi has exited the partnership to focus solely on his Chicago establishments; a new sommelier has been introduced in place of the original celebrity sommelier heading up the wine program; and a strict jackets-only dress code in the dining room has been eased. But there is no indication that the white linen restaurant's commitment to a high level of service and taste will falter. —Lyndsay Green