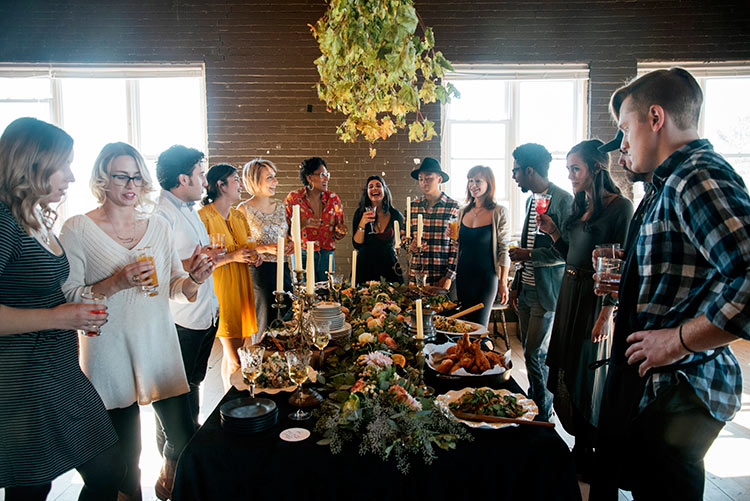 In the shadow of Detroit's iconic Michigan Central Station — at what appears to be a dilapidated warehouse from the outside, but in actuality is the quintessential urban loft — Hour Detroit decided to throw a party. But not just any party.
This is a city that's mastered collaboration, and that's the idea behind this get-together. We invited some of the city's most talented up-and-coming individuals who are each experts at their own craft to throw a party together.
We asked each guest to contribute something to the party, whether it be custom invitations, food that would appeal to all guests, decorations for the loft, a playlist to keep us going all night, or cocktails to keep the conversations flowing.
From our Friendsgiving to yours, we hope this celebration inspires you to collaborate at your next dinner party — or in life.
The Look
MADE Floral
The Guest: Martha DeFlorio, owner
Martha DeFlorio specializes in floral design for weddings and moved here with her fiancé last year from Boston where she worked as lead floral designer at a high-end company. She's built much of her clientele in Detroit by holding floral workshops with local companies like Willys Detroit and Pot & Box. For this party she strung leaves and branches from the ceiling with ribbon, and transformed the table with a luscious landscape of fall-inspired greenery, winter citrus fruits, and flowers. madefloral.com Instagram: @madefloral
Tip: Think about items you already have. Bowls or vases can make a great centerpiece, especially ones too flashy for an everyday look. Pull fruit and vegetables out of the fridge and display them in the bowl on the table.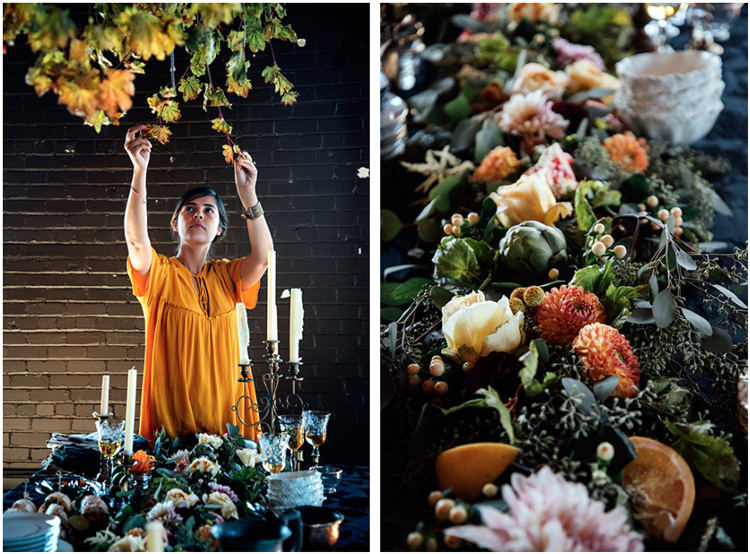 "Detroiters focus on really honing their craft, whether it's Popsicles, mural art, ceramics, or cocktails. There is some great talent and the energy is inspiring." — Martha DeFlorio.
Madranas invitation design/event planning
The Guests: Leigha Rankin and Jen Smith, co-owners
Leigha Rankin and Jen Smith elevate ordinary events into unparalleled experiences with their company Madranas, a full-service event design, planning, and production studio they started in 2013. Whether planning intimate dinner parties for 10 people or festivals for thousands, these ladies seamlessly produce events. Both insist that finding a common goal is key to collaborating with multiple vendors on one project. Custom invitations, coasters, and conversation starters were designed for this Friendsgiving event, and all original designs were handmade and hand drawn. madranas.com Instagram: @madranas
A challenge with any seasonally themed invite is always the cliché factor. You can always fall back to the common characteristics of each season like color scheme and subject matter, but adding your personalized touch will differentiate you from the norm.
The Food
Katoi
The Guests: Brad Greenhill, head chef and co-owner; Courtney Henriette, creative director/co-owner; Mike Conrad, sous chef
Katoi is a Thai-inspired eatery with Southeast Asian influences that began as a food truck to throw extravagant parties in offbeat locations. Their Detroit restaurant is under construction in Corktown on Michigan Avenue, right across the street from Two James Spirits.
"Katoi was a crazy idea that got off the ground because our friends had a distillery (Two James) and were gracious enough to make their tasting room our dining room. They had cocktails and no food. We had food and no place to serve it," Henriette says.
In the meantime, find Katoi at their cozy location on Fifth Street in Ann Arbor where Bon Bon Bon has teamed up with the Katoi crew to sell chocolates at the front counter.
"Collaboration is key to all. Collaboration is life! It is where the party starts," Henriette says. For this Friendsgiving event, they created a diverse menu that would appeal to the whole group with items like Thai fried chicken, roasted carrots, and a papaya slaw. katoidetroit.com Instagram: @_katoi_
Keep it simple and plan a menu that offers a little something for everybody. Most importantly have fun. If you have fun making the food, then you're more than likely to have fun serving the food with friends.
"Fall is one of the best seasons for cooking. You still have much of the bounty from summer, but it brings out heartier produce — cauliflower, root vegetables, squash, and more substantial leafy greens like Brussels sprouts, mustards, and kales. It also calls for more warming and comforting dishes like braises, stews, and vegetable curries." — Brad Greenhill
Chickpea Tofu
Makes 6-8 servings
Ingredients
6 cups water
1½ tablespoons kosher salt
2 cups sifted chickpea flour (look for besan or gram flour, available from Indian markets)
Neutral oil for frying
1 cup cilantro leaves and thin stems, lightly packed
½ cup Thai basil leaves, torn
¼ cup green onion, thinly sliced
Juice of half lime
A few dashes of thin soy sauce
A couple drops of sesame oil
Crispy shallots/red onion (available at Asian markets)
Mae ploy or other sweet chili garlic sauce (available at Asian markets or specialty food stores)
Directions
Bring 4 cups of water along with the salt to a boil. Rub a terrine mold or small casserole dish with oil.
While the water comes to a boil, whisk chickpea flour into 2 cups of water. Whisk until smooth and no clumps remain.
Reduce the heat to medium. Pour the chickpea slurry into the water while stirring constantly. The mixture should thicken up substantially. Continue to stir for about 5 minutes until the mixture takes on a smooth consistency, thickens more, and takes on a glossy sheen. Take care not to scorch the mixture.
Quickly pour the mixture into the mold and let set at room temperature for 30 minutes. Transfer to a refrigerator to cool for a couple hours or overnight.
Once the mixture is cool, unmold, and cut into small triangles or rectangles.
In a pot or pan suitable for frying, heat a couple inches of oil to 375 F. When the oil is hot fry pieces of the tofu in batches until lightly golden brown, about six minutes. Remove from the oil, transfer to paper towel and sprinkle generously with kosher salt.
In a small mixing bowl add the cilantro, Thai basil, and green onion. Add the lime juice, thin soy, and sesame oil, and mix gently to dress the herbs. Adjust seasoning, to taste.
Assemble the tofu on a serving platter and top with the herb salad. Sprinkle generously with crispy shallots and serve with a sauce bowl of sweet chili garlic sauce for dipping.
Tip: The best types of party foods are those you can eat with your hands and share with friends. Every meal should be enjoyed slowly, communally, and with gratitude.
"The easiest and tastiest foods are those you enjoy the most. If you enjoy making the food it will inherently taste better and feel easy to prepare. Meats and cheeses are always the easiest — we are hardwired to enjoy them. Vegetables, on the other hand, when prepared properly are undoubtedly the tastiest and nobody ever sees it coming." —Brad Greenhill
The Drinks
Two James Spirits
The Guests: Loretta Lucas, manager of the Tasting Room; Andreas Joseph, bartender in the Tasting Room
Peter Bailey and David Landrum are the masterminds behind the popular Two James distillery, which opened in 2013 after years of scouting for a location in five different states. Corktown felt like home and the building was exactly what they were looking for. Two James offers a wide variety of spirits including vodka, gin, bourbon, rye, absinthe, and their newest offering, mezcal. The Tasting Room is known for personable service, a one-of-a-kind location in front of the old train station, and a menu of specialty seasonal cocktails.
They brought four different cocktail recipes, including a spiked hot cider recipe perfect for sipping while roasting marshmallows over an outdoor fire pit. twojames.com Instagram: @twojames
Essentials for the home bar: tin shaker, mixing glass, jigger, and a strainer, plus your favorite spirits, fresh citrus, bitters, and syrups.
Tip: Use fresh squeezed juices, and play around with organic sweeteners such as agave syrup or unique honeys. Never be afraid to try a new kind of fruit you've never used or even heard of before.
Crimson Punch
Makes 12 servings
Ingredients
1 bottle Two James Old Cockney Gin
22 ounces fresh cranberry juice (unsweetened)
13 ounces spiced honey syrup*
12 ounces J.K.'s Scrumpy Orchard Gate Gold Hard Cider
1 cloved orange (stick cloves through the peel of an entire orange)
*Spiced Honey Syrup
12 ounces raw honey
12 ounces water
½ tablespoon ground cinnamon
½ tablespoon ground clove
½ tablespoon ground nutmeg
3 orange peels
Directions
Mix the gin, juice, and honey syrup in a large mixing bowl, and whisk briskly. Pour into the punch bowl filled with ice. Add the cider and orange and stir. For a real punch of flavor, mix the punch the night before with the cloved orange and refrigerate overnight. Pour it in the punch bowl over ice, with the cider, right before your guests arrive.
Mix all ingredients in a pot and warm over medium heat. Simmer 20 minutes, stirring occasionally. Let the syrup cool, then chill.
The Dessert
Bon Bon Bon
The Guest: Alexandra Clark, owner
Alexandra Clark knew from a young age that she wanted to be a chocolatier because she learned from her grandfather early on that it's perfectly fine to skip lunch and go for two king-size chocolate bars instead. After years hopping the equator to learn everything she could about making chocolate, she made the move back to Detroit.
"I really fell into a deep obsession with f—ing  around with technique. I fell in love with the idea of performing perfectly executed fillings with ingredients that were 'not allowed' — things like glacée meats, vegetable sugar, and doughnut ganache," Clark says. Today, she sells her chocolates in Hamtramck, Detroit, and her "pop-up" showroom with Katoi in Ann Arbor. For the Friendsgiving event, Clark debuted her new Fall Collection of bon bons. bonbonbon.com Instagram: @bonbonbonchocolate
"Collaboration, to us, is everything. We really use chocolate as a medium to tell stories. All kinds of stories. Stories about 'Old Detroit' with Boston Coolers and Better Butter Crunch using Better Made Potato Chips in milk chocolate with salt. Stories about friends…using Sister Pie pie crust in our sweet potato pie bons." — Alexandra Clark
The Music
Nothing Elegant
The Guests: DJs Amy Kaherl and Sara Aldridge
Nothing Elegant never expected their monthly dance parties at the Old Miami to be such a hit, but each month the crowd only gets bigger. "We wanted to create a party that was accessible to everyone — straight, gay, lawyer, college student, anyone," Kaherl says. "We play the music that we really love — I think when we're playing records and we are really feeling a song that energy is translated and shared with everyone in the room."
While these ladies know how to have a good time, Aldridge also works as a special education aide and bartends on the side, and Kaherl works as the executive director of the micro-granting nonprofit Detroit Soup.
"Our name comes from a picture we found of Amelia Earhart in coveralls standing next to her plane with the caption reading: Nothing Elegant: Amelia dressed in coveralls …" Kaherl says.
For the Friendsgiving event, they came up with a playlist full of jams to keep the party going. nothingelegant.detroit.com Instagram: @nothingelegant
Tip: Try having multiple playlists to help you move to through the night. Slower more subtle music in the beginning can be good for when people are just arriving and feeling anxious. A dinner mix all depends on if you're eating at a table or grazing, but you can speed it up a bit for a buffet-style meal or have some jams with calm beats where the bass is something that helps with conversation.
"We normally start the night off with slower, more chill songs, and start pumping up the jams as the night builds. By midnight we normally are dropping a lot of hip-hop and dance jams." —Sara Aldridge
10 essential songs for your party playlist
"Let's Go Crazy," Prince
"Off the Wall," Michael Jackson
"Deceptacon," Le Tigre
"Lose Control," Missy Elliott
"Push It," Salt N Pepa
"The Way You Move," Outkast
"Juicy," Notorious B.I.G.
"Pass That Dutch," Missy Elliott
"212," Azealia Banks
"I Got Werk," Moodymann
The Style
Reforming Refined
The Guests: Maetha Phongphila and Marcus Norman
Reforming Refined began as a creative outlet for Maetha Phongphila, men's ambassador and assistant buyer at Caruso Caruso, and Marcus Norman, purchase banker at Quicken Loans. But beautiful photography and partnerships with brands like Lululemon, Mercedes-Benz, and John Varvatos have quickly grown Reforming Refined into one of the busiest metro Detroit style blogs. For this party, Phongphila played host of the party while the pair networked with everyone to hear about their own personal styles. reformingrefined.com
Left: For ladies, high-waisted anything goes. This cut shows off any woman's best strength — her curves. And own it. There's nothing more attractive than a confident woman.
Right: For guys, if it's an office party, your casual blazer and jeans combo could be a hit. If it's a true Friendsgiving with your closest pals, a classic flannel and jean or field jacket is always a good idea. Fashion-forward event? Grab your chic fedora or driver's cap that you can't wear to work, and show some depth in your style.
Left: Fall is the best season of the year, hands down. Your whole closet is activated and it's time to show your true self off.
Right: Minimalism is the new chic. Understate your clothing selections as you tactfully add statement pieces to contrast.
The Nightcap
Don't shut the door on outdoor entertaining in the fall — embrace those last few perfect evenings that are warm enough to enjoy, and take the party outside. Fire pits are perfect for storytelling, s'mores, and hot spiced cider. After your guests have enjoyed plates of food and warmed up with a few cocktails, work as a team to build a fire, bring out mugs, and enjoy each other's company.
Hot Tips For Cozy Fires: Bring dry, untreated wood for a fire that lasts. You'll also need kindling, old newspapers, or a fire starter kit. Bring extra matches, a lighter, and something to extinguish the fire. For seating, use folding chairs, logs, or a blanket.
Downing Street Cider
Makes 12 servings
Ingredients
1 bottle Two James Grass Widow Bourbon
25 ounces Michigan apple cider
9 ounces fresh carrot juice (unsweetened)
6 ounces spiced honey syrup (see page 4)
1½ ounces raw ginger juice
12 dashes Angostura bitters
½ cup fresh raisins
Directions
Mix all ingredients except raisins in a large pot and warm over medium heat while stirring. Let simmer and serve warm with raisin garnish.
Your Perfect Party Checklist
Make an invitation list with new and old friends.
Decide on a theme and send out invitations three weeks before the party.
Plan a dinner menu with something for everyone, and don't forget dessert.
Come up with a playlist.
Decorate the party space, move your furniture around, and get creative.
Arrange fresh flowers to add that "wow factor."
Prep conversation starter games. Cards Against Humanity, anyone?
Stock the bar and make a punch bowl.
Plan your outfit and dress to impress in your new fall ensemble.
Notify the neighbors — the more, the merrier.
Facebook Comments