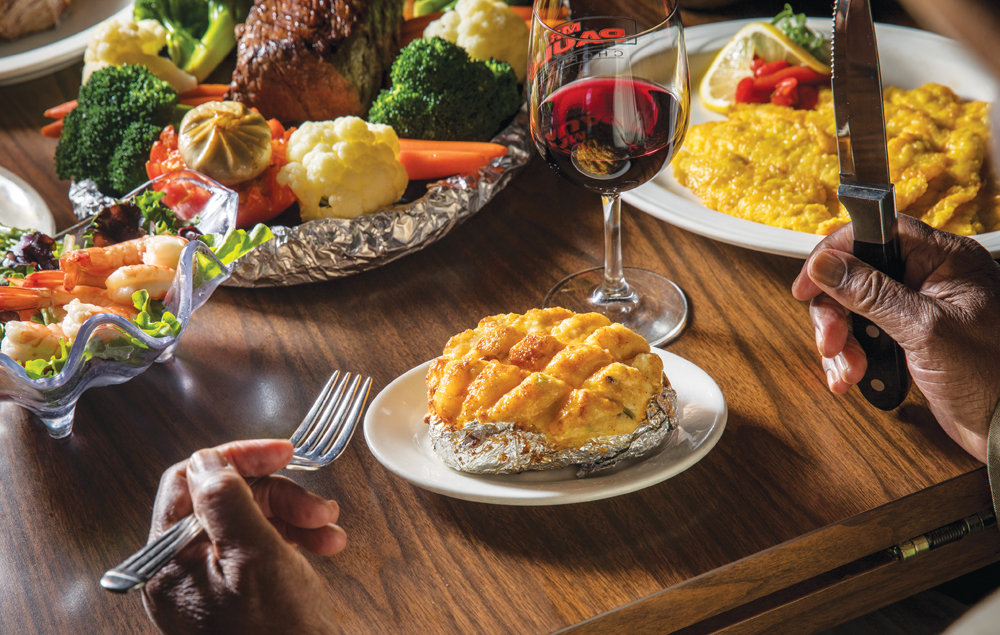 A trip down memory lane can be a curse or a blessing. Thankfully, my revisit to Roseville's iconic Mr. Paul's Chophouse was the latter. Mr. Paul's was founded in 1968 by Paul and Peter Gogo, who, according to their website, "saw an opportunity for a steakhouse restaurant in the middle of Roseville…."
Roseville, sure, but Grosebeck Highway? It will never make a scenic drive list. Mr. Paul's is north of 12 Mile Road on a stretch dotted with machine shops, auto repair centers (even an honest-to-goodness junkyard), and two places to satisfy your concrete product needs.
I grew up near Mr. Paul's, and it was a special-occasion destination. I first visited in my 20s and had a real adult meal, started with a pre-dinner martini. It was also the first time I had a tableside prepared Caesar salad. Thirty-plus years later, I ordered the Caesar. Odds are, it was prepared by the same guy! Chris Gogo and his brother Paul Jr. have handled Caesar duties for years. Chris started working here at age 13 — in the pantry, dishwashing, and on up to maitre d.
Most staff average 15 years of service. It's like family. Mr. Paul's has been run by Chris and two siblings after Paul Gogo Sr. passed away nearly 20 years ago. Three other siblings run another iconic eatery called The Brewery in Clinton Township — coincidentally, where I had my first tableside Dover Sole.
Enough nostalgia! Was the food as good as my memory served? Yes, and then some. The Caesar was amazing as was the Baked French Onion au Gratin — although the server asked if I wanted it with the cheese. (Is there any other way?) For main courses, I opted for a New York strip, charbroiled to medium-rare perfection, forgoing the optional adornments that range from béarnaise sauce to Frog Legs (still served roadhouse style, naturally). My companion went with Sautéed Fresh Lake Perch. We split the ample portions and took home a doggie bag.
What's Mr. Paul's secret to 50 years' staying power? An emphasis on service, plus USDA prime beef and fresh seafood, delivered twice a day. And there's another secret: "We do what we do," Chris says. "We change our specials to remain current, but it's consistency that keeps people coming back."
Come back, they do. Regulars definitely patronize Mr. Paul's. We plan to return as well. Only this time, we promise it won't be 30 years between visits.
29850 Groesbeck Highway, Roseville; 586-777-7770. L&D Mon.-Fri. D. Sat. $30
Facebook Comments