Marrow — the fatty substance found in the bones of all living things — is gaining notoriety in the restaurant world as a delicacy, but my memories of it revolve around its daily existence at my grandmother's table and her valiant efforts in trying to get me to eat it.
The intensity and precision in her skill to find the treasured marrow inside leftover chicken bones was enviable, and one that I could never master. It was this nostalgia-soaked memory from my childhood that came rushing back when I sat down to eat at the aptly named Marrow, West Village's newest hybrid restaurant and butcher shop where the home comforts of your grandmother's waste-not, want-not table seamlessly meld with the exact gourmet dining experience you're searching for on a Saturday night.
The marrow at Marrow comes glistening on nut and raisin rye bread made by Hamtramck-based bread baker Max Leonard, and is topped with dill and housemade preserves. The Marrow Toast is just one of the rich offerings to whet your appetite before diving into this menu where under-appreciated cuts of meat are, well, appreciated.
Located in Detroit's West Village neighborhood, the eatery and butcher shop opened last October with a focus on locally sourced and sustainable meat. It is the brainchild of Ping Ho, owner and wine director of The Royce, downtown Detroit's wine shop and bar, which opened in 2016.
Guided by a lifelong passion for good food, Ho wanted to create a restaurant where the very path by which food gets on your table is considered an integral part of the quality of the dishes you're eating. Before you even get to the restaurant decked out in modern decor including geometric-shaped chairs sourced from Europe and posters paying homage to Detroit pioneers like Henry Ford, you must walk through the butcher shop, bypassing a case of what's on offer for the week like pastrami and sausage as well as a dry-aging locker featuring large cuts of various meats. There, you can find Michigan-raised, grass-fed beef, legs of lamb, Polish kielbasa, and even a whole duck available for purchase. Often whatever does not sell is used in the kitchen.
Marrow took form after Ho partnered with Greg Reyner, ex-chef of Royal Oak's Republic and brought on executive chef Sarah Welch, who is also a partner and previously headed up Republic Tavern and breakfast spot Parks & Rec Diner. Nicholas Ponte, with a decade of experience behind meat counters, heads up the butcher shop.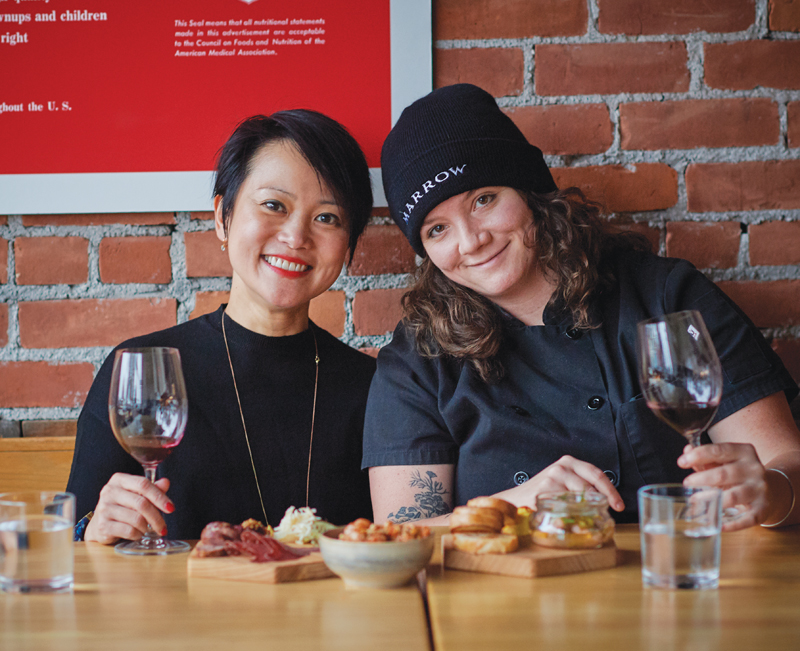 Ho's trajectory to restaurant ownership was anything but typical. She grew up in Singapore, left to come to the U.S. for college, attending Brown University in Providence, R.I. before moving to New York City for a job as a financial news analyst. Then 9/11 happened. After realizing she needed a break from the intensity of the city, Ho took a detour to Shanghai for about three years before moving back to New York and working at Warner Music Group Inc. for a decade. By 2015, she was done with the corporate world, and ready for what she calls her second act in life. After selling everything she owned, she bought a $1,000-house in Southwest Detroit and settled into the city.
The Royce, which opened in Grand Circus Park in 2016 was her first hospitality project. There, she built out a retail shop and bar, curating over 500 types of wines from around the world. Ho's love for libations are reflected in Marrow's robust wine menu, with options from Italy, France, Lebanon, and Germany, but the cocktails, like  Lydia of Purple (made with Cabresto silver tequila, Aperol, and St. George Raspberry Liqueur) should not be missed.
While Marrow's extensive wine list is a nod to her experience at The Royce, Ho is also inspired by something deeper —  her connections to family, food, and how some of life's most visceral memories form when the two are thoughtfully combined. As a child, she remembers accompanying her grandmother to Singapore's wet markets where fresh meat is sold, and witnessing her close bond with vendors that spanned decades. It was a memory that stuck with Ho and eventually led her to create a place built on relationships with local farmers, whether they're sourcing beef or vegetables. "I noticed the lack of places to shop for food, but also that we're surrounded by a lot of farmland," she says. "That kind of became the inspiration for Marrow."
It was Welch, who saw Ho's vision, expanding on it to create a menu that features custom charcuterie, snacks (instead of appetizers), and plates. Welch grew up between Ann Arbor and Jamaica eating chicken foot soup, an island delicacy. Both of their experiences with meat often underutilized in modern Western palates fused together to bring diners things like duck liver mousse, rabbit mortadella, and house tartare. Those familiar with kibbeh nayyeh, a Levantine appetizer made with raw minced lamb or beef will appreciate this dish, but the complimentary flavors of the tartare and its accompaniment of crisp potato chips is palatable even for those who don't make a habit of eating raw meat.
If you thought this was solely a meat lover's paradise, however, think again. As the restaurant's etched tagline boldly declares on its window, all appetites are welcome, including meatless ones.
The key to introducing unusual cuts or sources of meat, says Welch, is incorporating them in dishes that feel approachable like the glutinous rice dumplings, made with a beef filling and local fish roe, and the seasonal pork yakitori, a skewered meat paired perfectly with bulgogi sauce. But the duck breast, which comes with a kabocha squash butter, charred radish, pepitas, and feta cream gloriously arranged on a plate to reflect a cacophony of colors needs no dressing up. It melts in your mouth as is.
As the restaurant's etched tagline boldly declares on its window, all appetites are welcome, including meatless ones. For the decade I was vegetarian before I began eating meat again, I realized that the mark of a good vegetarian dish is that it doesn't feel like a vegetarian dish at all. The Mapo Mushroom, a hot, soothing bowl of broth loaded with Michigan chanterelle mushrooms, local tofu, Szechuan chili, and farro does not disappoint, but there's also a radicchio and apple salad for a lighter option as well as several cheese choices, like the Fluffy Bottom camembert.
That conscious focus on inclusivity as well as creating a sustainable work environment is reflected behind the scenes, too. Marrow is female-owned and operated, a noticeable feat in the male-dominated Detroit restaurant scene, while fair wages and providing benefits for employees is an important part of Ho's priorities, as Marrow moves into 2019.
In its current form however, Marrow is a tribute to many things at once — to Michigan, to farmers, to diversity, to Ho's Singaporean roots, to the revival of a long-forgotten practice of getting to know your butcher and unappreciated cuts of meat that deserve a place on your plate. "Tongue," Ho says, "is a very underrated piece of meat," referring to the house favorite which is served with carrots, pickled carrots, and puffed rice. "You don't see tongue on Detroit's menus." Well, you do now.
---
Marrow, 8044 Kercheval Ave., 1B, Detroit; 313-652-0200; marrowdetroit.com. Shop open Mon.-Sat. 9 a.m.-8 p.m., Sun. 9 a.m.-4 p.m. Restaurant open Mon., Weds., Thurs. 5 p.m.-10 p.m.; Fri. and Sat. 5 p.m.-11 p.m.; Sun. 5 p.m.-9 p.m.; Closed Tues.