It wasn't all that long ago that Clarkston was merely a pleasant little village, slightly beyond the reach of Detroit's northern suburbs.
But when a couple of notable restaurants opened in town in the 1990s, the suburbs started looking north, as well as to the denser south, for a place to go out to dinner.
Clarkston was — and still is — just a pleasant place to walk around, too.
Today, the metro area's suburban creep has reached and even passed beyond Clarkston, but without compromising its charm.
This summer, yet another worthwhile restaurant opened to put the focus on Clarkston even more as a dining spot.
The Fed Community is located on Main Street in a former bank that was built around the turn of century. It was first opened as Jossman State Bank, but was most recently Clarkston State Bank.
Now, it's a very attractive restaurant with great food and a delightfully refreshing atmosphere.
The bank building was bought by Sarah and James Schneider in March 2015. Over the two years plus before the first-time restaurateurs opened The Fed, Sarah remodeled the place — mismatched silverware and all — with what she calls a "mix from all over." The pieces range from African chairs and Middle East-made light fixtures to a host of furniture and décor items from retailer Anthropologie ("I'm a huge fan," Sarah says).
Under The Fed's high-pitched ceilings are a kitschy assortment of wicker furniture, wide-plank dark wood flooring, a fun hodgepodge of throws and pillows, African-style stretched leather chairs set around white granite four-top tables, and a plethora of ceiling light fixtures with big gauzy shades.
The main bar area has a living room feel, with large white leatherette couches and assorted small drum-sized tables. The back bar is framed, all the way up to the ceiling, by white cubby holes of assorted sizes, in which are set decorative vases and other objects. The slots closer to the bar are used for liquor storage.
One of the truly catchy attractions at The Fed is a former walk-in vault, which the owners have turned into a dining space for about a dozen people.
It sits right in the middle of the restaurant looking like an interrupted demolition project, begun, but too overwhelming to remove. So they simply left it as it was and worked around it. But it also gives the restaurant a unique charm.
The massive steel door with all its cogs and gears sits silently open and immovable, while the ceiling in the safe has been removed, no doubt to make it less claustrophobic for dining. A crystal chandelier now dangles from the vaulted ceiling over the safe's interior for ambient lighting.
The Fed stresses its kid-friendly attitude, which certainly was noticeable on our visit. There were an unusual number of young, well-dressed families with children. The blonde ponytails, Gucci clothing, and pink Crocs gave the restaurant a little more of a feel of Chuck E. Camembert than good old Chuck E. Cheese.
The kid-friendly policy turned out to be a nicely tuned and pleasant surprise.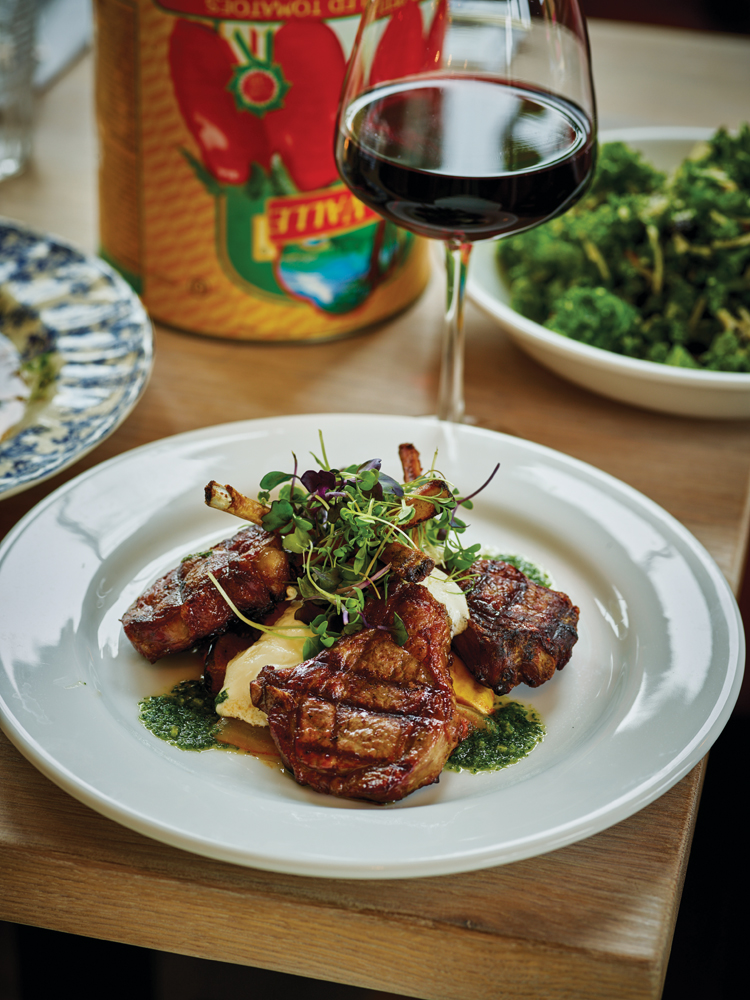 The menu, developed by the Schneiders with consultant Justin Dalenberg, is a winner. It defies being typed because it crosses several boundaries — from tacos and wood fire-grilled dishes to assorted flatbreads (in this case, pizza is a better description), and a selection of six different sushi rolls.
The seasonal menu is continually being tweaked and changed by executive chef Travis Holewinski and chef de cuisine Jakobi Voorheis.
One of the best tortilla soups I have had in ages came with chunks of avocado and fine, firm strings of hardened tortilla chips. So often, the tortilla garnish starts sucking up liquid when the soup is poured in the kitchen, and by the time it reaches the table it's an unpleasant limp mass of corn chip. Not this one.
The owners vow the soup will be back, but it's been replaced for the season by a butternut squash soup with candied walnuts.
For main courses, the roasted pork medallions wrapped in Serrano ham were delicious, moist and served on a light creamy sauce.
Also notable was the wood-grilled sweet grass lamb chops with ratatouille, goat cheese, and a persillade sauce.
The section of the menu labeled "Wood Fired Flatbreads" is somewhat a misnomer. What comes to the table was, in fact, a small, round, pizza that's quite delicious, but made of flatbread dough.
No argument about flavor and taste, however. Our "Angry Pig" flatbread consisted of braised pork, sweet corn, spicy mayonnaise, jack cheese, pesto, cilantro, and pickled shallots. It was terrific.
The menu has a section with several different sushi rolls — including a "Tempura Tuna Roll" and a "Caterpillar Roll" that features barbecued eel. The "Principles" plate menu includes burgers, pasta, steak, and fish dishes. They've also added a charcuterie plate.
The Fed Community had one problem, however: slow and disjointed service, which on our visit, became a bit of a comedy.
To their credit, the staff acknowledged as much and apologized without us having to say anything.
First, our drink order didn't appear for a long while. Eventually, it was delivered by the bartender himself, who explained he was only filling in for the regular who went home ill. OK, that's admirable.
Later, our server thanked us for our patience, adding that she had been saddled with extremely difficult customers who demanded her attention.
At another point, the host stand was left unattended, except for a young girl, maybe 8 or 9 years old, who was on the house computer when a couple walked in and waited for a minute or two.
So, the girl — we were told later she was the daughter of the owner — picked up a couple of menus and said "follow me."
The couple, somewhat shocked, chuckled, and followed her through the restaurant looking for a table, which she eventually found.
There was a kind of normalcy to all this in that nobody on the restaurant staff seemed to notice and jump into the situation, and most of the diners were quite amused.
When we placed our order, we waited for what seemed like a half hour before food arrived. And when it did, all our food was delivered to the table at the same time: first course soup, main courses, and side dishes.
Then, a couple at the next table with two little girls who were already seated when we arrived, didn't get their food until after we had ours.
These are not insurmountable problems. But we saw too many to simply pass them off as slight or occasional slips.
Right now, they amount to a distraction from what otherwise is a very pleasant restaurant with better than average food.
There is an adage in the restaurant business, however, that you live or die by service.
I certainly hope The Fed lives on. With some adjustments this could become an even better restaurant. As it is now, it's just good.
---
15 S. Main Street, Clarkston; 248-297-5833. D daily, Br. Sat.-Sun.
Christopher Cook is Hour Detroit's chief restaurant critic. Email: editorial@hour-media.com