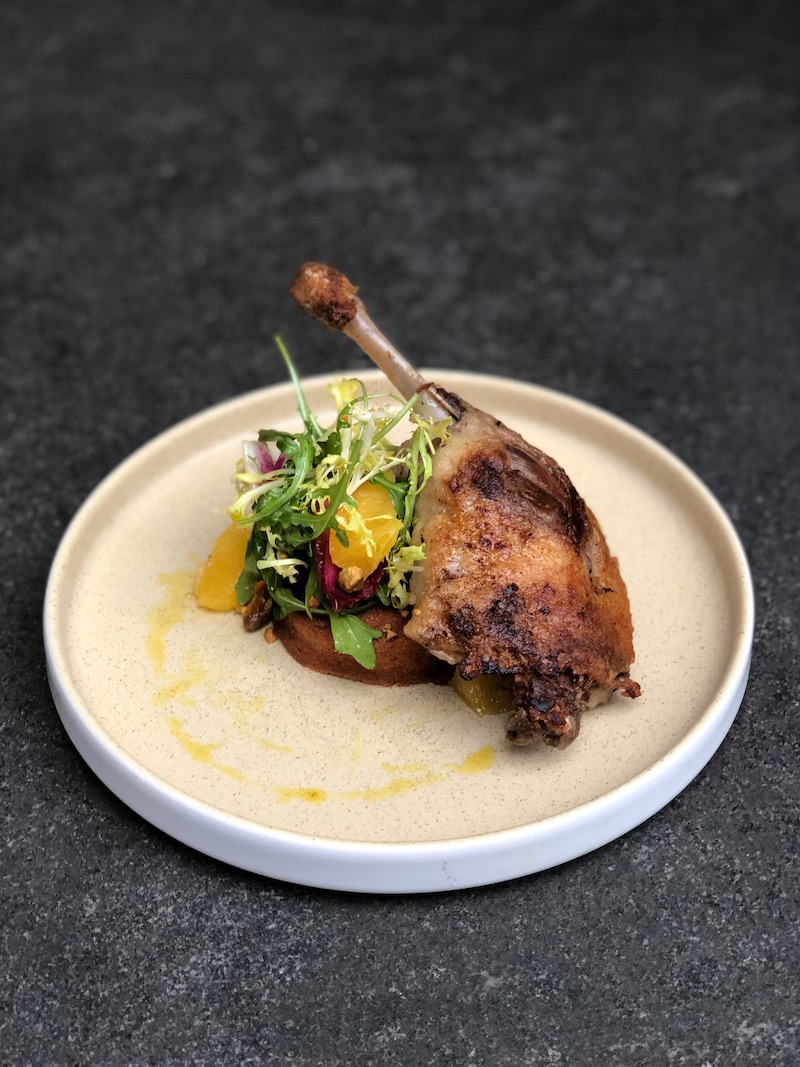 A recent menu item at Pernoi, a Birmingham-based restaurant that opened in September, these crispy Confit Duck Legs pair well with a homemade Spice Cake. Try the dish at home with this recipe, courtesy of the chef. And before you dig in, mix orange slices and greens with a light drizzle of olive oil and pinch of salt and place the mixture on the side of the duck leg for a refreshing accompaniment.
Ingredients for Confit Duck Legs
24 duck legs and thigh quarters
2 long strips of orange zest
2 sprigs thyme
6 bay leaves
8 cloves garlic
4 qts duck fat
Salt
Ingredients for Spice Cake
1 ½ cup A.P. flour
¼ tsp baking powder
1 tsp baking soda
½ tsp salt
1 ½ tsp five spice
¼ tsp ginger powder
½ cup water
½ cup veg oil
½ cup apple sauce
2 eggs
1 ½ cup sugar
Directions for Confit Duck Legs
Lay duck legs out on sheet pan and season with salt. Sprinkle the orange peel, thyme, bay, and garlic across the legs. Leave in fridge for 24 hours to cure.
Preheat the oven to 250 degrees.
Remove the duck legs from the fridge and place in a deep pan, shingling the legs to maximize space in the pan. Heat up the duck fat in a separate pan, and pour it over legs so they're completely covered.
Cover the pan with aluminum foil and place in the oven. Cook for 3 hours.
Carefully remove from oven and remove foil. The meat should be slightly pulling away from the bone. Remove from fat and place on a sheet pan for cooling.
Reserve fat for another batch in the refrigerator or freezer.
Directions for Spice Cake
Preheat the oven to 350 degrees.
Sift together flour, baking powder, baking soda, salt, five spice, and ginger.
In mixer, whip eggs and sugar until light and fluffy.
Separately whisk together oil, water, and apple sauce.
Add the wet ingredients to the egg and sugar mixture in the mixer and incorporate evenly. Add the dry mixture 1/3 at a time until smooth.
Pour the batter into a mold and bake until it springs back to the touch and a toothpick comes out clean.
Remove from mold and cool on a rack.
---
Once complete, place the spice cake in the center of your plate and lay the duck legs across it. Top it off with your orange and greens mixture, dig in, and enjoy! 
Facebook Comments