Whether you go out to brunch for major celebrations or it's part of your weekend routine, these 24 metro Detroit brunch spots are serving up savory and sweet dishes to satisfy your cravings.
Bobcat Bonnies
From its Build Your Own Bloody Mary or Mimosas to its Cereal Shooter Flight, Bobcat Bonnies does brunch like no other. The restaurant's menu boasts favorites like cinnamon roll starters, avocado toast, and pancakes with tons of vegan options as well. Bobcat Bonnies, multiple locations; bobcatbonnies.com.
Breakfast Club
The Breakfast Club is an easy, one-stop shop for all things breakfast and brunch. The restaurant's menu includes breakfast bowls, waffles scrambles, French toast, and more. There's also regular specials; past features have included Peach Cobbler Oven-Bake French Toast, Sweet Potato Hash, and Shrimp Creole Omelette. Plus, each check is served with chocolate-covered strawberries. The Breakfast Club, 30600 John R. Road, Madison Heights; 248-307-9090; facebook.com/breakfastmadison 
Browndog Barlor
Serving brunch on Saturdays and Sundays, the food is definitely worth the wait at this barlor and restaurant. Brown Dog serve plenty of sweet options like Fruity Pebble and Caramel Apple French Toasts as well as savory dishes like Avocado Truffle Toast and Bacon Brussel Tacos. Round out the meal with a Sorbet Mimosa flight or a Bloody Mary. Browndog Barlor, multiple locations; browndogbarlor.com.
Café Muse
Serving "comfort food with a twist," this Royal Oak spot is an easy choice for a delicious brunch. Vanilla Bean Waffles with fresh fruit, Smoked Salmon Scramblers, Ricotta and Lemon Pancakes, and Cinnamon Raisin French Toast are just a few of the options that make Cafe Muse a must-try. Cafe Muse, 418 S. Washington St., Royal Oak; 248-544-4749; cafemuseroyaloak.com. 
Café Zola
With fresh ingredients and delicious coffee, Cafe Zola is one of the most reliable brunch spots in Ann Arbor. Its menu boasts favorites like Turkish Eggs, Portobello Panino, Zola's Crab Benedict, and Dark Chocolate Babka French Toast. Cafe Zola, 112 W. Washington St., Ann Arbor; 734-769-2020;  cafezola.com.
Commonwealth
Commonwealth is a cool and casual spot for an early meeting or a lowkey brunch date. The menu includes the Common Scramble, Fried Egg Sandwich, Shiitake Omelet, Vegan Sourdough Banana Pancakes, and dozens of other options — including those for vegans and diners following a gluten-free diet — that prove brunch is never boring. Commonwealth, 300 Hamilton Row, Birmingham; 248-792-9766; gocommonwealth.com
Crawford's Kitchen
This family-owned diner offers breakfast and lunch all day. Its New Yorker sandwich includes fried eggs with house-cooked corned beef and natural Swiss on grilled rye bread, while the Railroad Omelet combines fresh asparagus, crisp bacon, diced tomato, and provolone. A bonus: The portions are huge. Crawford's Kitchen, 542 Starkweather St., Plymouth; 734-454-5724; crawfordskitchen.net.
Dime Store
Serving breakfast made from scratch, Dime Store has a rotating list of Chef Specials in addition to its brunch menu. Orange creamsicle waffles and Mexican street corn hash were on a recent special menu, while the regular menu holds favorites like biscuits and gravy, the bacon avocado omelet, and brioche French toast. Dime Store, 719 Griswold St., #180, Detroit; 313-962-9106; eatdimestore.com.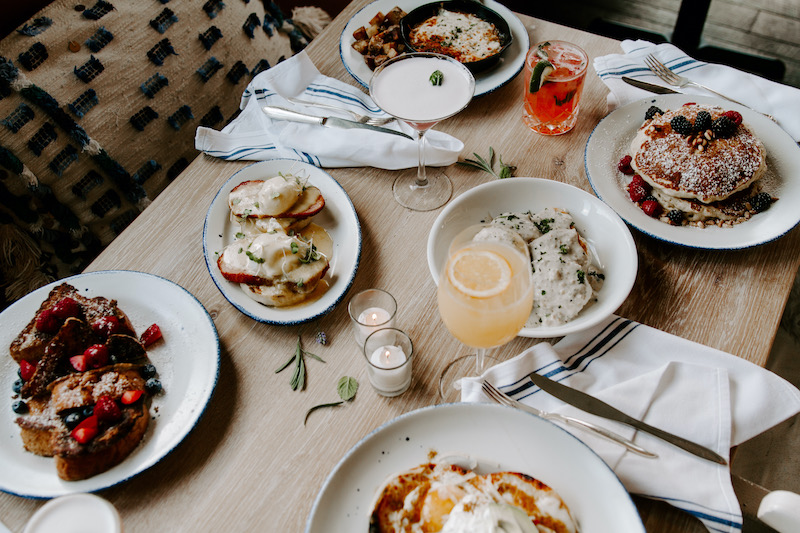 The Fed
Stunningly decorated, The Fed feels like a scene from a fairytale. The restaurant's brunch menu brings features plenty of savory and sweet with options the smoked salmon cake benny, shortrib hash, bananas foster, and more. The Fed also offers a craft cocktail menu for brunch. The Fed, 15 S. Main St., Clarkston; 248-297-5833; thefedcommunity.com.
First Bite
Creating "positive food for a positive life," First Bite is devoted to enhancing the well-being of its customers through the food it serves. To achieve this, the restaurant serves options like the Vibrant Veggie Omelet, Arbor Avocado Toast, and Eclectic Eggs. First Bite, 108 S. Main St., Ann Arbor; 734-369-4765; firstbitefoods.com. 
The Fly Trap
Everything on The Fly Trap's "Blunch" menu is available all day, so you can brunch anytime. Gingerbread waffles, red flannel hash, and huevos rancheros are just a few specialties that this Ferndale spot has to offer. The Fly Trap, 22950 Woodward Ave., Ferndale; 248-399–5150; theflytrapferndale.com. 
HopCat Royal Oak
The Royal Oak location offers a Brunch for Lunch menu until 3 p.m. on weekdays. That menu includes six options like sausage and egg rolls, which includes scrambled eggs, breakfast sausage, corn and beef relish, and a cheese blend deep-fired in crispy wontons, and the cheeseburger Benedict. HopCat Royal Oak, 430 S. Main St., Royal Oak; hopcat.com. 
Johnny Black's Public House
The brunch menus at Johnny Black's Public House varies from location to location. In Waterford, find options like steak and eggs and southwest breakfast tots; in Rochester, veggie Benedict and chicken n waffles are among your options; enjoy biscuits and gravy and crabcake benedict in Sterling Heights; and egg combos, French toast, and benedicts at Lakehouse. Johnny Black's Public House, multiple locations; johnnyblacks.com.
Lena's Kitchen
Chunky Monkey Crepes, Birthday Cake Stuffed Pancakes, Meat Lover Hash, and Italian Stallion Benedict are just a few of the crazy creations at Lena's Kitchen. The popular brunch spot is known for its massive portions, so come hungry! Lena's Kitchen, 28345 Beck Road, Wixom; 248-308-3890; orderlenaskitchen.com.
Le Petit Dejeuner
This Detroit spot serves meals family-style and has all the breakfast and brunch staples and then some. Stop by for omelets, pancakes, crepes, meats, and sides like diced sweet potatoes with chives or grits. Le Petite Dejeuner, 6470 E. Jefferson Ave., Detroit; 313-725-0257; facebook.com/lepetitbreakfast.
Lulu's of Commerce
This family-owned, family friendly restaurant serves up dozens of brunch options, including tons of omelets, pancakes, French toast, biscuits and gravy, oatmeal, and more. Lulu's of Commerce, 1001 Welch Road, #114; Commerce Township; 248-669-1937; lulusofcommerce.com.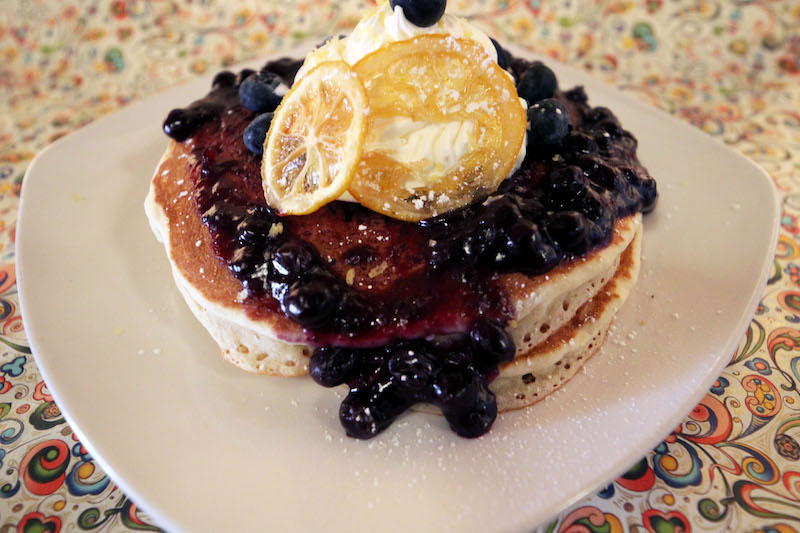 Madam
Madam, Hour Detroit's 2023 Restaurant of the Year, is located inside the Daxton Hotel, offers breakfast, brunch, lunch, and dinner. The brunch menu is small but filled with heavy hitters like the Serrano Ham Fritters, the Crispy Chicken Sandwich, and buttermilk pancakes with seasonal toppings. Madam, 298 S. Woodward Ave., Birmingham; 248-283-4200; daxtonhotel.com.
MI.MOSA
With a name like MI.MOSA, it's no surprise that this Farmington restaurant is a hot spot for brunch. In addition to over 10 different flavored mimosas, the restaurant also has Bloody Marys, Irish coffees, and flavored mules on its cocktail menu. The food is just as impressive as the drinks, with options like Chicken and Waffle Benedict, Monte Cristo sandwiches, and Breakfast Quesadillas. MI.MOSA, 23360 Farmington Road, Farmington; 248-957-8119; mimosafarmington.com. 
Rochester Brunch House
This restaurant is a staple in the Rochester community. Cherry Omelets, Challah French Toast, Nutella Crepes, and Breakfast Quesadillas are just a few of the delicious options Rochester Brunch House has to offer. For drinks, try out a soymilk latte or a Peach Bellini or Bloody Mary. Rochester Brunch House, 301 Walnut Blvd., Rochester; 248-656–1600; rochesterbrunchhouse.com.
San Morello
The Shinola Hotel restaurant's brunch menu includes pastries, and side items like skillet potatoes and smoked bacon as well as AC's Famous Sheep's Milk Ricotta, Zucherino Donuts, Breakfast Spaghetti, and Baba au Rum French Toast. San Morello, 1400 Woodward Ave., Detroit; 313-209-4700; sanmorello.com.
Soul Cafe
This restaurant partners with Friendship Circle's Soul Projects, which teaches adults with special needs skills like food prep, serving, hosting, and cooking. The menu is full of favorites like avocado toast, yogurt bowls, cold brew coffee, and a lox plate. Soul Café, Farber Center, 5586 Drake Road, West Bloomfield Township; 248-788-4800; friendshipcircle.org.
Stray Hen Café
The oatmeal bar is the highlight of this brunch experience. With dozens of ingredients —including cranberries, flax seed, blueberries, brown sugar, caramel, almonds, and more — this is a healthy option you won't want to miss. If oatmeal isn't your jam, Stray Hen Cafe also has avocado toast, burrata toast, a lox sandwich, breakfast sliders, and plenty of other options. Stray Hen Café, 403 E. Washington St., Ann Arbor; 734-929-2590; strayhencafe.com.
Toast
This self-described "neighborhood joint" offers an eclectic brunch menu, from its fat Elvis waffles and pumpkin patch pancakes to the ratatouille bowl and bacon-fried rice. Toast – Birmingham, 203 Pierce St., Birmingham; 248-258-6278; and Toast – Ferndale, 23144 Woodward Ave., Ferndale; 248-398-0444; toastbirmingham.com.
Toasted Oak
Serving farm-to-table selections, Toasted Oak utilizes tons of local ingredients on its menu. Veggie Hash with seasonal vegetables, egg white omelets with goat cheese and seared mushrooms, and buttermilk pancakes with Michigan maple syrup are just the beginning of this tiny but mighty menu. Toasted Oak, 27790 Novi Road, Novi; 248-277-6000; toastedoak.com.
This post has been updated for 2023.