In Albanian mythology and folklore, the zana is a mountain fairy. Stepping into Zana in Birmingham, you feel like you have been whisked away to a dreamy landscape fit for such a dreamy creature.
Various shades of green wash over the 10,000-square-foot restaurant, from the minty-green barstools and brilliant emerald-green booths to the lush greenery and foliage throughout the vast space. Soft lighting from the globe ceiling fixtures and candlelight add a magical quality, evoking a garden party.
Zana is indeed a sumptuous feast for the eyes, but does the food match up to the impressive visuals? On our visits to one of the latest additions to Birmingham's busy dining scene, we found — despite a few misses — plenty of hits for this nearly year-old restaurant. The biggest surprise is that the dishes you think would wow you are fine and the deceptively simple ones cast a spell.
The wide-ranging yet brief menu roams through Europe and the Mediterranean (with a quick trip to the Middle East) before finding its way to America, with interpretations on dishes like lobster en croute with bearnaise, grilled branzino with a chermoula crunch, and a wedge salad with bacon lardons, Point Reyes blue cheese, and herb buttermilk.
The menu changes seasonally and even more frequently than that; our visits were a couple of weeks apart, and in that time there were a couple of new additions to the shared-plates offerings and a new pasta. A scroll through TikTok reveals that a popular dish of Spicy Pig Pasta offered during the colder months is nowhere to be found, now replaced by a summer truffle gemelli with local pea shoots, lemon butter, farm egg, and Parmesan crumb.
The shared-plates menu is a mix of standards like oysters and steak tartare with a few dishes with a Mediterranean spin, such as lamb and beef arayes (stuffed pitas), which caught our eye.
While steak tartares are a dime a dozen, Zana's version, with herb-roasted tomato, capers, and fresh thyme, typifies the restaurant's aesthetic approach. It's served with a side of showmanship as the server dramatically removes the dome to let the wisps of smoke escape at your table. We would have liked just a touch more smokiness to accentuate the bright capers and the savory tomato, but the presentation delivered the "wow" factor.
Another standout on the shared-plates menu that shows off Zana's artistic side is the simple and elegant figs and farm cheese. Layers of serrano ham and fresh figs are shingled on top of a bed of creamy fresh cheese liberally spread over a piece of grilled semolina toast. A drizzle of sumac honey marries the savory and sweet notes. While it is beautiful to look at, it's messy to eat, but we didn't mind as we polished off the plate.
Our server suggested the Village among the four salad offerings, which included gazpacho, baby spinach, and the aforementioned wedge. And while we were tempted by the last because it sounded like a BLT (never a bad idea), we were glad we listened. Zana does Mediterranean flavor profiles, such as the hearty Village with roasted red pepper, tomato, cucumber, olive, and Bulgarian feta, particularly well.
Service is friendly; a server was so excited when we ordered the lamb and beef arayes at her suggestion that she came back to ask how they were and offered to cut them up and serve us, which wasn't necessary, but the energy was infectious. I was also happy with the Cabernet recommendation I received for the halibut. While white wine conventionally goes with fish, the server could see I'd rather have red and expertly matched my affinity for more acidity to the perfect wine choice.
The servers we had also did not overpromise on anything, and that candidness is always appreciated. On one visit, our server wasn't too excited about the Amish chicken when we asked about it. She shrugged it off, saying, "It's chicken," but that's exactly why I get the chicken dish in a restaurant: I think it's a good gauge of the kitchen's skill.
Bill Addison, who was Eater's national restaurant critic at the time and is now with the Los Angeles Times, told Bon Appétit a few years ago to think of chicken dishes as "a litmus test. If a restaurant nails the chicken, you can trust they are going to nail everything else," and I share that philosophy. Does Zana pass the test? It could have used a touch more salt to amplify the seasoning to make the chicken the best version of itself, but the maitake mushrooms and silky sunflower polenta that accompanied it were the stars of the plate.
One entree that did not lack in flavor was the lamb chops, which are served double cut, with amba (a tangy mango sauce) yogurt, blistered Campari tomato, and olive oil. The chops were seared to crisp-on-the-outside, tender-on-the-inside perfection, and the accompanying flavors were simpatico with the richness of the lamb.
For the sides, we tried the fries and added the truffles. The fries came in a generous portion but were sadly a tad cold when they arrived at the table; the shaved truffles are unnecessary because the bold and flavorful roasted garlic aioli makes the fries worth getting.
Another standout was the zucchini, a thoughtful dish that is executed flawlessly. Planks of grilled zucchini are piled on top of whipped feta and spiked with sumac, which brings sharpness and sweetness along with lovely floral notes. For optimal flavor, drag the zucchini through a drift of the airy feta to ensure maximum coverage.
Like most of the menu, the dessert offerings are a mix of staples, such as a dark chocolate torte, and more-inspired choices. We tried the kataifi ice cream sandwich, made with a shredded phyllo dough that resembles vermicelli and a sweet, tangy, and creamy homemade frozen yogurt punctuated with pistachio and honey — it's like frozen baklava, a fun reimagining.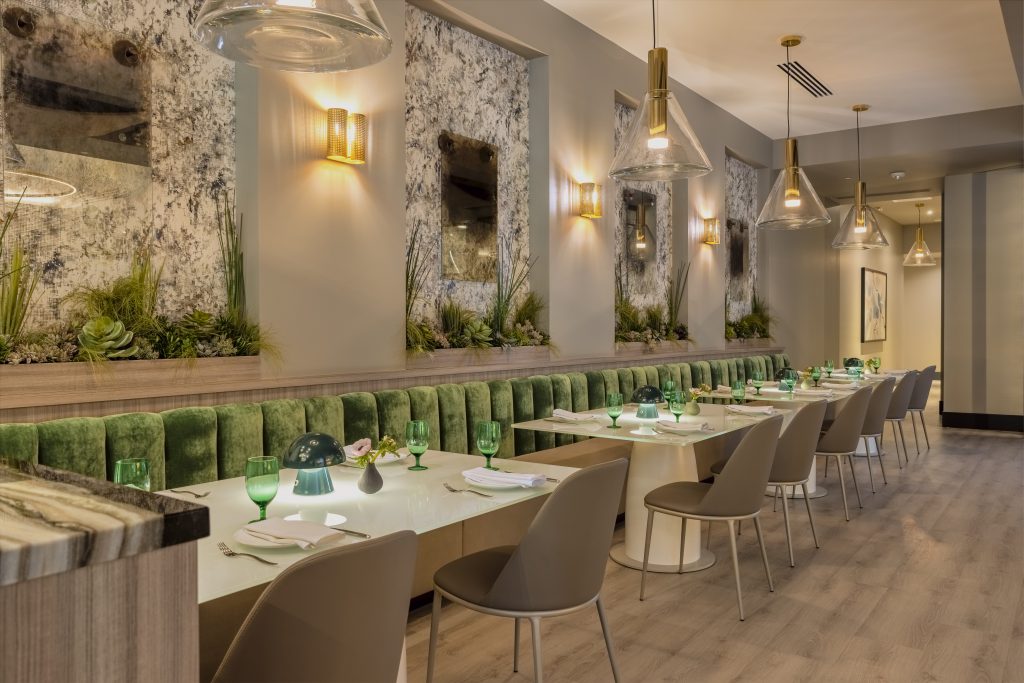 The cocktail program, led by mixologist Anthony Escalante, shares the same creative flair as the food menu (the wordplay and puns in the cocktail names are either cringe or fun, depending on your type of humor). My companion was disappointed by the Daquiri Time Out, saying it was one-note, but the Lady of the Night — with Detroit City Distillery Lady of the House gin, fresh-squeezed lemon, aquafaba, English cucumber simple syrup, Dashfire hibiscus bitters, and Angostura aromatic bitters — was delicate and delightful.
Aquafaba is used typically as a vegan alternative to egg whites, and in this drink it lends a wonderful lightness that makes the cocktail extremely, almost dangerously, sippable. We also liked the Bernadette, a spicy margarita with rose petal-infused blanco tequila, serrano-macerated Cointreau, lime, and a Nebbiolo float. It sounds chaotic, especially with rose petals, which for me always raise concerns of drinking perfume, but it all works well together.
While the cocktail list is relatively brief, the spirits list is quite extensive and the wine list even more so. The restaurant's dedication to wine is on display with the massive wine cabinets near the open kitchen.
One thing to know about Zana is that it's buzzy and vibey; in other words, it's loud when the cavernous space fills up on a busy night. When we went on a Friday, it was still relatively empty at the beginning of our meal, and by the time we left, it was popping, with most barstools and tables occupied.
At several points during our meal, I had to ask my dining companion to repeat herself because I could barely hear her over the din of the room and the pulsating sounds of EDM bangers like "Higher Love" by Kygo and Whitney Houston and "The Business" by Tiësto. On another occasion, we could hear a raucous 70th birthday party in one of the private dining areas. The loudness is a sign that Zana is becoming a popular choice for a night on the town.
Located in the former The Bird & the Bread space, Zana is the third concept from Mario Camaj, who also operates Tallulah Wine Bar and Bistro in Birmingham and Besa in Detroit. With Zana, Camaj and his team have brought another vibrant hot spot to the dining scene.
At A Glance
Price: $$$
Vibes: See and be seen. Great people- watching. We saw groups of friends, couples, double dates, ladies' night out gatherings, and parents with their college-age kids.
Service: Friendly, knowledgeable, attentive, and accessible.
Sound level: Can get very loud during busy times. Be prepared to yell or just vibe with it.
Dress code: Most people dress to impress, but if you're dressed more casually, you should be fine.
Open: Tuesday through Sunday for dinner. There's a Sunday menu, which is essentially the same as the regular dinner menu but includes a burger on a brioche bun with bacon, raclette cheese, tomato, and whole-grain mustard aioli. During the week, there's happy hour from 4 to 6 p.m., and the menu offers small bites, including Wagyu meatballs and cheese and charcuterie, in addition to regular shared plates with a happy hour discount.
Reservations: Make online at zanabham.com.
Parking: Park in the street or nearby structures. Valet is also available at the nearby Daxton Hotel.
Accessibility: There is a ramp to enter the space.
Zana is located at 280 S. Old Woodward Ave., Birmingham. Call 248-800-6568 or visit zanabham.com for more information. 
---
This story is from the October 2023 issue of Hour Detroit magazine. Read more in our digital edition.