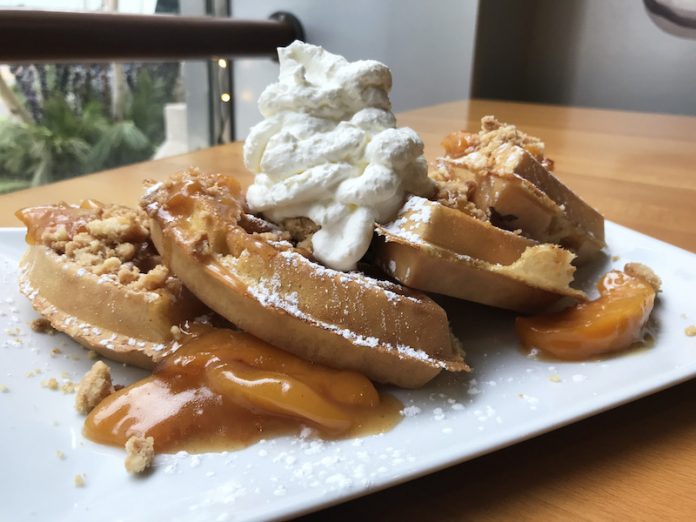 Amp up your morning with local waffle dishes. From savory chicken and waffles to fruity pairings and chocolatey creations, these metro Detroit eateries offer tasty twists on the breakfast staple.
Dime Store
Keeping things fruity, Dime Store offers a malted Belgian waffle with fresh fruit and an apple butter waffle. The restaurant serves all its sweet breakfast dishes with 100 percent maple syrup. Dime Store, 719 Griswold St., Detroit; 313-962-9106; eatdimestore.com.
Omelette & Waffle Café
True to its name, this café's waffles (and omelets) are "never flat, always fluffy." Its most popular options include the Banana Berry Stuffed Waffle and Banana Nut Stuffed Waffle. Pair it with a classic omelet if you're still feeling hungry, or warm up with a specialty hot chocolate. Omelette and Waffle Café, 580 Forest Ave., Plymouth; 734-454-6510; omelettewafflecafe.com.
Kuzzo's Chicken & Waffles
As its name implies, this Detroit spot is known for its chicken and waffles. Served all day, Kuzzo's waffle combos include the Bam Bam, which includes two drumsticks and a waffle, and the Granny Plum, which is made up of two waffles, two eggs, and a bowl of grits. Kuzzo's Chicken & Waffles, 19345 Livernois Ave., Detroit; 313-861-0229; kuzzoschickenandwaffles.com. 
The Hudson Café
Whether you're looking for a hearty breakfast or a sweet treat, the Hudson Café has a waffle for every taste. Their menu is full of tasty pancakes, omelets, and sandwiches, but their Apple Walnut Stuffed French toast, which features cinnamon raisin bread topped with apple flambe, steals the show. The Hudson Café, 1241 Woodward Ave., Detroit, 313-237-1000; 17101 Haggerty Road, Northville, 248-308-3793; hudson-café.com.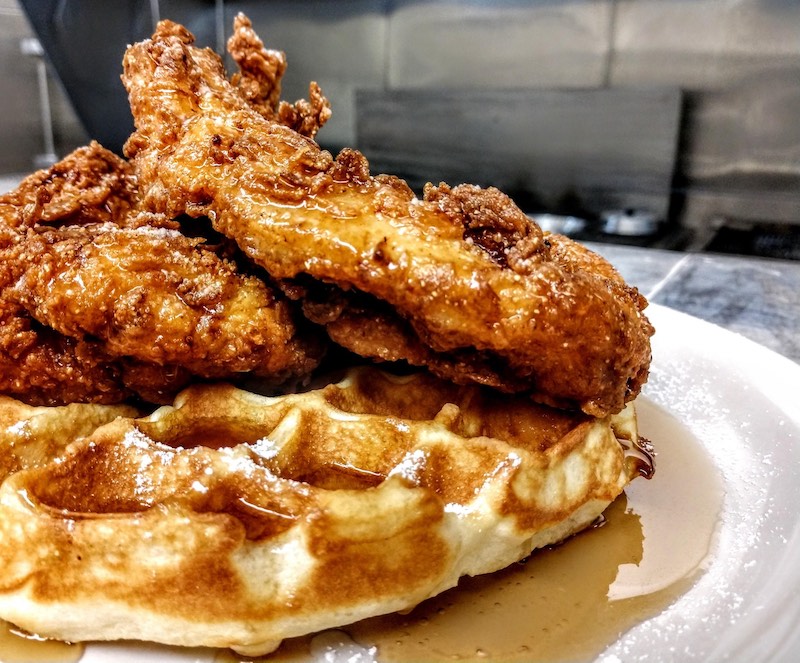 Charlie's Still on Main
With a menu that centers around Southern-inspired cuisine and classic bourbon cocktails, it's only natural that Charlie's Still on Main would serve a traditional chicken and waffles dish. The Belgian waffle topped with fried chicken takes a boozy twist with house-made bourbon syrup. Charlie's Still on Main, 525 N. Main St., Suite 200, Milford; 248-676-9978; stillonmain.com.
Café Zola
The French-inspired café offers a few different waffle options, but the most notable is the á La Gabus, a traditional waffle topped with chocolate-hazelnut spread, vanilla ice cream, crème Chantilly, and raspberry coulis. Pair it with a café latte, cortado, or the spicy bloody mary. Café Zola, 112 W. Washington St., Ann Arbor; 734-769-2020; cafezola.com.
Grand Trunk Pub
Come for the brunch cocktails, stay for the food. Grand Trunk's chicken and waffles, topped with pickle brined chicken strips and real maple syrup, are an ideal comfort meal. Pair it with the Hair of the Dog bloody mary, made with Ugly Dog bacon-infused vodka. Grand Trunk Pub, 612 Woodward Ave., Detroit; 313-961-3043; grandtrunk.pub.
Uptown Grille
Uptown Grille serves up everything from breakfast burritos and omelets to Belgian waffles served with house-made honey butter, whipped cream, and maple syrup. You can add candied walnuts or fresh fruit to the waffle for an additional cost. Uptown Grill, 3100 E. West Maple Road, Commerce; 248-960-3344; uptowngrille.com.
Le Andos Café
Specializing in all things brunch, Le Andos has tons of different waffle offerings. The restaurant's Bacon Waffle is topped with chopped bacon, two scrambled eggs, and powdered sugar, while the Nutty Pecan Waffle is topped with a Nutella drizzle and pecans. Le Andos Café, 15433 Hall Road, Macomb; 586-566-5292; leandoscafe.com.
Detroit House of Pancakes
Though this downtown brunch spot is named for its indulgent pancakes, its menu offers a variety of griddle specialties, including an Apple Spice Waffle topped with a cinnamon apple compote, and Chicken and Waffles complete with sliced strawberries. Swap your morning coffee for a Drunken Mocha, Pumpkin Spice White Russian, or another cocktail from their drink menu for the perfect boozy brunch. Detroit House of Pancakes, 2701 E. Jefferson Ave., Detroit; 313-974-7033; detroithouseofpancakes.com.
Jumps
With farm-to-table ingredients and an ever-changing weekend brunch menu, Jumps is a must-try for those craving freshness in their food and in their routine. This eatery, tucked away in an unassuming office building, boasts a brunch menu that's equal parts sweet and savory. A plethora of omelets and benedicts balance decadent offerings such as Belgian waffles topped with cinnamon-roasted Shadylane pears, brandied maple syrup, and toasted hazelnut.  Jumps Restaurant, 63 Kercheval Ave., Suite 105, Grosse Pointe Farms; 313-882-9555; jumpsrestaurant.com.
Poached
Don't let the family diner feel fool you. Featuring eight variations of waffle alone, Poached's expansive menu offers visually appealing, powdered sugar-dusted dishes that give patrons a gourmet taste experience in a welcoming environment. With sweet specialties like their Red Velvet and Boston Cream Waffles, Poached rebels against the notion of 'no dessert for breakfast,' much to the delight of children — and sweet-toothed adults — across metro Detroit. Poached, 46350 Dequindre Road, Shelby Township; 586-991-7448; poachedrestaurant.com.
This post has been updated for 2023.