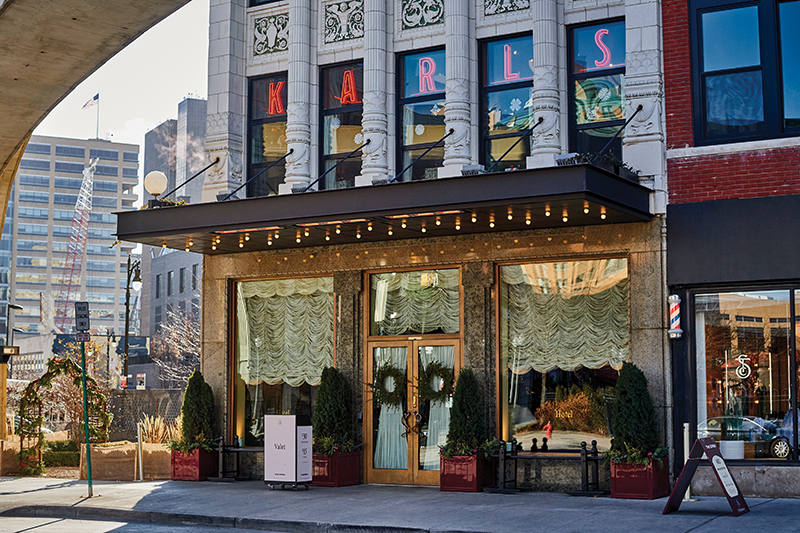 Everything is more glamorous at The Siren. On the first floor of the downtown Detroit hotel-cum-jewel box, a barber shop, with its reclaimed vintage barber chairs and contemporary finishings, duals as a hub for cultural conversations. In the hotel lobby, a newsstand, rather than selling daily newspapers and offering a library of pamphlets, city maps, and coupons for daily excursions; sells indie fashion magazines and coffee table art books meant more for décor than to be read. There are also upscale trinkets such as velvet Venetian gondolier slippers and luxurious face oils for sale.  
Behind a heavy, pink velvet curtain lives what Architectural Digest named the most beautifully designed bar in Michigan. The swanky yet intimate Candy Bar is anchored by a 1,500-pound chandelier, and reflections of light from a glitzy disco ball bounce off of the bar's rose-colored walls. Albena, an eight-seat tasting menu restaurant helmed by a James Beard-nominated (and former Hour Detroit Restaurant of the Year-winning) chef, resides on the first floor. And around back, there's Sid Gold's Request Room, a dimly lit speakeasy-style piano karaoke bar where on some nights, burlesque dancers arouse guests with titillating performances. 
The hotel coffee shop is flanked with velvet seating arrangements and a colossal gilded rococo mirror. Brass storks greet guests at reception. Even the walk to the first-floor restroom is paved in opulence with its black-and-white-tile flooring and glossy black walls lined with vanity lighting. 
At every turn at The Siren, majesty awaits. And despite the informal hand-painted "Ham Sandwiches" signage along the walls leading up to Karl's, the venue's most recently opened eatery, the experience at what is positioned to be a casual luncheonette is no different. 
A short walk up the winding, wrought-iron staircase to The Siren's second floor reveals an impeccably designed space that strikes the perfect balance of vintage glamour and greasy spoon. The hotel's overall color scheme and design elements spill into the 80-seat restaurant with its oxblood walls, black-and-white-tile floors, and seafoam banquettes. Reflective surfaces show up in chromatic barstools and mirrors that hang just above booths for two. This time, though, mirrors are covered in Detroit memorabilia, such as vintage family photos from chef Kate Williams — a nod to the former Detroit bakery under the same name owned by the chef's great-great-grandparents, which inspired her concept for this old-school American restaurant. Detroit sports team T-shirts and newspaper clippings of major local events are hung to showcase some hometown pride, and atop every table there are placemats featuring contact information for local attractions — including Lady of the House, Williams' claim to culinary fame. Williams has made it to the semifinals of the James Beard Foundation Awards twice as Executive Chef of Lady of the House in Detroit's Corktown neighborhood.
On the menu, there are classic drinks and dishes that you're likely to enjoy at your go-to Coney, but it's the subtle twists that set Karl's apart from your go-to Coney. There's fresh-squeezed fruit juice, tea, brewed Populace coffee, and a selection of pop; and rich chocolate, strawberry, and vanilla milkshakes made with Guernsey Farms Dairy ice cream and served in vintage milkshake glasses with whipped cream on top.
But there are also classic cocktails, like the old fashioned and a solid sidecar, as well as a small but sufficient selection of beer and wine. If you're at all at odds with the idea of pairing omelets and pancakes with a stiff drink, consider visiting Karl's in the evening. After hours, the music (sometimes played from a vintage jukebox, sometimes courtesy of a live band), is blaring and lights are dim, transforming the space from a diner to a not-quite-divey dive bar. 
Those pancakes? They're a restaurant favorite and they're served all day. They're also monstrous. Intended to be shared, three enormous, plate-sized flapjacks are served with Michigan-made maple syrup and a hunk of sweet butter on top. A generous sprinkle of confectioner's sugar adds a sweet touch. 
For another classic diner dish with a twist, the Patty Melt challenges the standard burger. Rather than a clumsy hamburger bun, a juicy beef patty is served on buttery, toasted white bread with sautéed onions, melted American cheese, and tangy, crisp pickle slices and plated with a hefty serving of French fries.  
Cheese Curds, when fresh out of the fryer and piping-hot, are a must-try. Bites of sharp cheddar cheese are equally pillowy, crispy, and chewy. Dunked into chili cherry maple sauce, they're an addictive sweet-salty-spicy mouthful of flavor. 
An unassuming dish, though, unlike any traditional Coney entrée, is the White Beans & Toast. Creamy white beans swim in a garlicy sauce with greens and olives. The dish is served with buttery white toast, fit for dipping into the savory broth. 
Dessert is simple — just a chocolate chip cookie or an ice cream sundae. There are also a few choice items in the restaurant's bakery: a slice of pie, cake, cheesecake, donut, or Danish, baked fresh right in Karl's kitchen. The warm cinnamon roll, with its sweet icing dripping down its sides, is fitting for dessert or as a breakfast side. And, of course, those classic milkshakes epitomize the glamorous nature of the period piece that is Karl's and its home at the ultra-glam Siren Hotel.
Karl's, 1500 Broadway St., Detroit; 313-855-2757; karlsdetroit.com. B,L,D daily.
---
Glory Days Shine at Karl's 
Tucked into a corner of Karl's stunning dining room is the crown jewel of the restaurant: a 1957 Wurlitzer jukebox illuminated with green, blue, red, and yellow lighting. It is an homage to the history of the Broadway Street building that houses the restaurant and each of The Siren's dazzling enterprises.
Opened in 1926, the Wurlitzer Building was once home to Wurlitzer Co., a producer of musical instruments. Organs, pianos, and jukeboxes — such as the '57 beauty that sits at the Karl's entrance — were sold at the Wurlitzer and would go on to grace Detroit's major theaters, including the Fox and Detroit Opera House.
Over the years, the building was occupied by a music store, recording studio, instrument repair shop, and a performance venue. But once the company exited the premises, the building's demise soon followed. After it sat vacant for more than three decades, New York City-based design firm Ash NYC acquired the once adored building with the mission of returning it to its glory days.
Through The Siren's five food and beverage spaces, two retail shops, and more than 100 impeccably designed guest rooms, the Wurlitzer is now singing a new tune.