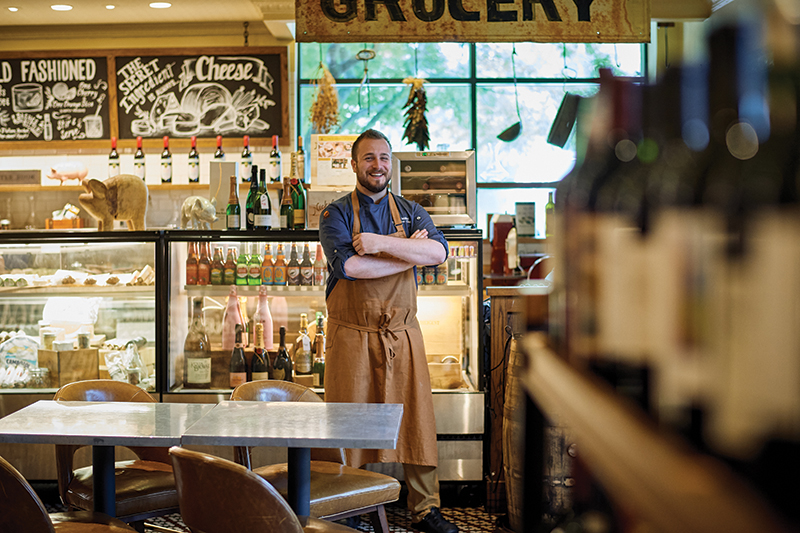 When Steve Grostick opened Toasted Oak Grill & Market, the restaurant was ahead of its time. In 2010, the farm-to-table American brasserie in Novi became one of the earliest in metro Detroit to introduce the concept of a hybrid dining experience, vending wines by the bottle and fresh meat and cheese out of a quaint marketplace upfront, and plating fine dishes in its dining room. It joined Cantoro Italian Market, which launched the same concept inspired by Italian markets in Livonia in the late 1960s. Today, the model is trending with more recently established restaurants like Eatóri, the grocery and bar in downtown Detroit, and Marrow, one of this year's James Beard award semifinalists.

Nearly a decade since its inception, Toasted Oak is continuing to excel at this approach: on a mid-week visit, the dining room is bustling with diners noshing on tender duck dry-aged in a local facility exclusively for the restaurant, and just last month, the restaurant earned a 2019 Wine Spectator magazine award for its outstanding wine program. And it's all done from a perch that looms above the vast concrete pavement of the Twelve Oaks Mall parking lot.
Traditionally, a restaurant loses all sex appeal when neighboring a shopping mall. With their long lines and rushed service, eateries nestled conveniently within shopping malls for starved shoppers to satiate their appetites, have tainted the notion that good food can actually be crafted on the same premises as Auntie Anne's and Bath & Body Works.
So, I won't call Toasted Oak a mall restaurant. Though just steps away from Macy's and the now vacant Sears at Twelve Oaks Mall, I'll call it what it is: a space that masterfully transports diners to a quaint, country-style barn with its emphasis on farm-fresh, locally sourced ingredients and sustainability initiatives. Where charcuterie boards often feature cheese from Michigan-based farms and a balance of sweet and savory accoutrements such as sour pickles and a bacon jam you'll find yourself forking through without the bread meant for dipping.     
Toasted Oak is in fact the antithesis of those mall restaurants where waiters caution diners that plates are hot from sitting beneath heat lamps. For nearly a decade, the restaurant has consistently worked to uphold its farm-fresh ethos. Diners pass the garden where the restaurant sources many of its ingredients from, and signage indicating where menu items are derived from hangs at every turn to remind diners that the items plated hail from the finest local and international locales. Black chalkboards are scribbled with shout-outs to the restaurant's metro Detroit vendors, and vintage maps of France and Italy are draped behind seating nooks, representing the home countries of its French wines and Italian sausage — both of which are available for purchase at the restaurant's market.
Contemporary details and Executive Chef Ken Miller's upscale approach to comfort food elevate the farm-town vibe. Warm, crumbly corn bread is served with creamy butter scrawled onto a hefty wooden plank. A bowl of Sausage & Dumplings, inspired by a family recipe, dances between down-home cooking and high-end presentation. Slices of house-made smoked sausage are tangled in tangy sauerkraut and sweet apples. Dense, chewy dumplings round out the dish, which, though filling, prompt a no-bites-left-behind policy.
As juicy and flavorful as the chicken breast is, the sides of the Farm Chicken dish are the true stars. Cornbread gnocchi, parsnip, white asparagus, and crisp tarragon form a symphony of sweet flavors and creamy and crunchy textures.
But the restaurant's latest achievement is indicative of Miller's commitment to supporting Michigan businesses and humane farming practices. Launched this spring, Miller and Emmet Baratta III, director of operations at Eastern Market's Fairway Packing Co., partnered for the creation of a dry-aged duck program, a first of its kind in the state, reasserting that Toasted Oak continues to be ahead of the curve in metro Detroit's culinary scene in creativity and sustainability.
If you order the duck — which surfaces twice: once on the dinner menu, sliced delicately and served with rhubarb, leeks, and salsify; as well as on the happy hour menu in the form of a taco topped with kohlrabi slaw, cilantro, pickled chiles, and an artful squiggle of creamy sauce — know that it's been raised at a local farm, aged for a minimum of two weeks at Fairway Packing Co., and hand-delivered to the restaurant. A result of the dry-aging process, the spectacular taste of the duck is almost too complex to explain. What the meat loses in game-y-ness, it gains in moisture and tenderness, absorbing the flavors of Miller's blend of seasonings and the savory jus it's draped in.
Name a mall-adjacent restaurant doing that.
Toasted Oak Grill & Market, 27790 Novi Rd., Novi; 248-277-6000. B, L, & D Mon.-Fri, Br. Sat.-Sun.
---
Wine and Dine at Toasted Oak
In addition to a commitment to fresh ingredients and impeccable dishes, Toasted Oak Grill & Market is also revered for its exceptional and robust wine program.
From an electronic menu via a tablet, diners are able to choose from Toasted Oak's wide array of reds, whites, rosés, and sparkling wines, which can be purchased by the bottle or glass. The restaurant's pricing for full bottles can run guests a minimum of just $15, a rate that is nearly half the cost of the most affordable bottles at many dining establishments throughout the region.
Low rates are no indication of the restaurant's quality of wine. In early July, it was announced that Toasted Oak earned a 2019 Wine Spectator magazine award, a prestigious honor in the world of fine wine. Curated by sommelier and director of food and beverage, Ferris Anthony, and restaurant manager, Jackie Phillips, the award-winning wine list is made up of more than 300 bottles with an inventory of roughly 2,500 bottles overall.
Pick your wine preference — at Toasted Oak, the options are aplenty. Pair a meat dish with a glass of red, purchase a bottle of Champagne from the restaurant's market on your way out, or, enjoy a splash of white in one of the few wine cocktails on the menu — the Violet Night, a refreshing blend of butterfly tea gin, licor 43, crème de violette, and Napa chardonnay was my drink of choice.
Facebook Comments