Whether you're self-isolating — as you should be — or simply seeking out some comfort food in light of all the angst onset by the coronavirus crisis, we all could use some guidance on spicing things up in the kitchen these days. Thankfully, over the years our writers and editors have tapped local chefs, restaurateurs, home chefs, and recipe developers to offer up recipes for some of their dishes. We've sorted through the archives to bring you step-by-step instructions on making the most out of your at-home dining over the next two weeks. Enjoy.
By now, you should be familiar with Lexi Harrison and Beth Sinclair. Each month, the mother-daughter team behind recipe development site Crowded Kitchen cooks up plant-based and vegetarian dishes starring ingredients from local makers. Here, they dress up roasted carrots with Street Eatzz Detroit Middle Eastern Seasoning, served on a bed of lentils and topped with a drizzle of herb yogurt sauce. The dish is chock-full of protein, healthy fats, and antioxidants — all vital immunity boosters — and offers the opportunity to support a local small business during tough economic times.
Though we're technically in the early days of spring, we're still also very much in Michigan where the weather is unpredictable and adheres to the standards of none. So, on a more frigid day, try this hearty, creamy, chef-favorite at Howell's Cello Italian Restaurant. "For a simple dish with only a few ingredients, it packs a lot of flavor," says Chef and Culinary Director Craig Myrand. He suggests paring the dish with a glass of Bricco dei Tati Barbera or Tormaresca Chardonnay.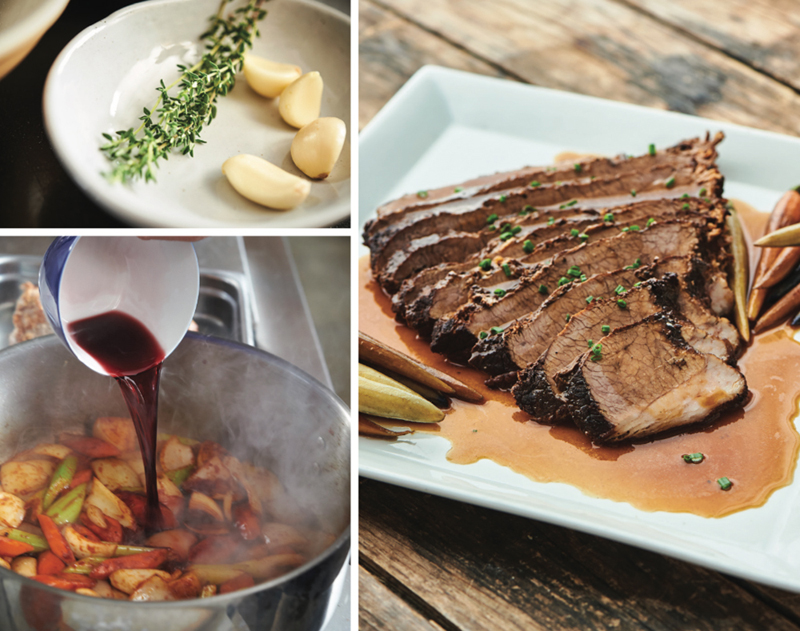 This savory dish is a nostalgic one for Aaron Lowen, operating partner and chef at Empire Kitchen & Cocktails in Midtown. "When I think of family and holidays, I always think of brisket." Plus, it's simple and filling for a family of six. Just you? Perhaps a significant other, too? Package up the rest for tomorrow's lunch. You're going to want seconds — and maybe thirds. 
A combo of two American culinary staples, this dish prepared by Jordan Gillis, executive chef at Vast Kitchen and Bar in Shelby Township, is about as comforting as comfort food gets. Sweet and spicy barbecue sauce, lean chicken breasts, and salty bacon add robust flavors to cheesy macaroni and cheese for the whole family to enjoy.
At the moment, limited stock in the meat aisles at your local grocery store may require you to work with unexpected cuts of meat. If you find yourself staring at a fresh package of duck legs, grab them. Upscale Birmingham restaurant Pernoi knows exactly what to do with them and its chef is sharing their secrets.
Now more than ever, nonprofit organizations like Zaman International are appreciated for their dedication to communities in need of food support. Zaman's culinary program, teaches women — many of them single mothers — to prepare nutritious meals for their children at home. Here, program lead Daniela Abel offers instruction on Roasted Vegetables with Pasta featuring bell peppers and zucchini, Classic Stir-Fry with chicken breast and ginger, and Chocolate-Chip Cookies for two to six people.
With dine-in service suspended at restaurants across Michigan — and many restaurants across the country, for that matter — now's as good a time as any to try your hand at an at-home pizza pie. This lower-calorie take on a traditional pizza is light on grease but big on flavor with chopped garlic and fresh mozzarella. Read up on the "absolutely satisfying" recipe created by Mootz chef Rubina Kurdian.
Metro Detroit is overflowing with home chefs with roots in cities from across the globe, contributing to the area's wonderfully diverse culinary landscape. From a Turkish staple to Lebanese flavors, draw dinner inspiration from your neighbors with these five traditional recipes.
Facebook Comments